German graffiti duo MOSES and TAPSTM seems to be on everyone's lips. Also known as Erni & BertTM and TOPSPRAYERTM, their ever-changing pseudonym helps to maintain their identity a secret. For the first time in Zurich, MOSES and TAPSTM exhibition EUROPATM will be opening at Kolly Gallery. World's most notorious sprayers with several thousand graffiti worldwide have been breaking away from accepted social conventions in both technique and subject matter. Currently the most prominent players of this artistic genre who are not afraid to scandalize, their practice is in strong contrast to the harmless and pleasing street-art-chic popular these days. Noted for their conceptual artwork on extreme supports, contemporary vandalism and their strong corporative branding, MOSES and TAPSTM are balancing between the consistent advancement of graffiti and their conceptual strength using the medium as their message.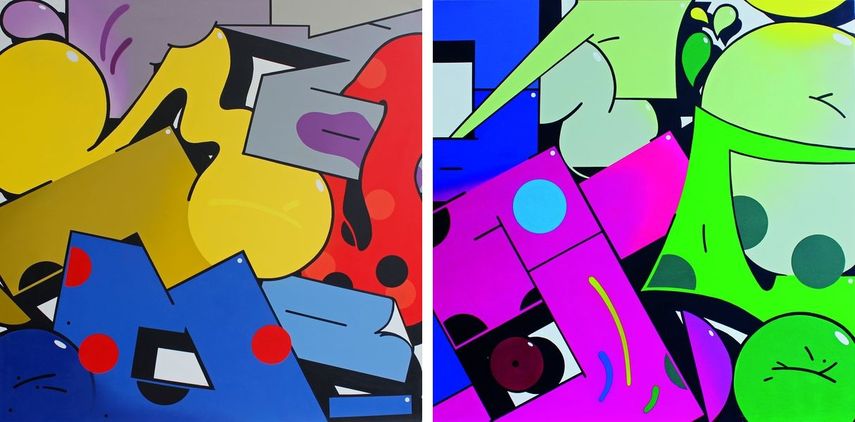 Europe Is an Idea
As a continuation of the FLICKWERKTM series where they have described dilemmas of two independent  artists through the collage of pictorial representations of already existing pieces, their solo exhibition EUROPATM cleverly combines independent individual items to create a complete work of art. Both contemporary and timeless, the name of the exhibition also presents a statement. Following the statement 'Europe is not a place but an idea' by French philosopher Bernard-Herne Levy, the interpretation of their work should be in the eye of the beholder.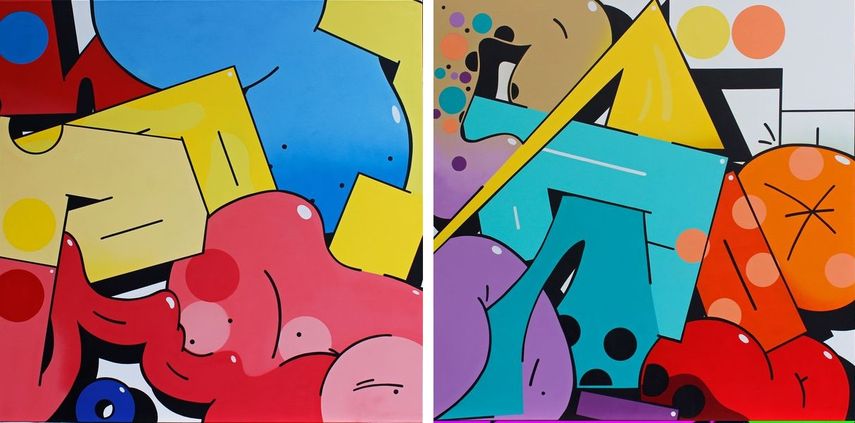 The Artistic Duo MOSES And TAPS
Starting to emerge on the graffiti scene independently back in 1994, both MOSES and TAPS focused on spray paint, colors and trains. After founding their artist collective TOPSPRAYERTM in 2007, they started their first project entitled 'International Topsprayer' that involved spraying thousand trains in thousand days using each other's names and breaking away from the rigid rules of the graffiti world, as well as the authorities. The result of this project was an acclaimed book International Top Sprayer: Moses & TapsTM  that ended up being one of the best-selling graffiti art books available today. Since it was even used as a reference in the courtrooms, this project changed the established law practice in favor of graffiti writers in Germany. Their third book entitled A.L.I.A.S. is in the works at the moment and it will reveal a third artistic personality AliasTM.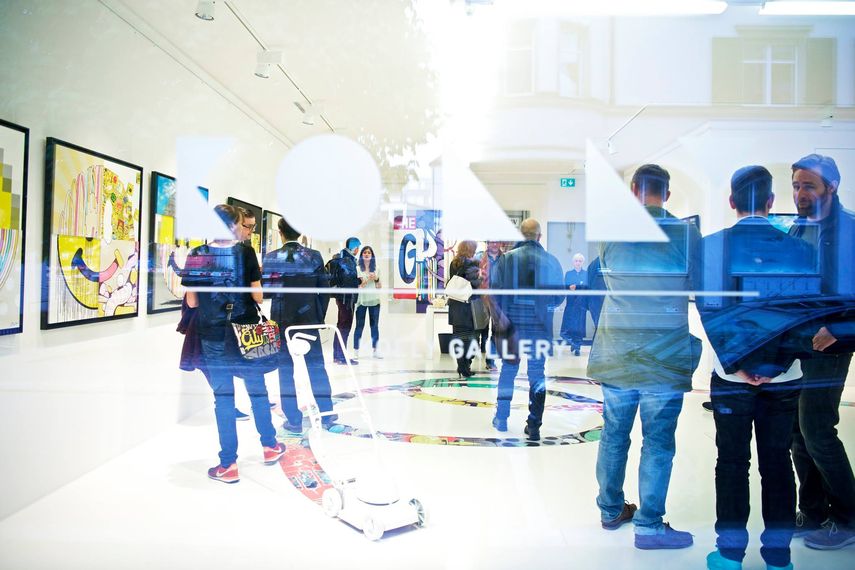 MOSES And TAPS Exhibition at Kolly Gallery
The Kolly Gallery is a contemporary art gallery promoting the graffiti and street art universe in a cosmopolitan city Zurich. With a network of national and international artists at the forefront of the graphic culture and the latest trends, Kolly Gallery is an intersection of the latest trends from the Street and Urban Art. The exhibition EUROPATM will be on show from June 16th until July 16th, 2016. The opening of the exhibition will be held on Thursday, June 16th from 6pm.
Editors' Tip: International Top Sprayer: Moses and Taps by International Topsprayer
As the most prolific graffiti writers in Europe for years, between 2008 and 2010, Moses & Taps started a graffiti project under their moniker Topsprayer. During that period, they have painted thousand trains in 1000 days. The book International Top Sprayer: Moses and Taps is the result of this project that broke away from the rigid graffiti rules and the authorities. This most commercially successful graffiti book to date has contributed to the change of the established law practice in favor of graffiti writers. Since only about 5% of their work as Topsprayer has made its way into the public's eye. Thus, this book is highly important.
Featured image: MOSES and TAPS - Wildstyle III (detail). All images courtesy of Kolly Gallery.