Although the state of the global economy posed a reasonable concern a year ago, the art market proved all the doubters wrong in 2017. The notorious 2015 downfall, the one many thought this year might replicate, appears to be in the rear mirror and far behind us.
Enjoying a far more stable atmosphere, the 2017 art market not only avoided a similar scenario to the one that occurred a few years back, but it also managed to shatter a few records along the way.
As of 2017, we officially have a new all-time record price set by Leonardo's Salvator Mundi and a new record for a contemporary artist that was achieved by a Jean-Michel Basquiat piece.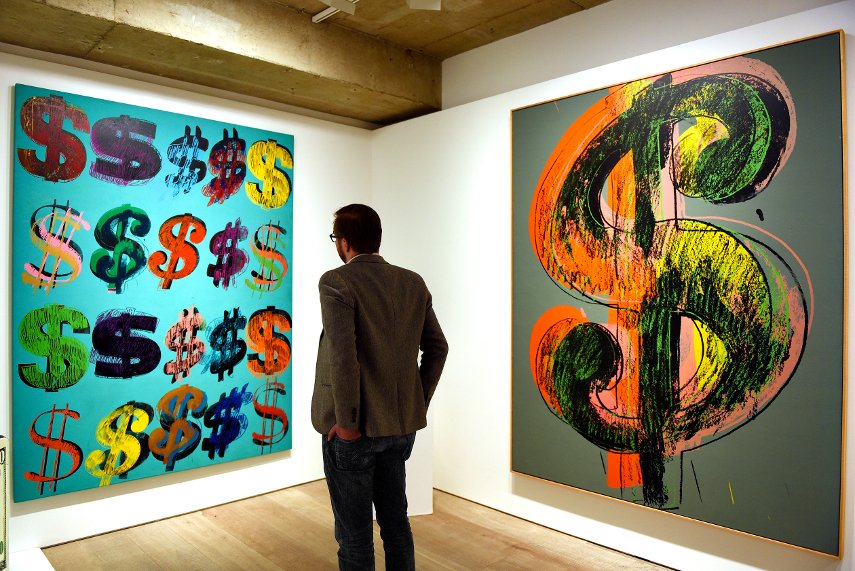 Noticing New Trends in the Art World This Year
Aside from offering us a thrilling period with records that will go down in art history, 2017 also demonstrated some new and exciting trends and directions the art market as a whole is trying to implement.
We noticed a decisive rise of the online market as dealers began focusing more on the digital game, shaking up their operations and marketing strategies in order to exploit the global shift towards the online world.
As a result of such endeavors, auctioneers and dealers saw a lot of success with selling lower-value items such as prints and designs.
Another exciting novelty 2017 brought was an uptick in buying from Europe and Japan, two prime art locations that recent times saw become more and more eclipsed by the shadow of the United States scene.
This year also proved to be a golden period for older artists, which is always nice to notice. It would appear that the more seasoned artists did rather well against relatively untested youngsters in the last couple of months, so dealers and collectors made quite a bit of profit from the elders of the game.

The Most Expensive Artworks Sold in 2017
While only time can tell if 2017's financial and operational growth of the art market is actually something that can be sustained in the future, we can reflect on what's behind us and take a look at the most expensive artworks sold in 2017.
Interestingly enough, it appears that all of the artworks present on this list were sold during the famous auction week held in New York City. A real Mecca for selling art, The Big Apple hosted the most prestigious lots of the year and, as a result, turned the 2017 auction week into a genuine sensation.
Before we start listing artworks and the amounts for which they were bought, it should be noted that all the costs present in this list are calculated with the Buyer's Premium, an additional charge that gets added to the actual hammer price and must be paid by the winner of the bidding. So, with that being said, let's now go through the most expensive artworks that were sold in the last 12 months!
Featured image: Auctioning the Leonardo da Vinci's Salvator Mundi portrait, dated to 1500, via trbimg.com. All images used for illustrative purposes only.
Pablo Picasso - Femme assise, robe bleue
It seems that no year can go by without a Pablo Picasso artwork being sold for some major cash and 2017 was no exception.
Femme Assise, Robe Bleue is a marvelous piece the artist painted for his 58th birthday, on the 25th of October, 1939. It is a searing portrait of Picasso's lover and fellow artist, Dora Maar, whom the famous painter portrayed on various occasions over the course of his career.
The painting is filled with unique character and tension, and it can safely be counted among the Picasso's greatest portraits of Maar. The painting fetched a price of $45,047,500.
Featured image: Pablo Picasso - Femme assise, robe bleue, 1939, via christies.com
Cy Twombly - Untitled
Focusing on what swiftness and physicality can offer to his abstraction, Cy Twombly painted this untitled piece in 2005. It was a part of the Bacchus series that marked the culmination of the artist's 50-year-long painterly practice.
This Cy Twombly piece was sold for $46,437,500.
Painted as a response to the violence of contemporary political events, this piece was executed using a pole and an attached brush drenched in rich vermilion paint. Its red marks seem to both climb and fall, and Cy Twombly allowed each of them to run down the canvas, a visual feature that may suggest either the dripping of wine or blood.
Featured image: Cy Twombly - Untitled, 2005, via pinterest.com
Francis Bacon - Three Studies For A Portrait Of George Dyer
Three Studies for a Portrait of George Dyer is a masterful triptych-like artwork which exemplifies the complex dynamism that Francis Bacon is revered for.
Painted in 1963, this portrait of George Dyer marked the beginning of Bacon's relationship with the man that eventually turned out to be his greatest source of inspiration.
Painted within a couple of months when Bacon's passion for the younger man was at its most fervent, Three Studies for a Portrait of George Dyer was completed during the period of greatest personal and professional contentment in Bacon's career.
This first portrait Francis made of his long-time muse and lover was sold for $51,767,500.
Featured image: Francis Bacon - Three Studies For A Portrait Of George Dyer, 1963, via theculturetrip.com
Cy Twombly - Leda And The Swan
The second Cy Twombly entry on this list, Leda And The Swan was sold for $52,887,500.
This piece is actually one of two large-format masterpieces to emerge from Twombly's work of the early 1960s - Leda And The Swan is the sister painting of a work of the same title held in the permanent collection of the Museum of Modern Art in New York.
Distinguished for its mix of sex and violence, this painting resided within a private collection for more than 25 years and has not been seen publicly during that period.
Interestingly, this was the first time ever that Leda And The Swan was offered at an auction and it immediately made a strong impression.
Featured image: Cy Twombly - Leda And The Swan, 1962, via moma.org
Constantin Brancusi - La Muse Endormie
Constantin Brancusi was an incredible craftsman and artisan, and his La Muse Endormie is an excellent proof of his creative worth.
This piece represents a perfectly oval depiction of a sleeping woman's head crafted with such grace that it's regularly counted among Brancusi's finest works.
La Muse Endormie managed to fetch an impressive price of $57,367,500.
Brancusi considered each of his bronzes a unique work of art despite the fact they were made as a part of a uniform edition. He treated each piece differently and this resulted in La Muse Endormie's individuality and overall charm.
Featured image: Constantin Brancusi - La Muse Endormie, 1913, via christies.com
Andy Warhol - Sixty Last Suppers
The first entry on our list to break through the $60M mark, Andy Warhol's Sixty Last Suppers was sold for an impressive $60,875,000.
This complex game of visual semantics underscores the Pop process of manufacture and is an outstanding example from the Warhol's great and final painting series.
Executed near the end of his life, this monumental piece is actually the largest painting by the American Pop artist ever to come to an auction. Based on Leonardo's Renaissance masterpiece, Sixty Last Suppers saw Andy take up the themes of religion and loss.
Featured image: Andy Warhol - Sixty Last Suppers, 1987, via christies.com
Fernand Leger - Contraste De Formes
Offered for the first time at an auction, Contraste De Formes is a groundbreaking painting of the early 20th century art.
Painted by Fernand Léger in 1913, this piece marks the artist's departure from the purely figurative style and his advance towards abstract art.
Contraste De Formes belongs to a rich series of early avant-garde paintings that forever changed the way we look art. It was made over the course of just a few months, in a sequence of some 14 canvases.
The painting was sold for an amazing $70,062,500.
Featured image: Fernand Leger - Contraste De Formes, 1913, via christies.com
Vincent van Gogh - Laboureur Dans Un Champ
In the year before his death, Vincent van Gogh lived in the asylum of Saint-Paul-de-Mausole. It was during this time that he painted Laboureur Dans Un Champ, a piece that heavily reflects the artist's determination to heal himself after a devastating epileptic attack that took a toll on both his body and mind.
Van Gogh began this painting in the final days of August 1889, completing it on the 2nd of September. The overall optimism within the composition was furthered by the painter's personal joy of finally handling his brushes after being apart from them for a month and a half.
Van Gogh's Laboureur Dans Un Champ was auctioned off for a price of $81,312,500.
Featured image: Vincent van Gogh - Laboureur Dans Un Champ, 1889, via wikipedia.org
Jean-Michel Basquiat - Untitled
Easily cracking the $100M mark, Jean-Michel Basquiat's untitled piece was sold for an astonishing $110,487,500. It was made in an instantly recognizable style, so even a complete layman would be able to identify the piece's origins.
This painting depicts a frenzied face and its characterized by strong and vibrant colors as well as by a unique balance of chaos and order Jean-Michel Basquiat was famous for.
This was the artwork that set the new record for the most expensive piece of a contemporary artist ever sold at an auction.
Featured image: Jean-Michel Basquiat - Untitled, 1982, via christies.com
Qi Baishi - Twelve Landscape Screens
In 2017, Qi Baishi made history by becoming the very first Chinese artist among those whose artworks sold for more over $100 million - in fact, his Twelve Landscape Screens from 1925 went for a whopping $140.8 million at Poly Beijing in December!
Baishi is no stranger to making headlines with high prices - in 2011, his 1946 triptych Eagles on Pine Tree fetched $65 million at China Guardian auction house, according to Artnet.
Featured image: Qi Baishi - Twelve Landscape Screens, 1925, via thevalue.com
Leonardo Da Vinci - Salvator Mundi
Without question the greatest artistic rediscovery of the 21st century, Leonardo Da Vinci's Salvator Mundi shocked the whole world when it was sold for a jaw-dropping $450,312,500.
Shredding the previous record for the most expensive sold artwork to pieces, Salvator Mundi (Savior of the World) is one of just 20 surviving paintings that's universally accepted as being made by the artist himself.
This piece caused a worldwide media sensation when it was bought by the Abu Dhabi's Department of Culture and Tourism for an unimaginable amount of money.
A true marvel of art, Salvator Mundi is a painting of the most iconic figure in the Western world made by arguably the most important artist of all time.
Featured image: Leonardo Da Vinci - Salvator Mundi, circa 1500, via wikipedia.org