As we approach the end of another exciting year, we take a look at the talented individuals who have marked it. From modern and contemporary painters, sculptors and installation artists to acclaimed urban creatives, these artists have contributed to the versatility of the art world. While some of these names never leave our list anyway and their popularity is only growing, some other ones might come as surprise. Yet, each of these artists is here for a reason. Scroll down and discover the most popular names from our ever-growing database that have marked the month of December. See if your favorite made it to the list!
Featured images: Pablo Picasso, via art-picasso.com; Yayoi Kusama, via theguardian.com; Lucian Freud, via pinterest.com; Jean-Michel Basquiat, via pbs.com; Anish Kapoor, via southchinamorningpost.com
Jean-Michel Basquiat - The King of Train Graffiti
Mainly dealing with social issues of the late 20th century, the works of Jean-Michel Basquiat is artistically alluring and has brought to the forefront many of the dualities of the time. During his unfortunately short life and career, he has left an enormous impact on the art world. Producing over 1000 paintings and 2000 drawings by the age of 27, his pieces were always imbued with deeper meaning. Today also known as the king of the train graffiti, his work continues to rule auction sales around the world. His painting Air Power has reached 7.1 million pounds at Sotheby's last month.
Featured image: Jean-Michel Basquiat, via knownpeople.net
Anish Kapoor - On View in Rome
Maneuvering between various scales of works, different materials and spaces, Anish Kapoor is regarded as one of the most influential sculptors of his generation. Despite being banned from using the pinkest pink in the world last month, he has managed to acquire it and post a photo on Instagram showing his middle finger raised and coated in "PINK" with the caption "Up Yours". The artist is now back to exhibit in an Italian museum after more than 10 years with a comprehensive show at Museo D'Arte Contemporanea Roma that will be on view until April 2017.
Featured image: Anish Kapoor, via domus.com
Jeff Koons - The Celebrity Artist
As one of the most influential and controversial artists of the post-war era, Jeff Koons has been regular on our list. Placing his art somewhere in between high and low culture, he often plays with kitsch and has managed to transform the notion of an artist to the cult of celebrity in the global market. Dealing with popular culture subjects, he often creates reproductions of banal objects, elevating their status to becoming works of art. Last month, his miniature balloon dog, the porcelain magenta piece from his limited-edition series, fell out of its display at Bernardaud's booth at DesignMiami and shattered on the floor.
Featured image: Jeff Koons
Lucian Freud - A Unique Portraitist
Through depictions of his lovers, friends, and relatives, Lucian Freud became one of the most revered artists during the late 20th century. His unique style of portraiture stood in stark defiance of the avant-garde trends of the time. Known for an extraordinarily consistent style and unsparing observations, his portraits and nudes are unflattering at least. On December 8th, the internet has celebrated what would have been his 94 birthday with a number of dedicated texts and fun facts.
Featured image: Lucian Freud, via pinterest.com
Nikola Mihajlović - An Urban Interventionist
A new name on our list, Nikola Mihajlović is a Serbian urban interventionist who has developed a special way of achieving originality. Exploring his inner self, he transforms his findings into abstract compositions. While some pieces are figurative to some extent, his style is mainly abstract. He always aims to create harmony between his pieces and the urban surroundings with site-specific pieces that are synchronized with local architecture, culture and nature of the location.
Featured image: Nikola Mihajlovic
Pablo Picasso - A Legend
Being one of the most known and influential artists of his time, it is understandable why Pablo Picasso is often coming back to our list. A versatile artist with unparalleled achievements who expressed himself in painting, sculpting, stage designing, poetry, playwright, and other areas, he has redefined artistic practice and its purpose. On December 16th, Picasso's former electrician and his wife were convicted of hiding 271 of the artist's works in their garage for almost 40 years and are now facing prison.
Featured image: Pablo Picasso, via vogue.com
Yayoi Kusama - An Influential Avant-Garde Artist
The seventy years long artistic practice of Yayoi Kusama, one of Japan's most provocative avant-garde artists, resists any singular classification. Becoming famous for her provocative happenings and exhibitions, her extraordinary artistic endeavors spans various media and continues to appeal to the imagination and the senses. The exhibition Yayoi Kusama: Infinity Mirrors, a comprehensive survey exploring her immersive infinity rooms, will travel through the United States and Canada in the most significant North American tour of her work in nearly two decades, starting with Hirshhorn Museum and Sculpture Garden in February 2017.
Featured image: Yayoi Kusama, via pinterest.com
Mona Kuhn - Exploring the Human Body
Known for large-scale photographs of nudes, Mona Kuhn has chosen her subject since it represents a timeless canon that corresponds with her interest in the idea of the body as a residence. Despite describing her style as figurative, she also explores abstraction in her work. Aiming to show the body in its most natural state, she strips away the distraction of material adornment. In this way, her subjects become free from cultural or generational stereotypes. Working intimately with a group of friends, she considers each photograph a collaboration.
Featured image: Mona Kuhn by James Franco, via dragon.com
Banksy - A Mysterious Artist
Always ranking high on our list, Banksy is always the topic of conversation, controversy, or even politics. He seems to be omnipresent and everything he does is immediately in the spotlight. Alfonso Cuarón, the director of the 2006 film Children of Men, revealed that the street artist was approached to give an artistic input for murals on crumbling walls that appear in the film. Even though Banksy has backed out eventually, he allowed the director to use an already existing mural in the background of a shot.
Featured image: Banksy, via dailymail.co.uk
David Hamilton - The Controversial Photographer
Due to the controversies that surround the life and death of David Hamilton, it is no wonder he is the most popular artist on our list. Best known for his photographs of early-teen girls that were often nude, the controversial photographer has placed his practice in the center of child pornography accusations. Last month, Hamilton was found dead at the age of 83 in his apartment in Paris in a suspected suicide. Just a few days before he died, a French radio hostess accused him of raping her during a photoshoot at the age of thirteen. His suicide has left these allegations wide open for good.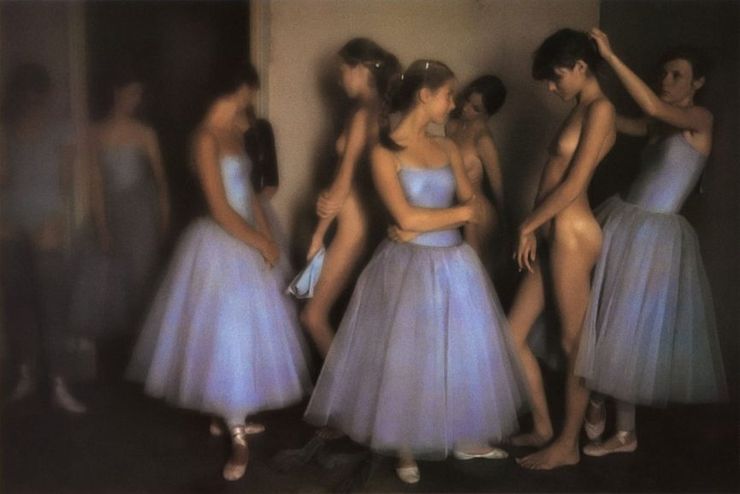 List of the Most Popular Artists in 2016
Below, be sure to check out the full list of the most popular artists of the year as seen through the eyes of our global public. Is your favorite there?
Featured image: David Hamilton