October is already behind us and it is time to take a look back and reveal who are the most popular artists of the month chosen by our readers. With a wide selection of renowned art fairs and exhibitions, October was a very busy month for the art world. As the fall season is in full swing, it is exciting to experience all this creativity around us. This month, the list is male dominated. While some of these names never leave our list anyway, and their popularity only gets to grow due to our featured articles dedicated to them, some other ones might surprise you. One thing is sure – the list is quite different from the one in September.
Scroll down to find your favorite contemporary artists in October 2016 on Widewalls!
Featured images: Anish Kapoor, via pinterest.com; WD, via lifo.gr; Jeff Koons, via agentofstyle.com. All images used for illustrative purposes only.
David Choe - A Creative Rebel
An American painter, muralist and urban graffiti artist, David Choe is a recurring name on our list. Working in the self-proclaimed 'dirty' style, his pieces often portray explicit sexual scenes in order to damask the true nature of the human soul. His pieces are blatant, raw and bold. Presenting himself as a creative rebel, he first rose to fame with a mural painted on Facebook headquarters in 2005. Even though this story is getting pretty old, maybe that's the reason he is coming back to this list as one of your favorites.
Featured images: David Choe, via davidchoe.com; David Choe Artwork, via davidchoe.com
Hush - Inspired by Geishas
Famous for mixing several techniques such as collage, graffiti, stencil, painting and drawing, British street artist Hush successfully blends old and new practices. Inspired by geishas, he portrays these Japanese traditional female entertainers through their feminine beauty and sensuality. Having screen printed and hand-painted backgrounds, he adds graffiti elements by hand through a method he calls pure expressionism. With traditional colors and modern graffiti style, his work synthesizes the artist's affection for Street Art aesthetics and traditional art practices.
Featured images: Hush, via artreport.com; Hush - Sirens Series, via pinterest.com
WD aka Wild Drawing - Always Speaking His Mind
One of the most talented artists of the contemporary art scene in Greece, WD aka Wild Drawing is a newbie on our list. Widely known for his photo-realistic murals that often address current economic, political and social issues in local and global terms, he is never afraid to speak his mind and express his own opinions. Besides socially charged work, he also creates murals inspired by nature, comics, graphic novels and Disney characters. One of his murals has recently been featured in our celebratory Street Update list as one of the most loved ones by our readers on social media.
Featured images: WD; WD Mural, via dstreetart.com
Guy Denning - The Representative of Urban Art Scene
A self-taught English contemporary artist and painter based in France, Guy Denning is for the first time on our monthly list. An important representative of the Urban Art scene, his work is more increasingly being seen as part of the mainstream of the contemporary art world. With very characteristic raw and gritty artworks, he has developed a distinctive style that builds images from drawing and stenciled text. He has an affinity with mixing several media and techniques together, such as stencils, spray cans, brushwork, dripping paint or crayons. He uses powerful brushstrokes to express the intensity of emotions.
Featured images: Guy Denning; Guy Denning - Punching an Effigy of You, via originalideagallery.com
Jeff Koons - The King of Postmodernism
As one of the most influential and controversial artists of the post-war era, Jeff Koons has been regular on our list. Placing his art somewhere in between high and low culture, he often plays with kitsch and he has pioneered new approaches to the readymade. He has managed to transform the notion of an artist to the cult of celebrity in the global market. Dealing with popular culture subjects, he often creates reproductions of banal objects, elevating their status to becoming works of art. Selling one of his Balloon Dogs for $58.4 million in 2013, he broke the record for the most expensive sculpture by a living artist ever sold.
Featured images: Jeff Koons; Jeff Koons - Michael Jackson, via nybooks.com
Anish Kapoor - Combining Simplicity and Complexity
This is the second time that Anish Kapoor is on our monthly list. Creating brave and adventures sculptural forms, he is regarded as one of the most influential sculptors of his generation. Kapoor is a best known for his powerful site-specific works whose protrusions and voids can be interpreted as metaphysical polarities of presence and absence. In his mesmerizing sculptures and installations that are both simple and complex at the same time, he often plays with dualities like earth-sky, lightness-darkness, visible-invisible, body-mind.
Featured images: Anish Kapoor, via janisnajera.wordpress.com; Anish Kapoor - Chicago's Cloud Gate, via hypebeast.com
Pablo Picasso - The Legend
Being one of the most known and influential artists of his time, it is understandable why Pablo Picasso is often coming back to our list. A versatile artist who expressed himself in painting, sculpting, stage designing, poetry, playwright, and other areas, he has redefined artistic practice and its purpose. With a long career filled with unparalleled achievements of creating both brilliant artwork and art movements themselves, his practice continues to raise interest and his name resonates through the history and the future of art.
Featured images: Pablo Picasso, via waldina.com; Pablo Picasso - Head of a Woman, via metmuseumofart.com
Leng Jun - The Master of Detail
Specializing in detailed works, Leng Jun creates stunningly realistic paintings that are the result of his meticulous practice. Observing his subjects from up close, he portrays the tiniest movements and gestures with his masterful artistic technique. Imbued with simplicity, his works reflect a certain stillness and serenity that resembles the classical art. Despite the tranquility that overflows his work, there is a powerful emotional drive that affects the audience.
Featured images: Leng Jun; Leng Jun Painting, via twistedsifter.com
Banksy - A Regular on Our List
It is no surprise that Banksy is ranking high on our list again. He seems to be omnipresent and everything he does is immediately in the spotlight. As part of ART.FAIR Cologne, there was an extraordinary exhibition with as many as seventeen original artworks by the celebrated artist. This was one of the finest occasions for collectors to get their hands on genuine pieces by the world's most famous street artist, deriving from an esteemed private collection.
Featured images: Banksy, via pinterest.com; Banksy, via pinterest.com
David Hamilton - The Controversial Photographer
Even through David Hamilton has already been on our list a few times, this is the first time he is our number one! The controversial photographer is best known for his photographs of early-teen girls, often nude. For this body of work, he has often been accused of making child pornography. Although the debate on whether his works are art or pornography is still very much alive and well, you can't dispute that Hamilton's work evokes a strong array of emotions and reactions in viewers.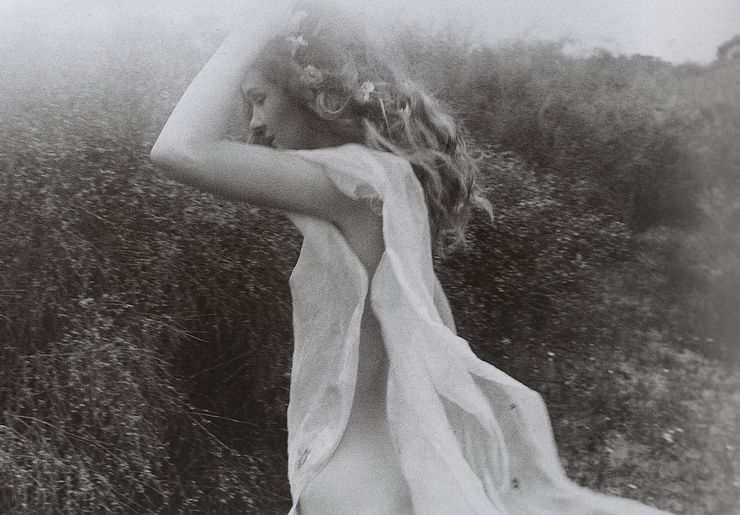 List of the Most Popular Contemporary Artists in September
Below, be sure to check out the full list of the most popular artists of the year so far and see how they progressed. Is your favorite there?

Featured images: David Hamilton; David Hamilton Photography, via desordre.fr