A mysterious figure, wrapped in a white sheet, photographed across the desolate landscapes of south Tunisia; in the middle of the desert, next to an abandoned public toilet, on a dusty road. Like a ghost, it roams among the residents and rural structures, pointing out their precarious condition. What we see is a series of post-revolution images entitled Nobody Will Talk About Us, created by Tunisian artist Mouna Karray between 2012 and 2015. For the artist's debut solo exhibition in the United Kingdom, at London's Tyburn Gallery, she will present it in its entirety for the very first time.
Nobody Will Talk About Us
Following some kind of an unspoken rule, it often happens that the southern parts of different countries around the world tend to be less developed and neglected by the richer, northern parts. The south of Tunisia is one of those cases, as a region that has been traditionally suffering from a lack of investment and marginalisation. Local photographer Mouna Karray traveled throughout the area over the course of three years, meeting up with people living there. To tell their story, she used the anonymous figure, as the symbol of the domination alienation and isolation, powerless to change their poor social and economic state. In the titles of Mouna Karray's photographs, we see the exact latitudes and longitudes of the places she captured, as yet another reminder of the fact that they, as well as their residents, really exist there.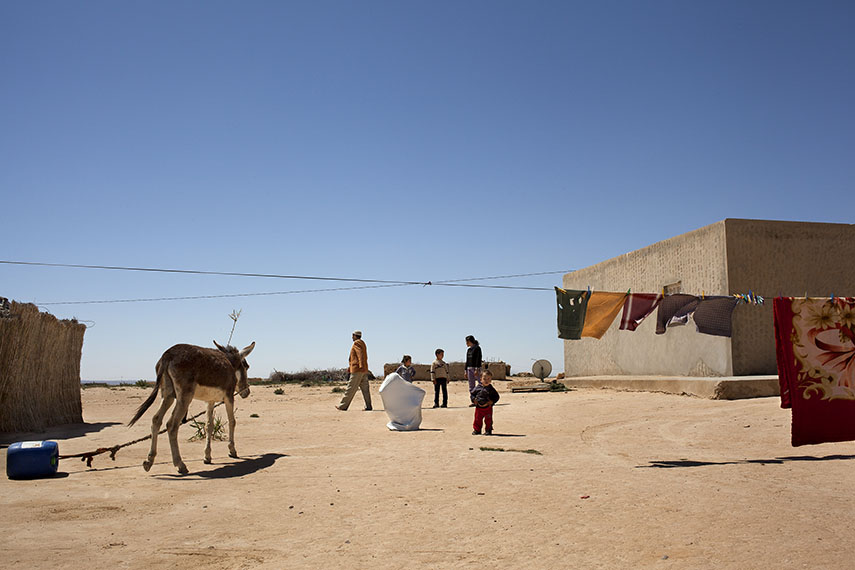 A Virtuous Visual Narrator
Born in the South-Eastern Tunisian city of Sfax, Mouna Karray dedicated many of her photographic projects to her homeland, but also other African countries. She managed to establish a unique documentary style, working in both color and black and white. At home, Mouna Karray photographed the disappearing industrial structures, but also the intimate moments with her family inside her home. In 2002, she specialized in photography in Tokyo, which also had an immense influence on her artistic style. In an environment completely different from the one in Tunisia, to say the least, she successfully immersed herself into the vastness of the urban landscape. Apart from photography, Mouna Karray also creates videos and sound installations.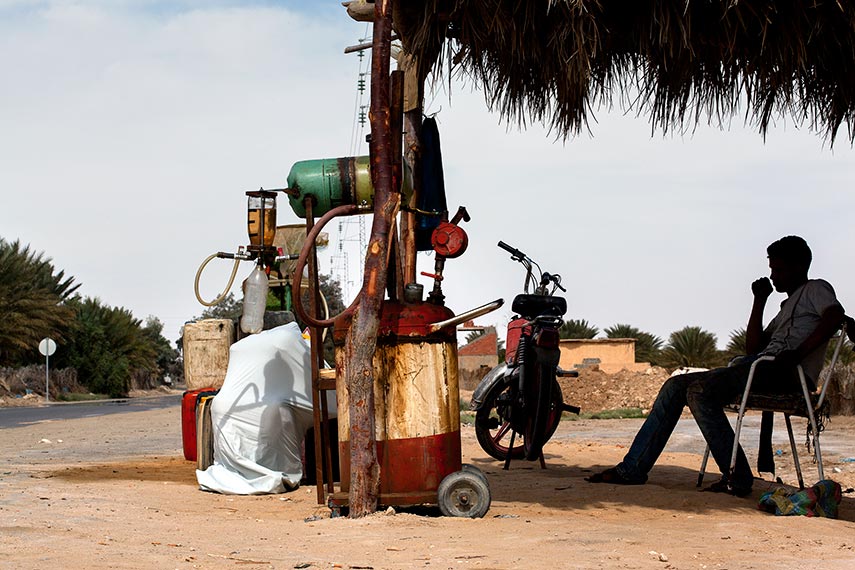 Mouna Karray Exhibition at Tyburn Gallery
Through the anonymity of her ghostly figure, Mouna Karray reveals the true face of politics and the way it impacts actual human lives and the future of a country at large. By staging her photographs, the artist draws our attention to the very real scenario of her fellow countrymen, cast aside and forgotten until further notice. The exhibition of Mouna Karray's photography, entitled Nobody Will Talk About Us, will be on view at Tyburn Gallery in London, UK, from April 8th through May 21st, 2016. A private view is scheduled for April 7th from 6pm to 8pm.

 Editors' Tip: Three Tunisian Women Artists: Nicène Kossentini, Mouna Karray and Moufida Fedhila
Mouna Karray is without a doubt one of Tunisia's most prominent female artists working today. This Kinder book, entitled Three Tunisian Women Artists: Nicène Kossentini, Mouna Karray and Moufida Fedhila, examines the lives and careers of these three talented creative females, through interviews and photographs of their works. Conducted by Michele Cohen Hadria, a Tunisian art critic living in Paris and translated by Judith Hayward, the conversations focus on art and life in Tunisia after the revolution, as well as its political contexts that influence their work. Nicène Kossentini is a multimedia artist, currently assistant professor of experimental cinema at the University of Tunis, while Moufida Fedhila is a provocative visual artist, filmmaker poetess and producer.
Featured images in slider: Mouna Karray - 34°21'53.0"N 8°25'41.0"E, 2012-2015; 34°43'56.0"N 10°32'29.4"E, 2012-2015; 34°25'02.6 "N 8°25'10.6"E, 2012-2015; 34°20'59.2"N 8°20'11.7"E II, 2012-2015; 34°20'59.2"N 8°20'11.7"E I, 2012-2015; 33°54'17.9"N 8°06'34.5"E I, 2012-2015; 33°54'17.9"N 8°06'34.5"E IV, 2012-2015. Inkjet prints on Hahnemühle paper. Copyright the artist, Courtesy Tyburn Gallery