Founded by Ed Winkleman and Murat Orozobekov and taking place in New York, London and Istanbul, Moving Image art fair was conceived to offer a viewing experience with the excitement and vitality of a fair, while allowing moving-image-based artworks to be understood and appreciated on their own terms. The 7th edition of annual Moving Image New York will be returning to the Waterfront Tunnel from February 27th until March 2nd, 2017, coinciding Armory Week in New York. Promising the viewers a change of a usual art fair pace, the fair will bring together a selection of international commercial galleries and non-profit institutions to present single-channel videos, single-channel projections, video sculptures, immersive media projects, and other larger video installations. Moving Image will also continue their collaboration with Times Square Advertising Coalition and Times Square Arts to show works from artists represented by galleries participating in the fair on Times Square's electronic billboards. Also, the fair will present the Moving Image Acquisition Award that will fund the accession of at least on artwork from the fair into 21c Museum's permanent collection.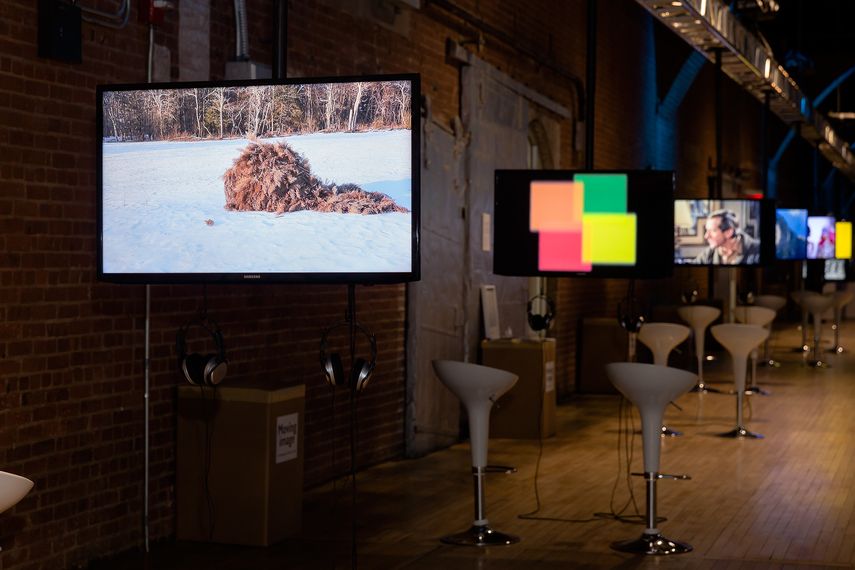 The Moving Image Art Fair Exhibitors
Featuring galleries and non-profit spaces from North America, South America, Europe, Asia and the Middle East, Moving Image New York 2017 will present a concise, international survey of well-known and emerging artists working in experimental film, video art, and moving image-based installation. This outstanding program was assembled by a newly formed Curatorial Advisory Committee that includes Fatma Çolakoğlu, Sergio Edelsztein, Suad Garayeva, Christiane Paul, and Sherry Ridlon Dobbin. The fair will also introduce a section devoted specifically to artists working in Immersive Media or Augmented Reality presented by galleries such as Gazelli Art House from London, BravinLee programs from New York, Upfor from Portland and TRANSFER from New York, among others. The rise in interest among artists working in immersive media has inspired the event to introduce these amazing new technologies into their format. Prior to introducing this section, the event has launched Moving Image Immersive Media in 2016 devoted to promoting artists creating in augmented and virtual reality technologies. It was launched with a series of international projects in 2016, including events in New York, an exhibition of 8 artworks at the Alt Art Space in Istanbul and a presentation at the Contemporary Istanbul art fair in November. Also, be sure not to miss artworks by Zachary Fabri presented by ROCKELMANN & Berlin from Berlin and Naoko Tosa presented by Ikkan Art Gallery from Singapore, among others. Niio, the industry's trusted platform for the secure management, distribution, and display of high-quality video, new media art, and immersive artistic experiences, will help Moving Image organize and present the artwork at this year's New York edition.
Participating Galleries and Artists
The Midnight Moment
For the fourth year, Moving Image continues their collaboration with Times Square Advertising Coalition and Times Square Arts on their ground-breaking public art program. Titled Midnight Moment, it is the largest coordinated effort in history by the sign operators in Times Square to display synchronized, cutting-edge, creative content on electronic billboards and newspaper kiosks throughout Times Square every night. This year, Moving Image will again solicit proposals from artists represented by participating galleries participating to have their work shown on Times Square's electronic billboards. In this way, artists and galleries are given the opportunity to exhibit artworks on the world's largest digital art stage and build important relationships with these essential New York City arts organizations.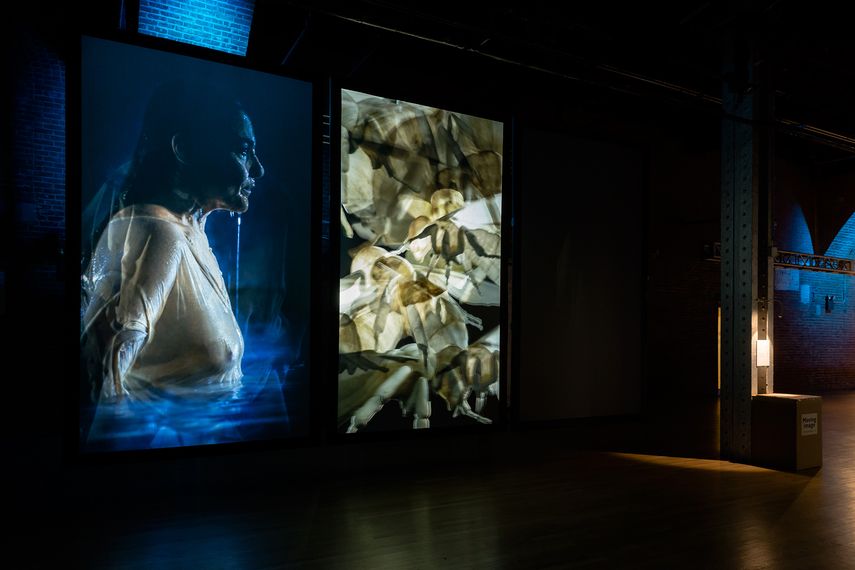 Moving Image Acquisition Award 2017
The Moving Image Acquisition Award seeks to further the representation of video art in permanent public collections internationally. As each year, it will fund the accession of at least one artwork from the fair into 21c Museum's permanent collection. The 2017 Award will be presented at the opening reception on February 27th, 2017. Previous awards have gone to artists Alessandro Balteo Yazbeck, Jessica Faiss, Rollin Leonard, Chris Doyle, Kalliopi Lemos, and Alexandre Mazza. This is a great opportunity to support the work of today's visionary artists and add significant new artwork to the 21c Collection. Founded ten years ago by preservationists and contemporary art collectors Laura Lee Brown and Steve Wilson in Louisville, Kentucky, 21c Museum Hotel is an innovative venture and an oasis where art challenges and amuses, stimulates conversation and provokes new ideas. Their collection includes artworks in media ranging from painting, sculpture, and photography, to film, video, and digital-based art. Featuring pieces by artists from all over the world, it reflects the global nature of contemporary culture.
The Location of Moving Image 2017
Practical Information
Moving Image New York 2017 will take place at Waterfront Tunnel event space in New York from February 27th until March 2nd, 2017. Moving Image will be free to the public and open from Monday, February 27th until Wednesday, from 11 to 8 PM and on Thursday, March 2, from 11 to 4 PM. An opening reception will take place on Monday, February 27th, from 6 to 8 PM. For more info, visit the official website of the fair.
Featured images: Moving Image 2016, photo by E. Frossard. All images courtesy Moving Image.