Taking place in New York, London and Istanbul, Moving Image art fair was conceived to offer a viewing experience with the excitement and vitality of a fair, while allowing moving-image-based artworks to be understood and appreciated on their own terms. Returning to the Waterfront Tunnel from February 27th until March 2nd, 2017, the 7th edition of annual Moving Image New York promises the viewers a change of a usual art fair pace. The fair will bring together a selection of international commercial galleries and non-profit institutions to present single-channel videos, single-channel projections, video sculptures, immersive media projects, and other larger video installations. Additionally, the fair will continue their collaboration with Times Square Advertising Coalition and Times Square Arts, as well as present the Moving Image Acquisition Award that will fund the accession of at least on artwork from the fair into 21c Museum's permanent collection.
To find out more about this year's edition of the fair, we've had a chat with its co-directors Ed Winkleman and Murat Orozobekov. In an exclusive Widewalls interview, they talk about this year's innovation's, the curatorial concept behind the selection of exhibitors the Times Square Advertising Coalition and Times Square Arts collaboration, and much more. Scroll down and enjoy!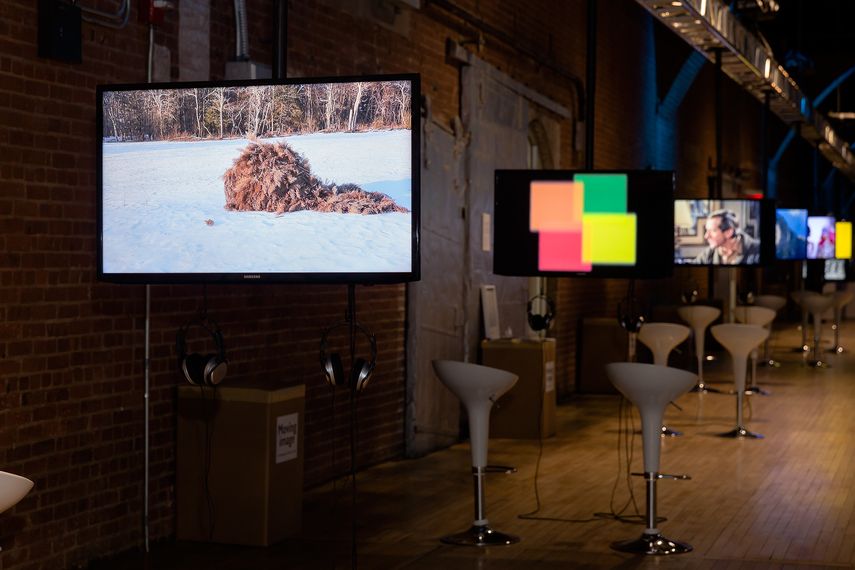 The 7th Edition of Moving Image New York
Widewalls: The Moving Image New York will be returning to the Waterfront Tunnel for its 7th edition. What innovations can we expect this year?
Edward Winkleman & Murat Orozobekov: Moving Image is introducing a new section to the fair this year called "Moving Image Immersive Media," featuring 10 artworks using virtual reality (VR) or augmented reality (AR). These technologies are pushing the boundaries of what artists can create in moving image-based works and we're very happy to have a strong international presentation of some of the best artists in these fields.
WW: The fair will showcase both local and international artists and galleries. Could you tell us more about this year's exhibitors and the curatorial concept behind the selection?
EW & MO: Each edition of Moving Image we invite a new international committee of international curators to tell us who they've seen recently that they feel is doing interesting work in moving image arena. The goal is to provide our visitors with an ongoing presentation of some artists they may know and many who may be new to them. We have galleries from Brazil, Singapore, Turkey, Germany, Italy, England, France, Poland, etc. They range from brand new emerging galleries to more established blue chip galleries, but they all include moving image artists in their programs.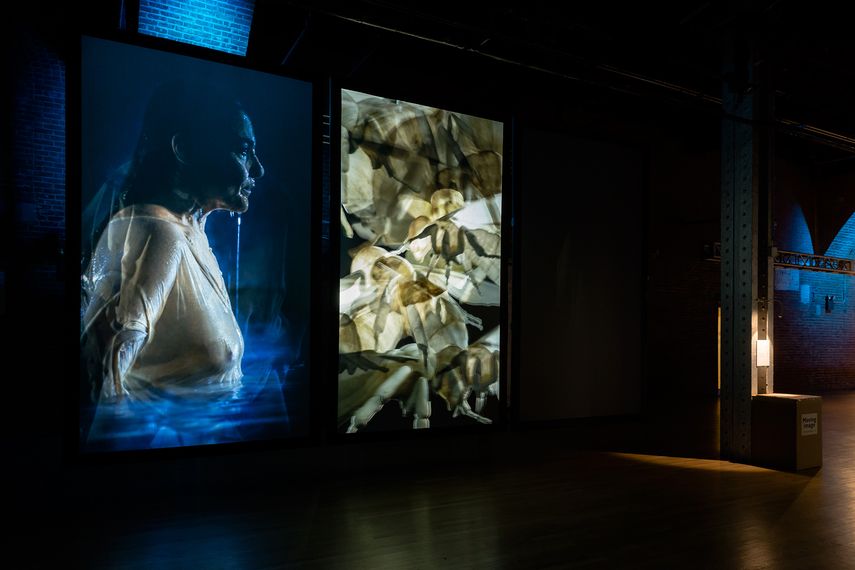 The Fair Highlights
WW: Could you select a few highlights for the visitors of the next edition of Moving Image New York? What is a must see?
EW & MO: Highlights in this year's program include works now considered "historical," such as a 1965 16mm B&W film by Anton van Dalen (presented by P·P·O·W Gallery, New York). Originally commissioned and shown publicly by the Canadian Broadcast Corporation, van Dalen's Flowers in My Eye is set to Mozart's The Magic Flute and traces the evolution of humankind from chaos to enlightenment. Also, in a relatively early (2000) interactive virtual reality installation by Tamiko Thiel and Zara Houshmand (presented by Moving Image Immersive Media [MiiM]), the historic experiences of Japanese Americans in World War II and the more recent experiences of Iranian Americans during the 1979 Iranian hostage crisis form the basis for a surreal and poetic work, contrasting immigrant attempts to achieve the American Dream with the demonization of entire groups.
Among the large-scale works at this year's fair is a seven-channel installation by Arda Yalkın (presented by Gaia Gallery, Istanbul). Arda Yalkın's piece, The Circle Jerk, 2016, creates the tension and absurdity of a job interview that everyone goes through at least one time in their lives. Five channels portray five characters around the interview table, while on the two outer screens, the artist emphasizes the irony between the reality and the assumption both the employer and the employee make about how they see themselves. Another complex installation is by Jakob Kudsk Steensen, whose Primal Tourism: Island is a fully explorable virtual reality (VR) rendition of the island of Bora Bora at some point in the future when climate change has made it a much more dangerous, yet still beautiful, tourist destination.
Augmented reality (AR) artworks at MINY17 include Virtual Saint Petersburg, a geo-located piece by John Craig Freeman. Created on location in Saint Petersburg, Russia, with photogrammetry technology, street scenes from the Russian city flood the fair space when visitors download a free Layar app on their mobile device and scan the QR code at the information desk. The Flower Matrix, an AR piece by Claudia Hart (presented by TRANSFER Gallery, Brooklyn New York) is activated when visitors scan her custom wall paper installed at the fair. Using their smart devices, viewers can look through the free Layar app to glimpse a world of pulsing invisible flowers.
In the single-channel section of the fair, Jefferson Pinder's 2008 time-lapse animation Afro-Cosmonaut/ Alien (White Noise) (presented by Curator's Office, Washington DC), a white-faced Butoh-inspired performance references Afro-futurism and is a crude metaphor of the civil rights legacy. Taking cues from experimental films, Pinder plants himself within the work, asking the viewers to watch the images of propulsion and power. And visitors will encounter a new work by Alexandre Mazza (presented by Luciana Caravello Arte Contemporânea, Rio de Janeiro, Brazil) who was the recipient of the 2016 Moving Image Acqusition Award. In Ego, Mazza's newest video work, a large snake slithers around a biker's neck, moving all the time around his body, like the ego...playing, creating traps, and surrounding us all the time.
WW: For the fourth year, Moving Image will solicit proposals from artists represented by participating galleries to have their work shown on Times Square's electronic billboards. Could you tell us more about this collaboration?
EW & MO: The Times Square Advertising Coalition in conjunction with Times Square Arts has been producing the "Midnight Moment" program for several years now, in which many of the jumbo screens in Times Square present a three-minute artwork just before midnight every night of each month. It's a huge thrill to see the artwork up there, as well as to see how it stops the thousands of visitors in their tracks. Participating galleries in Moving Image can submit proposals for the month of March and the Times Square groups select an artist. Often the artists not chosen for March will be invited in some later months of the year.
WW: How do you see the future of Moving Image New York and its role in the global art market in the following years?
EW & MO: We're living in interesting times. Originally we had envisioned Moving Image happening in many different cities around the calendar year, with three years in London and then two years in Istanbul, but (very different) circumstances in both those cities led us to postpone future fairs there until either we understood the market better or the threat of terrorism subsided. While Moving Image is an extremely easy fair for galleries to participate in (most often the artwork can be transferred to the fair online...in fact, this year, we've partnered with Niio, an art and technology company that provides free professional tools and a high-performance art player (4k/60fps) exclusively for the management, private transfer and secure display of premium, multi-format digital art for just that purpose), we still count on collectors and curators visiting the fair when making our decisions. We're still thinking about other locations in Europe and possibly South America. Stay tuned!
Featured image: Edward Winkleman and Murat Orozobekov.