After spending months creating outside all over the world, Mr Cenz brings us something different with small and intimate show hosted by Proof Gallery in London. This amazing London-based street artist had a very busy year. He painted murals at international Street Art festivals in Tahiti, Roskilde Festival in Denmark and on the Las Vegas strip. Mr Cenz exhibition at Proof Gallery will present a completely unique series of work focusing specifically on the artist's unique drawing, graphic and illustrative skills. Known for his beautiful depictions of female faces, Mr Cenz's creates aesthetically beautiful and pleasing works, often characterized by abstraction and even surrealism. However, for the show that is entitled Future Flight at Proof Gallery, Mr Cenz has been preparing something different.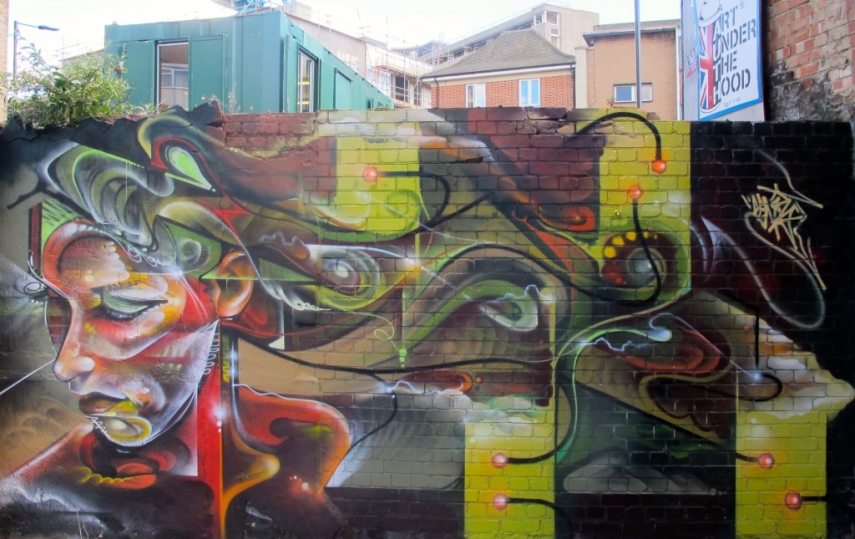 Mr Cenz and His Unique Style
Mr Cenz has been scribbling on surfaces since 1988 when he first discovered hip-hop culture and graffiti art. In the early years of his work, he had a few brushes with the law, so he decided to find ways of developing his skills legally (take a look at our article about 10 memorable street art arrests). Mr Cenz was only eleven years old when his mural was commissioned, and after this, he has continued progressing and experimenting with his art and set up his own company called Positive Arts. Since this early period of his career, the artist's style and work has evolved dramatically. He works from portrait and fashion photographs to create unique interpretations, which are abstracted in a spontaneous and freestyle way to create interesting and mysterious compositions, while his style is characterized by the fusion of photorealism, illustration and graffiti letterforms (be sure to check out our latest street update). His influences range from the old school graffiti artists that inspired him as a kid such as Dondi and Mode 2 to abstract expressionist painters like Paul Klee and Roger Hilton. At the moment, his work can be seen all over streets of London.

Future Flight
During the Future Flight show at Proof Gallery, Mr Cenz will present a new series of works on paper. The production of the series began in the artist's studio, on a rainy day (Cenz couldn't hit the streets as usual). So, he began to create "mini walls" by refining his style to a tiny scale and experimenting with spray-paint on paper. This practice somehow became a natural extension of his blackbook works and as more these pieces developed the more detailed, in-depth and intricate they became. The works from the series feature Mr Cenz's trademark female faces, but in more visionary, mythological and ethereal way. In these works, we can see small futuristic fantasy worlds created by the artist, where machines and nature co-exist and collide.
Mr Cenz Exhibition at Proof Gallery Video Teaser
Mr Cenz Exhibition at Proof Gallery London
Proof Gallery is founded and run by artists, and it is a divergent gallery in East London that supports alternative, lowbrow and contemporary artists (take a look at our article about 10 galleries in London you have to visit). Future Flight will present a new body of work by Mr Cenz – beautiful pieces of art, and something different from what we usually see in Mr Cenz's art practice. The Future Flight exhibition will be on view from November 5 until November 29, 2015 at Proof Gallery in London.
To be informed about upcoming exhibitions, sign up for My Widewalls! It's free of charge!
Featured Images: Mr Cenz work on canvas, detail
All images courtesy of the artist's website. They are used for illustrative purposes only.