After eight years since his last solo show in a gallery, Mr Cenz displayed his new body of work at the Pure Evil Gallery in London last October. The exhibition Distortions  shows works on canvas with imagery the artist derived by experimenting on the streets of London. The exhibition fuses the free-hand technique of a graffiti master with the delicate sophistication of a contemporary artist. Distortion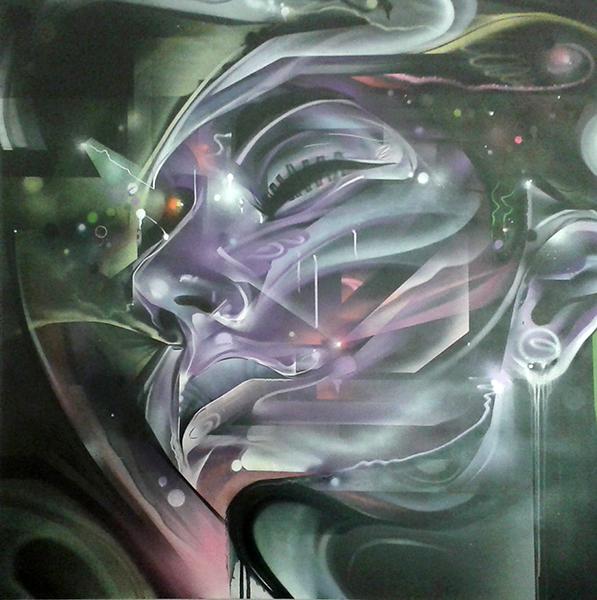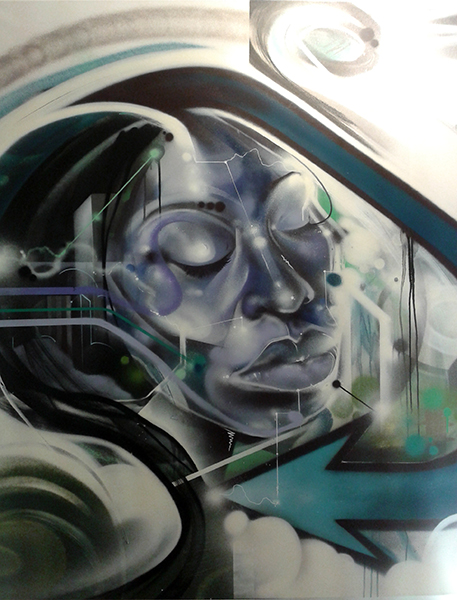 The Beginning
Mr Cenz started to hit the walls as a graffiti artist in 1988, when he discovered hip hop culture and the iconic book 'Subway Art'. At first he developed his letter styles and then, looking at his old paintings from college, he started fusing graffiti lettering with experimental techniques. The amazing and very peculiar results he achieved are visible on the walls of London East End, and it was skillfully translated to the studio work for 'Distortions'.
Using women from fashion photos as a reference – he depicts distorted female faces – hence the title. His portraits of women emerge from layers of intricate and flowing letterforms, from shapes and lines abstracted in a unique way. He offers the perception of a futuristic yet melancholic world, where sometimes these beautiful faces get confused with lines.
At the core of Mr Cenz's work there is still the traditional lettering. In fact, while looking at these portraits you have a strong feeling of being in front of old school wildstyle pieces.
Deconstructed Faces and Flows
The whole experience in the gallery was quite interesting, with human features deconstructed through lines of colour and shapes, as in the case of the 'purple lady' with the big earring. Different lines of various colours flow through her lost-in-thought face, which instead of being a static portrait it is characterised by movement achieved through the artist's distinctive style.In the 'eye', depicting only the upper part of a human profile, apart from the eye, the rest of the visible and abstract face is created through the skilful use and mix of lines, and the interplay of shapes, light and colours.There are not only feminine portraits. Some other really abstract works aim at recalling urban landscapes, with their pure graffiti lettering. The main feature of 'Distortions' is a continuous movement that flows through all the canvases, connecting them to each other beacause it breaks and overcomes the limit of each single art work.