The UNIT London is organizing an amazing exhibition – a show that will be a must-see event for all true art lovers and art enthusiasts. This time, the UNIT is preparing for the exhibition of the latest works by Mr Jago - one of the most internationally recognized and celebrated street artists of his generation. The Mr Jago exhibition is entitled NIL, and it will showcase the artist's new body of work. In addition, Mr Jago will also produce a large mural inside the gallery's space. With this and other great exhibitions, it is clear why the UNIT London has its place on the list of ten galleries in London you have to visit.
Abstraction and Street Art
Mr Jago is a veteran of the urban art. Having an intense interest in graffiti, he studied illustration in Bristol – a perfect place for all urban and street artists. Jago's work has been exhibited extensively worldwide and is held in both public and private collections. This Bristol-based artist is probably best known for his long interest in abstraction – although his process has been evolving over the years. His work has influenced many those within the urban art community and beyond. As a founding member of the Scrawl Collective, Jago has worked with Sony Music, Swatch and other international brand names. Most recently, Keith Griffiths, founder of the leading architectural firm Aedas, commissioned Jago to produce a mural for their new London head office, as well as canvases for Griffiths' boutique art hotel, Penrhiw in St Davids Wales. For the exhibition at The UNIT, Mr Jago has created a new body of work in oil - a first for Jago -, acrylic and spray paint on canvas.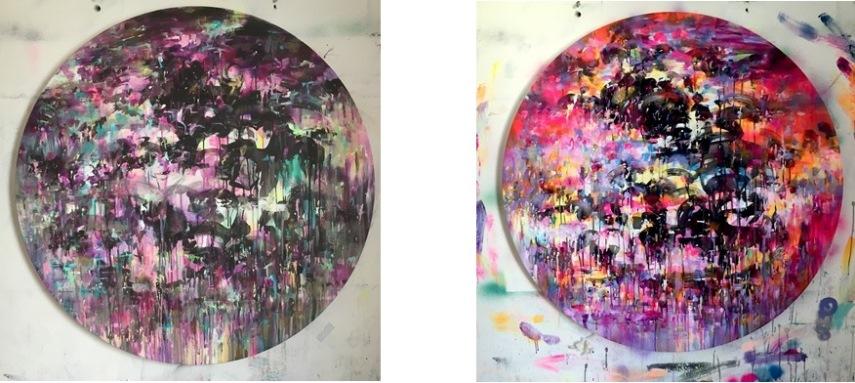 NIL
Being one of the leading global street artists, Mr Jago has been pushing the boundaries of what constitutes street art. His work and his art have evolved a lot in recent years: the droid like figures of his early works replaced in this new series with an abstract and very modern response to the great tradition of landscape painting. The artist's abstract landscapes explore the complex relationship between humankind and the natural world; the vivid colors and textures he employs are both suggestive and open-ended, illustrating an underlying tension that runs throughout his work. Of course, it is up to a viewer to conclude whether his works signal hope or despair. As Mr Jago says himself about his abstract art: …this tension is what is beautiful about abstraction; the image that one person interprets as a depiction of humankind's conquest of nature may appear to another as a depiction of nature's triumph. My work is capable of being both, and illustrates my struggle between crushing pessimism and soaring optimism for what the future holds.
The Video Teaser for the New Mural and Exhibition of Mr Jago at UNIT London

NIL | MR. JAGO | TRAILER from Unit London on Vimeo.
Mr Jago Exhibition at UNIT London
This is the first Mr Jago's exhibition at the UNIT London. Apart for amazing works that were specially made for the NIL exhibition, Unit London also commissioned Mr Jago to produce a large mural in the gallery's downstairs incubator space (to coincide with the show). The exhibition will be on view from October 23 until November 20, 2015, at UNIT London. The opening reception is scheduled for October 22, 2015.
If you want to be informed about upcoming exhibitions, sign up for My Widewalls! It's free of charge!
Featured Images:
Mr Jago - 140 grams, detail, acrylic and oil on canvas, 160 x 115 cm, courtesy the artist and Unit London
Mr Jago - Ignobilis, detail, acrylic, spray paint and oil on canvas, 120 x 90 cm, courtesy the artist and Unit London - Copy
All Images courtesy of UNIT London.