Philadelphia's Gallery Works on Paper excitedly announces their upcoming show that features one of the most interesting young street artists emerging from the Jersey Street Art Scene Mr. Mustart. In the course of the past six years the Works on Paper gallery has been dedicated to following careers of many street artists such as Ntel, Distort, Then One, Clarence Rich, Tf Dutchman and also artists from Jersey City, NJ Essential and A-Team Crew. So the approaching solo exhibition 50/50 2 Infinity by Mr. Mustart at the Works on Paper comes as no surprise. Ivan Petrofsky aka Mr. Mustart has already had many exhibitions both group and solo but is best known for his impressive outdoor murals.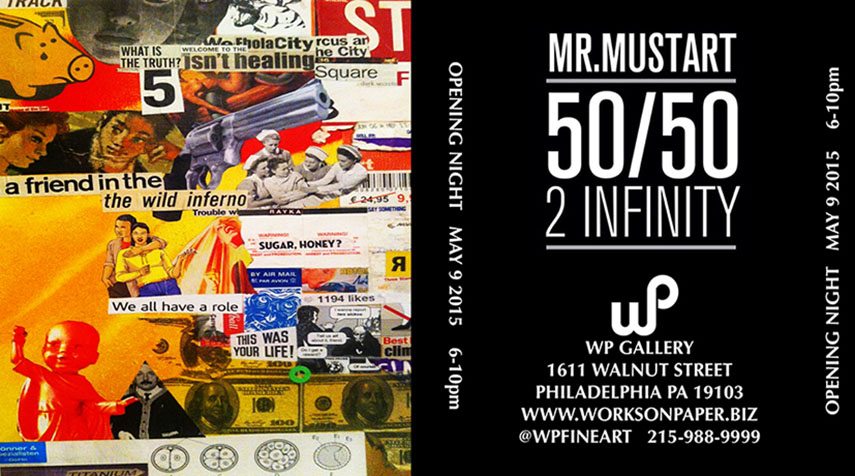 The Beginnings
Ivan Petrofsky originates from Russia but he moved to the States in 1999. He lives and works in Jersey City where he became one of the most prolific street artists. Ivan Petrofsky's artistic name Mr Mustart comes from his desire and necessity to do art every day. Five years ago Mr Mustart decided he wants do art for living and breathing and now finds himself five years later doing exactly what he wanted, participating in exhibitions, getting commissioned to do murals, graffiti, portraits, graphic design – literally doing art every single day. You read here on 10 best murals. Mr Mustart interest in art originates from his childhood but it was only when he got older and started perceiving social and political issues that he realized art can be a powerful tool in expressing his viewpoints and attitudes on certain topics. Since then his art became louder, more provocative and in your face kind. However, as Mr Mustart sees art as something that is always evolving and growing so does his work. He now feels the need to enter a more peaceful phase and that will be seen in his new works at the Works on Paper Gallery.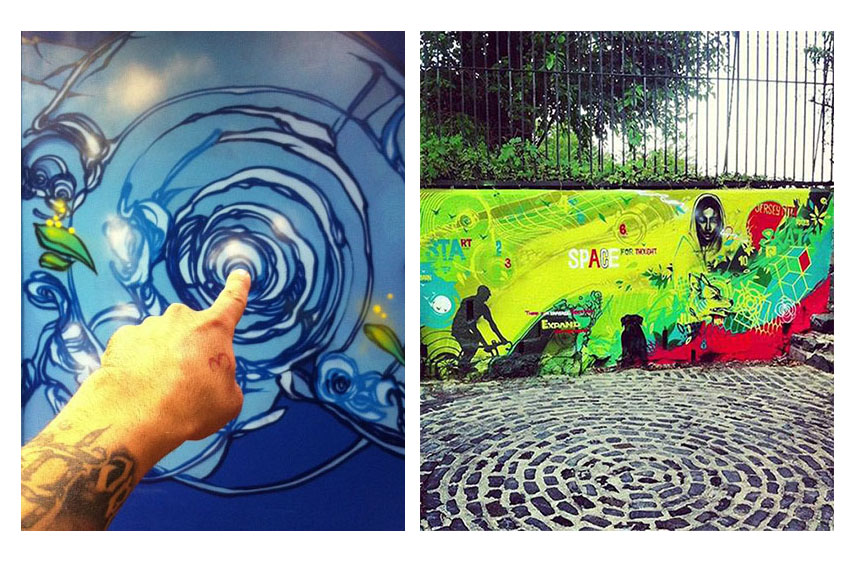 Mr Mustart's Style
Mr Mustart's work is deeply influenced by his move from Asia where he was born to the North America. Nowadays he travels a lot and the frequent change of surroundings also has an impact on him. But what was probably the greatest influence on his art was working outdoors. Painting in the streets was often illegal and demanded great amount of swiftness excluding preconceived work and sketches forcing him to deal with what was there. That is why Mr Mustart's work is in constant dialog with reality that becomes his source and his medium. This gave his art certain free flow style, abstract and jazzy as he describes it. Another thing that is evident in his work is his interest in collage and the way he often manages to incorporate elements of collage into his murals.
Mr Mustart at Works on Paper
The art of graffiti that was once notorious and illegal has recently became more and more acceptable resulting in great rise in the number of walls painted in Jersey. The place street art now assumes there is of such importance that MANA Contemporary Museum is building the first Urban Arts Museum curated by Logan Hicks and Joe Iurato. Once this project is completed Jersey City will truly become a Mecca for the Urban and Street art. Alongside Mr Ability and Sean 9 Lugo Mr Mustart is one of the most influential street artists in Jersey City where many of his works are to be found. Whether on the streets or on the gallery walls Mr Mustart's works resonate with smart, poignant but also intuitive aesthetics. His creative passion and restless spirit constantly seeking change and improvement promise the audience thought provoking and enriching show. Mr Mustart's exhibition 50/50 2 Infinity opens on May 9th in the Works on Paper Gallery. The show will be on display until mid of July.
If you are interested in Street Art read about the effects of globalization on street artists here.
Keep up with Urban Art by signing up for My Widewalls!
Featured Images: Carpe Jersey City, Mr Mustart and Distort, Courtesy of Flickr and Picture on the left: Mr Mustart, Courtesy of Chipejr Picture on the right: Mr Mustart Invitation, Courtesy of Works on Paper Gallery.