They are two Swiss artists who are turning our world upside down with witty, and sometimes gritty artworks exhibited all around Europe. This time round, M.S. Bastian and Isabelle L. are ready to take over Gallery Guillaume Daeppen in Basel with an exhibition entitled BASTOMANIA, coming up shortly after another one of their showcase with an intriguing name - Bastokalypse. It promises to be another crazy ride into the fantastic world filled with made-up realities that, however, look very much like the one we actually live in. What is for sure is that our attention will be divided towards many mesmerizing visual elements. But what is BASTOMANIA really about?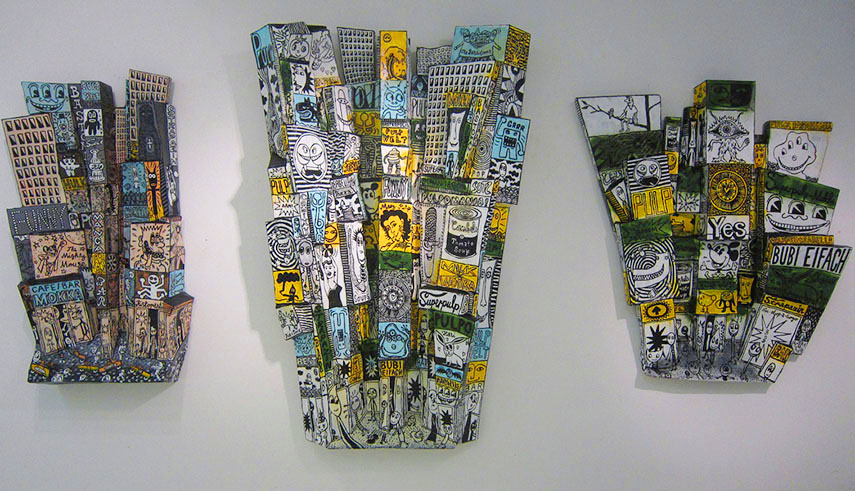 Welcome to (Y)Our World!
When we walk into the gallery, we become a part of a 3D-made reality better known as Basti-City, where the Basti-Toons pull up to Bastomania, the flies wear crumb hats, the full moon looks over Isabelle Avenue, where there are killer houses and Basti-taxi is passing by. We're not sure where to look at, because it all looks like a giant advertising bomb that multiplied Times Square by a hundred, we feel the frenetic energy of a city that is living in full speed right, and yet does not move at all. We are tempted to buy the Basti-comics from the Basti-store, to get the Mokka at the Basti-coffee shop, to climb these endlessly tall buildings made by M.S. Bastian and Isabelle L. as they lure us in and make us wonder what is behind those windows, those doors, those curious faces.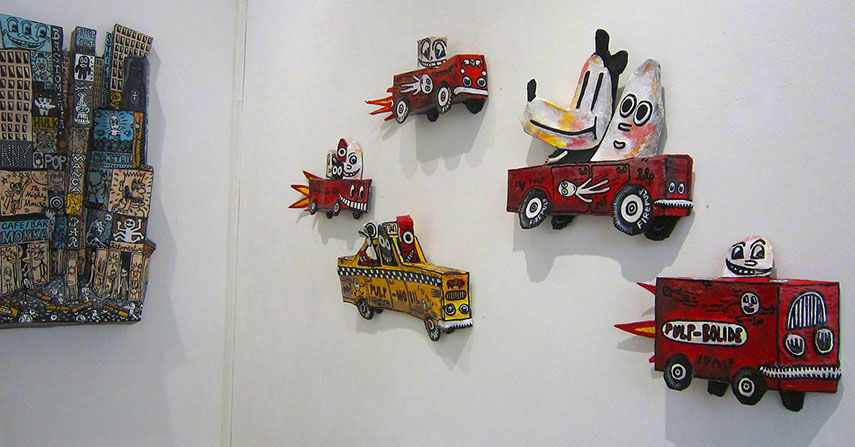 The Art of M.S. Bastian and Isabelle L.
Both coming from the Biel School of Design, M.S. Bastian and Isabelle L. share a passion for advertising and the world of comics in a unique way. They have been collaborating since 2004, while on the side working for important clients and obtaining significant recognition for their illustration work. M.S. Bastian's are the avant-garde cartoons that often confuse comic readers, as they contain curious quotes and intriguing scenery. During his stay in New York, he met artists Gary Panter and David Sandlin, who did not seem bothered by any demarcations between "high" and "low" art. From then on, he has his own way, whether in painting, silk screen, comics or sculptures. As one of the first artists of this kind in the world, he plays an important role as pioneer and ambassador.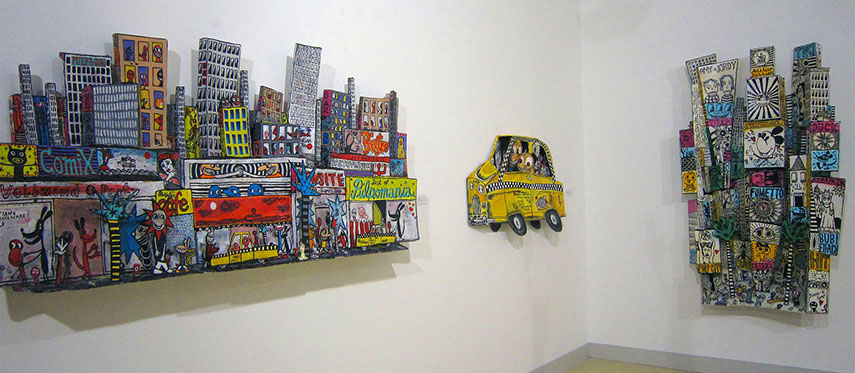 BASTOMANIA at Gallery Guillaume Daeppen
Step right up into the magical world of vibrant chaos inspired by the culture of comics, advertising and even human nature, as BASTOMANIA, an exhibition of works by M.S. Bastian and Isabelle L., will be in view at Gallery Guillaume Daeppen in Basel, Switzerland, from January 28th through March 4th, 2017. The opening reception is scheduled for January 28th, 2017, from 6pm to 8pm.
All images courtesy Gallery Daeppen.