Coming all the way from Sao Paolo, the Muretz exhibition of surreal and bold street art titled Stuck in Purgatory will be shown in Spain for the first time at Montana Gallery! Known for creating highly imaginative works which bring together clean shapes and bold outlines, Muretz transposes his playful wanderings into a distinctive and internationally recognizable style of illustration. He often takes inspiration from games, putting his imaginary characters on galactic and interstellar journeys which occupy walls of Sao Paolo and a lot of other cities. Exploring topics like time, the human body and the world of technology and social media, this artist started sharing his works internationally through mural interventions, after finishing Communications in Brazil and Design in London.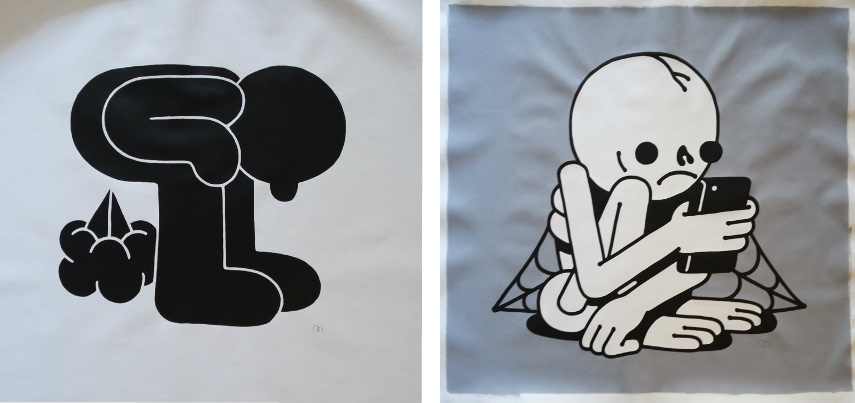 A Humorous and Surrealist Universe
Often promoting his art on Instagram, Muretz is known for combining ordinary details from our everyday life with cynism and humor to create his surreal characters which often suffer from purely human experiences: time, wishes, dreams, imagination, addictions. In his topics, he combines a highly imaginative surreal world with a frequent criticism directed towards our contemporary lifestyle obsessed with technology, virtual interaction and communication, unhealthy addictions and unsatisfied waiting. In some works, his characters become fully independent of the reality as we know it and go on magical journeys through the universe, or become able to take off their body parts and become living skeletons which try to lead regular human lives.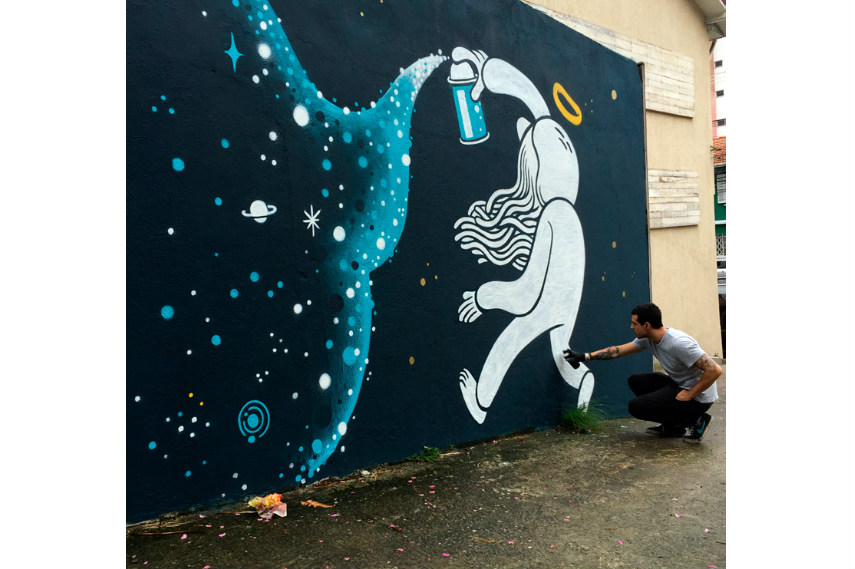 Clean Shapes and Radiant Colors
This Brazilian street artist uses a distinctive approach to illustration, by boldly using clean shapes, simple and thick lines combined with radiant colors which easily attract the eyes of viewers on vivid walls occupied by his art. Muretz's chubby, bald and usually monochrome characters possess morbid and fun connotations which become more highlighted by his use of vivid and strong colors. In some of his works, he tries to recreate an effect of looking through 3D glasses which add an additional dimension to the reality of depicted images, and he captures these 3D optical illusions by using simple 2D lines combined with overlapping placements of colors in contrast with the backgrounds.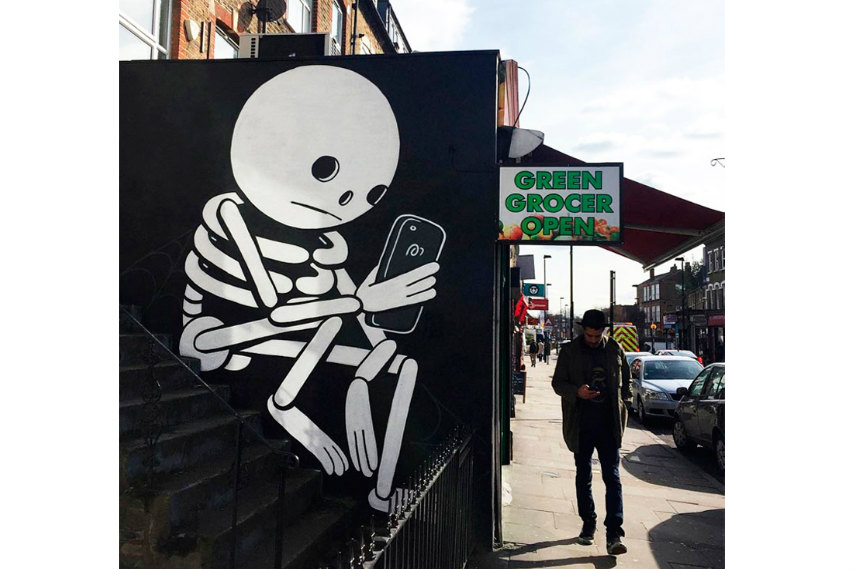 Muretz Exhibition at Montana Gallery
Playing with contemporary global issues and obviously influenced by the age of digital interaction, Muretz internationally showcases his works which frequently portray social media as a symbol to depict his critical standpoint towards the life and identity of a postmodern subject. Coming directly from the streets of Sao Paolo and for the first time to Spain, Muretz exhibition titled Stuck in Purgatory will be held at Montana Gallery in Barcelona, from March 31st till May 27th, 2017. The opening night will be held on March 30th at 8 P.M.
Featured image: Muretz - Chilling a Bit. All images courtesy of Montana Gallery.