Friday the 13th is upon us! Those who suffer from paraskevidekatriaphobia and plan to spend the day hiding under their blankets are probably going to miss one of the most exciting exhibitions we had the opportunity to announce lately. My Dog Sighs, one of our favorite artists and the creator of Free Art Friday project is opening his new exhibition at the newly founded Play Dead Gallery in Southsea, UK. For the new exhibition, titled Quiet Little Voices, My Dog Sighs has prepared many captivating works of art, but only those brave enough to visit the gallery next to a graveyard on Friday the 13th will have the opportunity to enjoy his latest creative endeavors.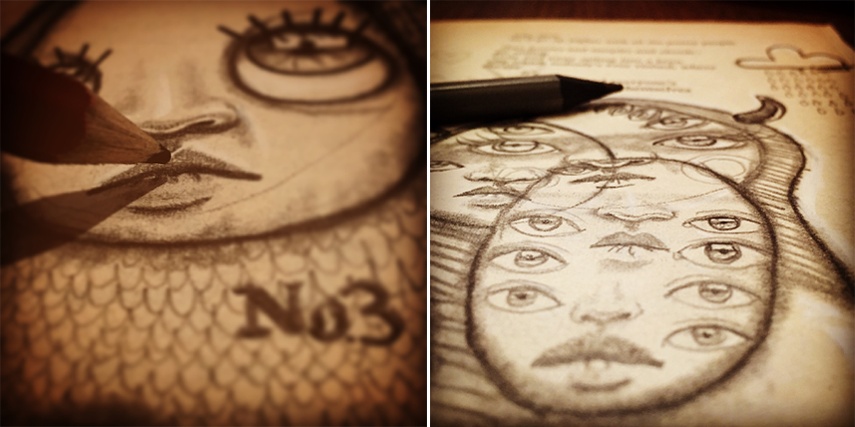 My Dog Sighs - New Visual Aesthetics
My Dog Sighs is widely known for his three-dimensional can-people characters, embodiments of human emotions on the discarded food cans and other found materials. The sad expressions, glassy eyes and the nostalgic looks on the little melancholic faces is what makes MDS artworks evoke those feelings of compassion and empathy among the beholders. It's been two years since My Dog Sighs had his solo exhibition in the UK, and in the last few months he has been actively working on his new visual language. His friendship with tattoo artists Samo and Dan, who have opened a street art gallery on the doorstep of their tattoo studio, mostly triggered this inspiration for the change.  The months of sketching alongside the tattoo artists at Play Dead Gallery inspired My Dog Sighs to adopt a darker angle in his perspective and produce new artworks, more bleak in their appearance.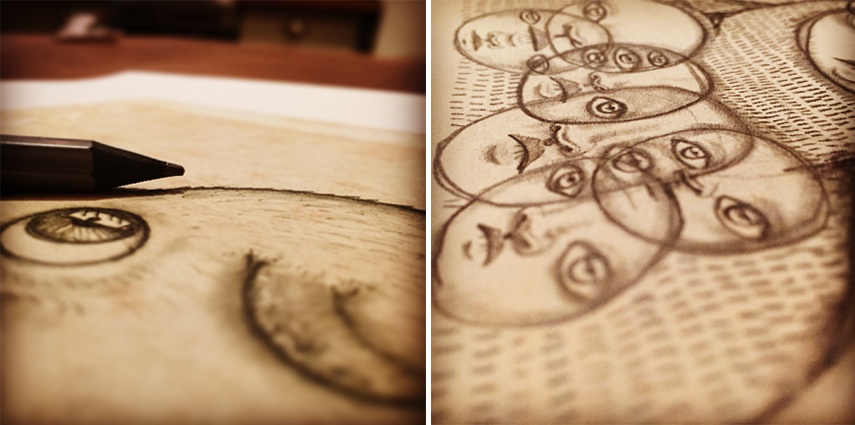 MDS Umbrellas to Keep the Rain, Sun and Bad Luck Away
A while ago, we asked My Dog Sighs about the melancholic aspects in his work. The artist wondered if we thought he was a morose character walking around under a black cloud. Maybe not a black cloud, but My Dog Sighs has been known to walk under his hand-painted umbrellas. Each year My Dog Sighs paints an umbrella before going to the festivals, and although the results are amazing and captivating, the paint swiftly wears off. The incredible appreciation for MDS umbrellas is what inspired My Dog Sighs to create an edition of long lasting umbrellas. Therefore, he teamed up with the umbrella company and the new exhibition will also mark the launching of these exclusive series of portable artworks by My Dog Sighs. Pretty amazing isn't it, to bring art wherever you go to protect you from bad weather.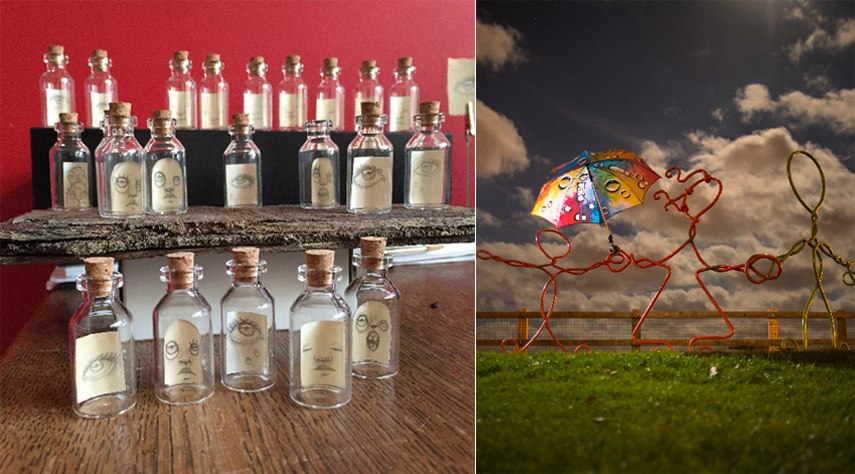 Quiet Little Voices at Play Dead Gallery
We've mentioned before that tattoo aesthetics has influenced the latest work by My Dog Sighs, but it also inspired the artist to create his own tattoo designs. Therefore, all interested visitors of the Play Dead Gallery over the weekend can get their own exclusive MDS tattoos. But it isn't the only surprise. For the Quiet Little Voices exhibition, which will encompass My Dog Sighs' signature cans, works on paper and canvas, the artist has also painted the walls of the gallery and you can expect a new series of limited edition prints. I think there is more than one reason to forget the superstitions and visit Play Dead Gallery in Southsea on Friday the 13th, November, 2015. The opening reception starts at 7 pm.
Follow the work of My Dogs Sighs and your favorite artists with a free sign up for My Widewalls!
Scroll down for more My Dog Sighs works for Quiet Little Voices...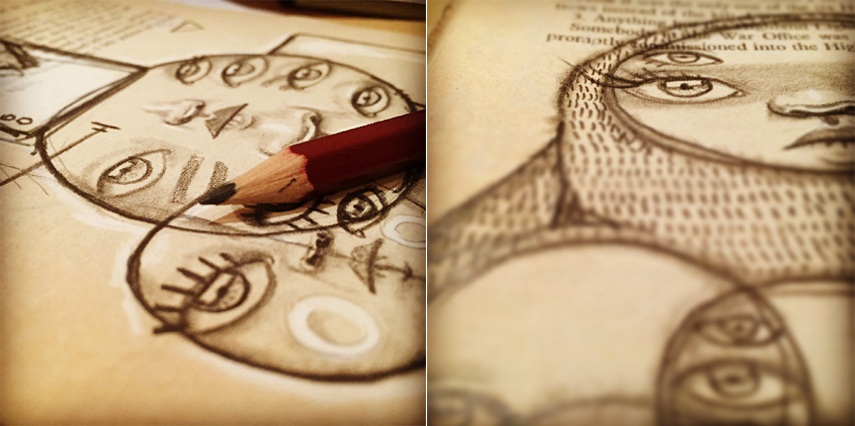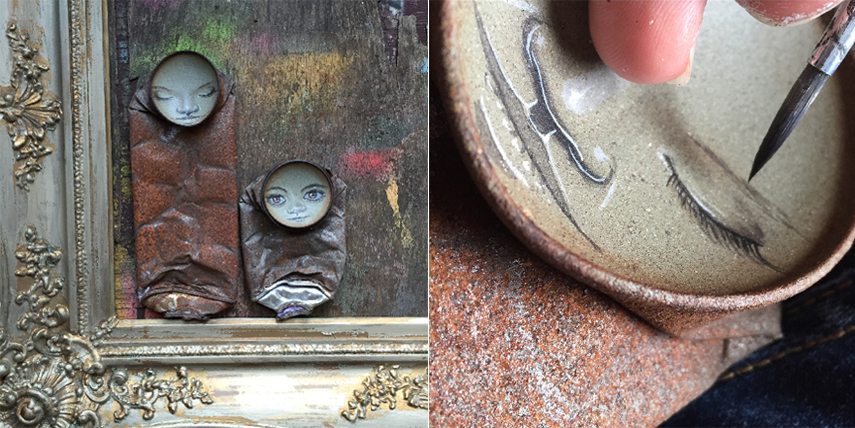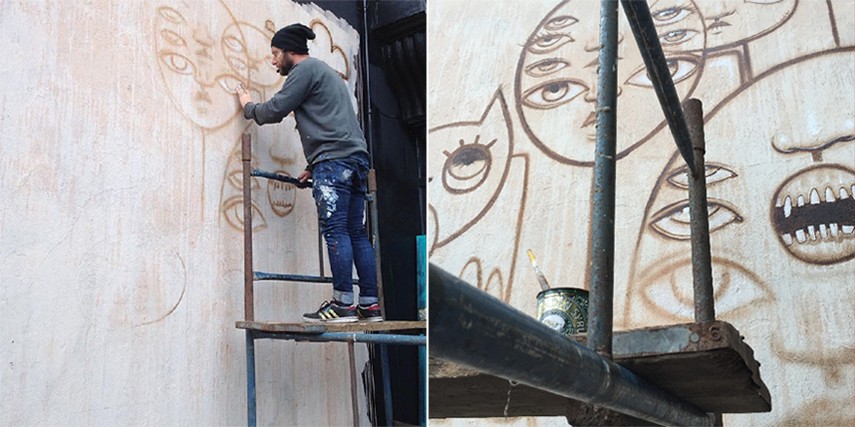 Featured images:
My Dog Sighs - Quiet Little Voices, 2015. Artwork detail
MDS Umbrella. Photo credit Andrew Whyte
All images courtesy of My Dog Sighs