Inimitable use of debris that he transforms into little mirrors of human emotion, along with his ingenuous Free Art Fridays have turned My Dog Sighs into a street art myth. He gives life to used cans, discarded wood, breathing in life into their inanimate state of decay by depicting small, expressive facial expressions on cans, canvas or paper, ranging from gentle to violent. He composes enlivening groups of pieces throughout the urban chaos, evoking the sheer nostalgia for the meanings lost in ruthless riddance of the material. My Dog Sighs' inspirations comes from urban crumble, aided by superficially shiny consumerism, and the ordinary men and women who, utterly enchanted, more often than not cast away their essential traits of self.
Found Objects of MDS
The innovative method of My Dog Sighs does not stop with the redefinition of refuse as he coined the concept of Free Art Friday, enticing the interaction between the public and the art. By placing free artwork outside, on the street every Friday for ten years already, this contemporary avant-garde creative emphasizes the significance of his own scavenging for lost urban gems, which has turned him into a cult figure, shown, among other things, through his participation in a pop-up Herrods X-Mas Bizzare show.  Placing these miniature treasures into a societal context, My Dog Sighs uncovers new outlook on human condition, and conjures the poetry of accidental discovery, while containing a strong political message at the core, wrapped by hidden narrative, woven by anyone who connects with the works.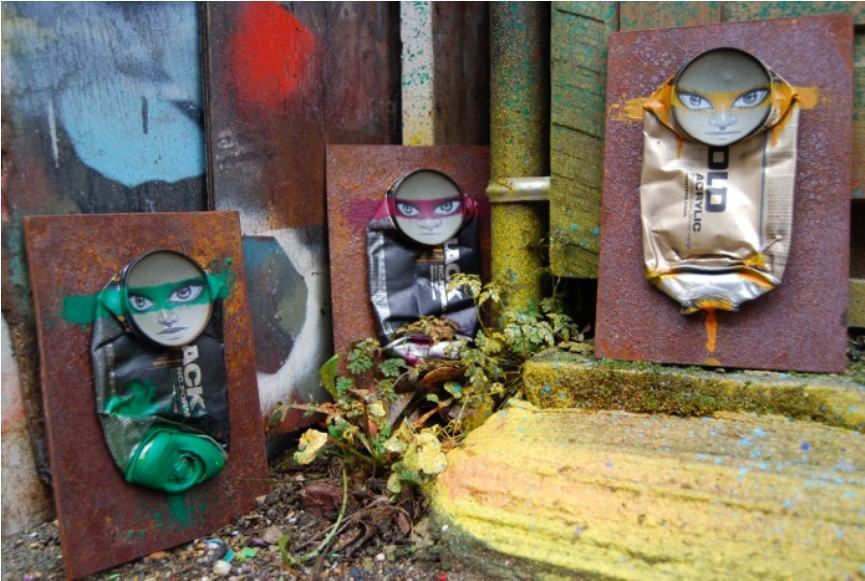 My Dog Sighs - The Artist to Watch
Devoted to the process of 'upcycling', My Dog Sighs usually chooses various food, drink and spray cans as his 'canvas' of choice, which he alters physically, flattens and crushes them and then intervenes with paint, turning them into precious objects. The ongoing year has proven very successful for the artist, since he's rapidly leaving the local fame, transforming it into international reputation. He's been exhibition in Japan, Israel and the UK, selling out exhibitions, while his artwork is constantly gaining fans via social media. His highly creative and imaginative approach to art is something that launched My Dog Sighs into the realm of contemporary urban artists to watch.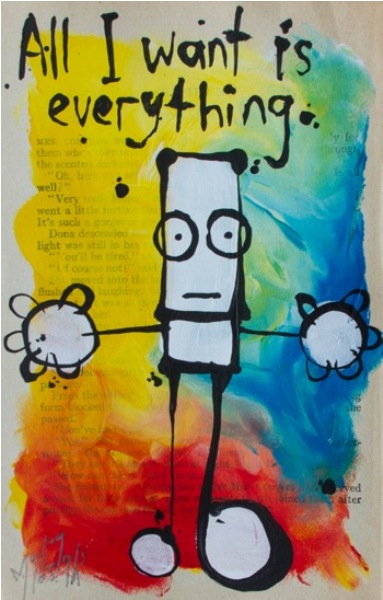 Find a Can in Chicago - The Exhibition
Having recently participated in Urban in Ibiza Festival, the latest endeavor of My Dog Sighs will be his US exhibition, hosted by Vertical Gallery in Chicago, through which this original British artist will bring his ideas to the American soil for the first time. His urban interventions and animated objects will be showcased under the title Lost and Found, evoking the nature of Free Art Fridays, where art connects with the people on an emotive plane alone, gaining new owners. Examining the concept of loss, the artist keeps visible his found materials, reflecting the melancholy and nostalgia lying behind the idea. Lost and Found is scheduled to open on September 6 at Vertical Gallery, remaining on show through September 27, 2014.
One week prior to the exhibition, MDS will leave 100 cans with his design applied as a sticker on the streets of Chicago, which will serve as tokens on the opening night: everyone who picks up a can and brings it to the event, will enter a raffle to win a hand painted can priced at $600. The artist will also endow the Windy City with a mural of his iconic everyman, to be named Chicago Hug, the practice commonly following shows at Vertical Gallery.