NoMa neighborhood will become a place of quite an interesting urban intervention, including three murals by three different street artists. The collaboration between Art Whino Gallery and The JBG Companies, a real estate investment firm which develops office, residential and retail properties, comes together in a form of a project called N St Mural. The goal of the project is to activate a block on N Street, using murals as a form of urban space transformation.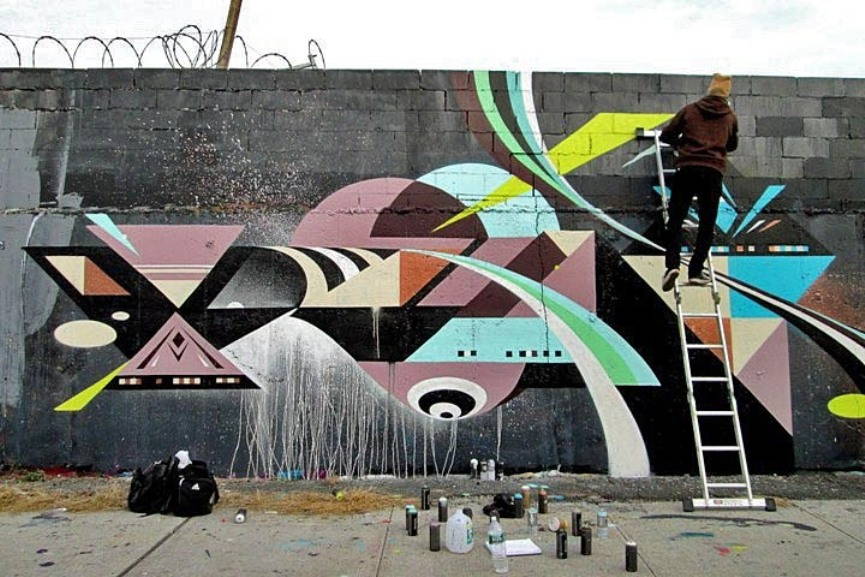 Art Whino Gallery
Art Whino is a DC based art gallery set on a mission to include some of the most talented and inspiring emerging artists around the world. Collaborating with over 1200 artists, Art Whino's activities include individuals from the United States, Europe and Asia. The gallery is devoted to a whole spectrum of art forms, simultaneously making way for skilled leaders in different genres, as well as exposing emerging stencil artists (to find out more about the art of stencils, read our article DIY Banksy – Is Street Art Becoming Too Easy?). For the N St Mural Project, the gallery has selected a set of three interesting artists whose focus lies on a geometrical style.
Kyle Hughes Odgers / MOMO / Rubin
Kyle Hughes Odgers, an Australian visual artist is known for exhibiting work throughout Australia, but also cities like Hong Kong, Singapore, London, Berlin, New York and Los Angeles. The artist is known for creating a number of major public works of art, such as a piece at Perth International Airport, which incorporates painting, as well as sculptural and LED components. MOMO is a street artist from San Francisco, who has spent a lot of his time in New York City, and currently has a studio in New Orleans. Last year, he has helped develop a fully Augmented Reality mural in St Lois, working with Re+Public. He was commissioned to do a 200 foot long mural between Brooklyn and Manhattan Bridges. Born and raised in Bergsjon, Gothenburg, Rubin felt inspired by the walls of the urban space residing near the North Sea. Referring to his hometown as the centre of boredom, the artist embarked on a journey of discovering the power of street art from Scandinavia to Thailand… He has done work in collaboration with Heineken, MTV, GAP and featured in numerous publications. In the words of the artist, "something happens when I press the cap and draw the first line of the piece […]"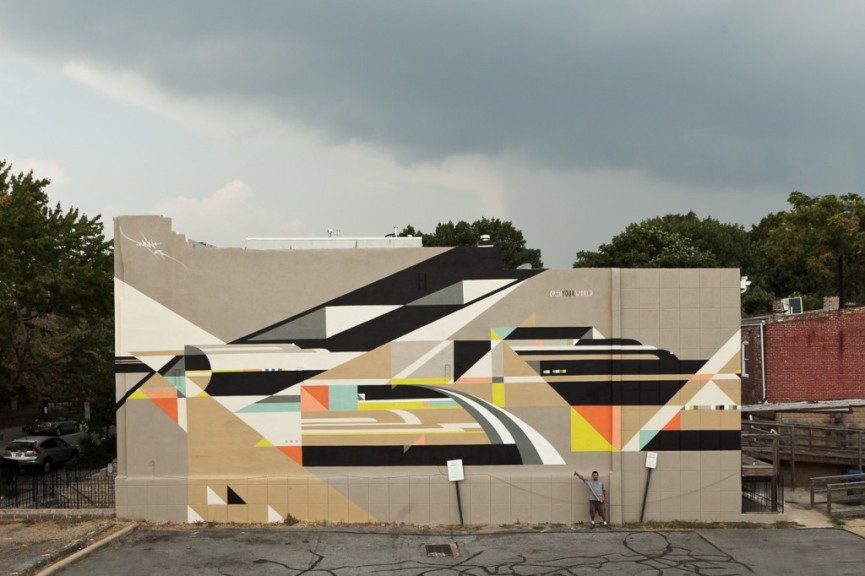 N St Mural Project
The choice for artists who create with a shared style, devoted to the exploration of geometrical forms, posed itself as a logical and almost natural one. Namely, the locations of murals represent unconventional surfaces, not being entirely flat and continuous. Thus, the experience of all three locations will present itself as a unique impression do to the fact that the three locations are all within a block from each other. The locations include a two-story courtyard, three-sided four-story building and one huge eight-story two-sided building. the project is set to be finished in the period between October 17th to November 6th 2014.