On August 8, The New Art Dealers Alliance announced that it would cancel its annual New York art fair, which was scheduled to run in March 2019. The decision came from an agreement between both NADA members and its board of directors, said the statement, which also confirmed that the 2018 Miami Beach edition will go on as planned.
But what brought this move on might be the first big warning sign for the art market, already struggling with the consolidation within - NADA New York 2019 was canceled because many small and medium-sized galleries have been closing and are no longer able to handle the costs of attending fairs.
As a response, NADA said it would instead focus on supporting gallery programming during the week the fair usually runs, coinciding with other events like the Armory Show and Independent. The aim is to "develop and deploy new initiatives that will best serve our members as their needs continue to shift and evolve," according to the executive director of NADA, Heather Hubbs.
Producing alternative models for the public to engage with contemporary art has always been central to NADA's mission, and the combination of NADA Miami and directing focus towards the galleries and their exhibition programs will make for a more dynamic season.
Could this mean the end of art fairs as we know them? And more importantly - is there finally a long-term solution for middle-tier galleries in sight?

The Big Problems of Small Galleries at Art Fairs
Without a doubt, art fairs represent a great way to reach new audiences and make more sales than a gallery usually would within its own walls. Dealers, collectors, artists and other galleries all gathered in a single space is a very attractive idea, which is one of the reasons why we've seen a surge in the number of such events taking place on a yearly basis - it went from a two- to a three-digit number in the matter of a few years.
For small and middle-sized galleries however, the stakes of participating at a fair are much higher compared to those of their bigger, more successful peers.
With the art market shrinking, we now have an even greater gap within top-tier fairs between the biggest players in the game and those who are far less certain of their revenues from such event. Contributing to a gallery's decision on whether they will participate at a fair or not are factors such as production, shipping, insurance, staffing, gallery dinners and of course, the renting of the booth. An estimate of overall spending at a fair such as Art Basel Miami Beach according to artnet goes between $120,000 and over $275,000.
While the galleries with a better financial stance and big artist names could absorb these costs without a loss, even with possible artwork sales on the spot they often and usually make a negative impact on a small gallery's budget, eventually forcing them to reconsider and renounce such endeavor - which has now for the first time led to the cancellation of an entire art fair.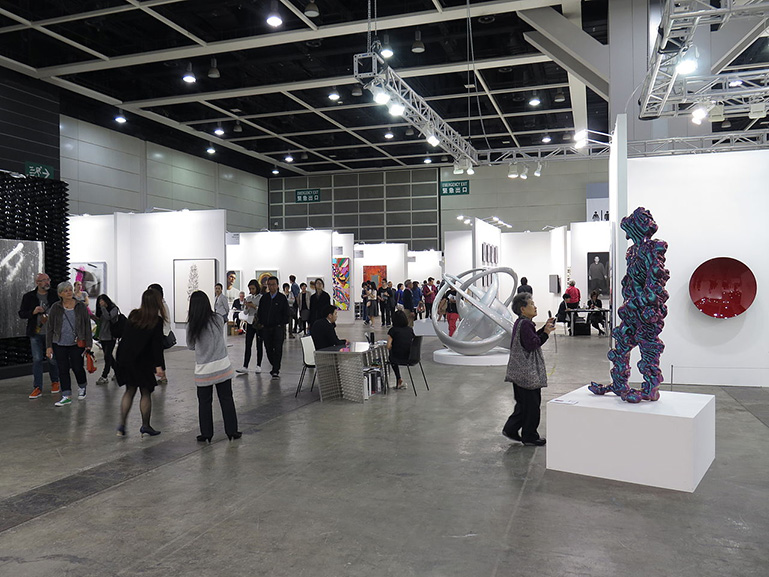 Could NADA Offer a Brighter Future?
Earlier this year at the New York Times Art Leaders Network conference, there was a talk on what fairs themselves could do to make things easier on galleries squeezed by the art market. Gallerist David Zwirner, owner of the eponymous space that is among the most successful ones out there, famously proposed a radical solution: he suggested that top galleries like his should pay higher prices, in order to make room and subsidize smaller galleries' booths at art fairs.
While Marc Glimcher of Pace Gallery and Thaddaeus Ropac supported this idea, others like the global director of the Art Basel fairs Marc Spiegler, pointed out that the problem goes beyond the costs of booths. He said that the solution should be one to secure a long-term relief and that it should begin with the overall way galleries reach and manage their cash flow.
Another suggestion might be to "simply" choose to participate in second-tier, less expensive fairs; this could, however, reveal another issue - that of taking away the diversity and the healthy mix of artworks from the top-tier fairs, adding fuel to the fire that had already started it all.
NADA, as we could see, went the other way. By completely canceling their event and deciding to focus on their members "en plein air", they seem to be supporting and believing in an idea which already exists in a form - think gallery weekends, quite successful ones taking place in Berlin and Beijing, or collaborative gallery events like Condo, which encourage pop-up spaces and temporary exhibitions in New York, for instance.
In fact, in addition to removing its New York event from the calendar, NADA is planning on opening a gallery space for exhibitions featuring works by its member galleries, although it is not yet clear as to where this would be.
This alternative could indeed prove fruitful - with NADA's reputation and a 15-year-old experience, these art spaces could still prosperously show, and sell, the best of their program and artist roster, fairly close to the art fair venues but away from the stress and the demands they bring with them. Is that the beginning of a new era in the art market? We are sure to get an answer to our question in March 2019.
Featured image: A Conference Held at NADA New York 2018, via Instagram.