French street artist Nadège Dauvergne is about to take her wonderful creations, formed from a hybrid of classical painting and street art, to Le Cabinet d'Amateur in Paris. The new solo exhibition, entitled Tout doit (va) disparaître! which translates roughly as Everything should (will) disappear, will see Nadège Dauvergne present her works which portray figures from historical paintings and places them into new environments, creating associations from ideas and forcing us to ask questions about our relationships with money and the sacred in our modern society. Nadège Dauvergne has been developing the idea in the form of street art, adding these classical figures to the advertising billboards found in every urban area, causing the passer by to stop and re-evaluate what is being offered before them. Le Cabinet d'Amateur has presented a number of fascinating exhibitions including the wonderful Bagages by Levalet, the group show vis-à-vis and Objets trouvés by Oakoak and Bulbe.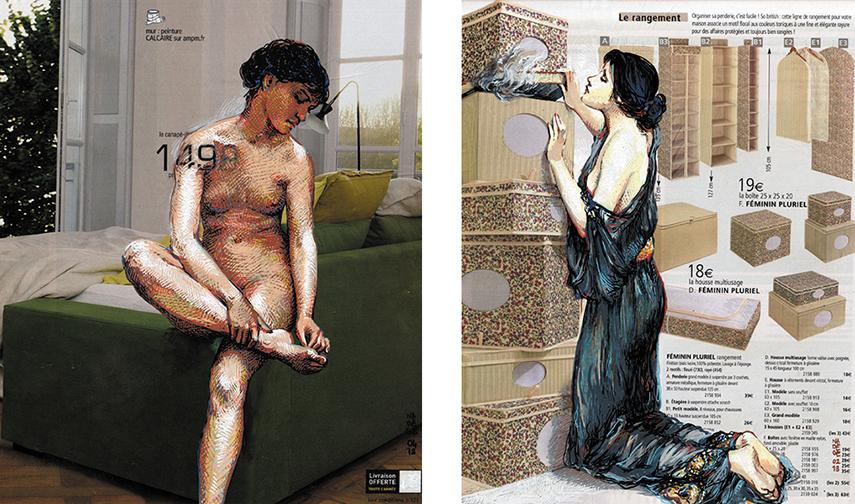 Tout doit (va) disparaître! In Paris
Tout doit (va) disparaître! at Le Cabinet d'Amateur in Paris, sees Nadège Dauvergne continuing to explore our habits and societal attitudes by using the art of past centuries and placing it within an everyday means of communication, advertising. The new solo exhibition will feature these classical figures taken out of their original context and placed in the new surroundings of a found advert. However, it is not the case that Nadège Dauvergne randomly places figures without thought, each new arrangement, whether in the studio or in the street, is carefully planned. The composition and forms found in the adverts must resemble in some way the forms found in the original paintings, therefore allowing the character to fit perfectly into the new picture while creating a new dialogue for them.
This new placing of the character plays in a humorous way with the two distant times represented, the historical, mythical and sometimes biblical imagery of the past, coming up against the ordinary materialistic and consumerist attitude of modern times. Tout doit (va) disparaître! revolves very much around the idea of art and consumption along with the colliding of two distant worlds. For more artworks inspired by historical paintings take a look at Supernatural by Timothy Horn and Model and Muse by Hendrik Kerstens.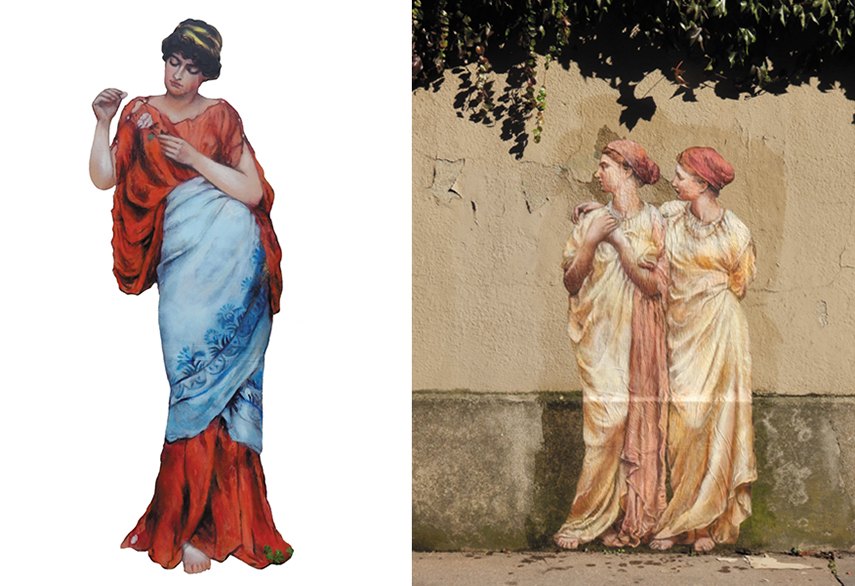 Ephemeral Work of Nadège Dauvergne
The works created on the streets by Nadège Dauvergne are very ephemeral in nature, the locations picked very carefully in which to place these historical figures. She creates the figures life-size using acrylics and aerosol on paper, then pasting the figures onto billboards or in suitable places including abandoned buildings, doorways, under a bridge or in the subway, creating a new context and history for the characters before they eventually disappear and are forgotten again. The images in the new solo exhibition in Paris see the street artist working in Posca markers on catalogue pages, the beautifully drawn classical figures contrasting magnificently with the consumerist advertising of the modern world. Nadège Dauvergne is an expert at having fun while deceiving our eyes, while also casting doubt on our very values, interests and way of life.
Tout doit (va) disparaître! by Nadège Dauvergne opens at Le Cabinet d'Amateur, Paris, on 28th May, 2015 and runs through until 10th June, 2015. Opening reception is on 28th May, 2015 from 6pm.
A catalogue of the Tout doit (va) disparaître! exhibition will also be available as a limited edition of 100 copies, numbered and signed by the artist, on Sunday 7th June, 2015 between 3-7pm.
For all the latest exhibition news sign up to My Widewalls today!
Featured slider images: Nadège Dauvergne - Jasmine. 2015. Advert and Posca marker. From Jasmine by JW Godward & Nadège Dauvergne - Street Art.
All images courtesy of Le Cabinet d'Amateur.