Coming from a film and theatrical background, the Russian-born and Bay Area-based artist Nadezda primarily focuses on portraying the human condition, an intimate window that exposes the inner world of her subjects. Her dark and expressive works offer a glimpse into her bewildering film-like narratives. The latest Nadezda art exhibition titled Fly-By-Night will soon be on view at Haven Gallery. The title refers to a nocturnal creature or a person who appears and disappears rapidly underneath the dark veil of the night or gives an impression of transience, obscured state of mind between sleep and being awake.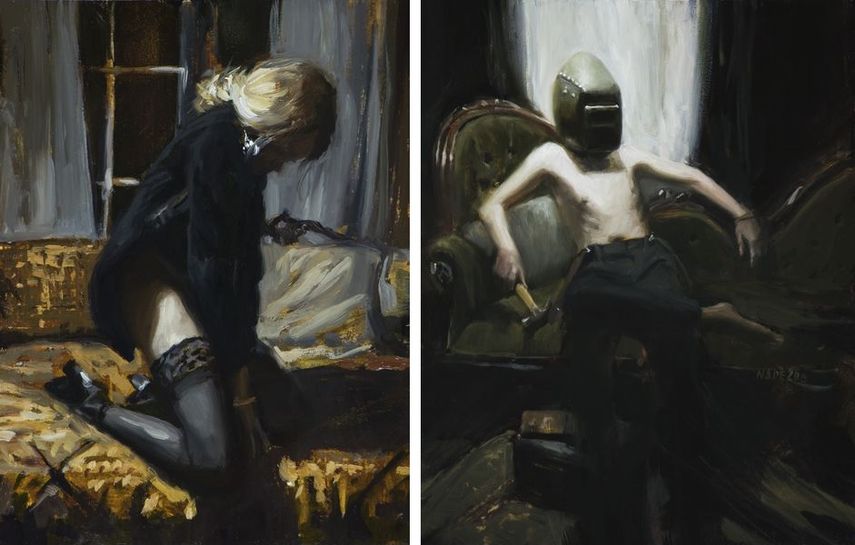 Opening an Intimate Window
Nadezda thinks of her artwork as a form of escapism, where reality is twisted to depict human dreamscapes and inner dwellings as stills from a movie which no one has seen, and probably never will. As she explains, "Those stories usually visit my head, marinate there until I get a clear idea which part of it inspires me the most, and then I choose only a few images to paint or draw to represent the entire mood. Only I know the full story and the whole of it would remain untold. The artwork is just and an excerpt from it – cherry-picked, painted, framed, hung on the wall for people to see. It might have a lot to do with my extensive experience in theater and film industry, which molded the artistic part of my brain into director's set of mind."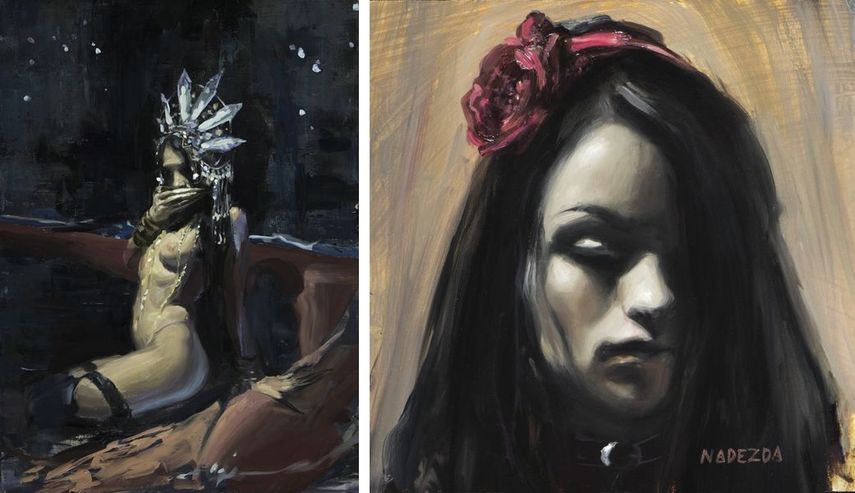 Working With All Senses
Nadezda harvests her inspiration from life – usually personal experiences from the past and present that were shuffled and skewed by memory, which sooner or later surface up in the consciousness, pretending to be something completely "new". She says, "Having spent a lot of time getting acquainted with myself as an artist, I can read between the lines where those seemingly "new" ideas come from. Sometimes they are fairy tales interlaced with moments of childhood; sometimes they are reflections of other creative work in genres other than mine - that way I avoid subconscious influence on my own creative thinking. Lately, I have been reading a lot of poetry, especially the Russian poets of the Silver Age. Vladimir Mayakovsky's remarkable unconventional yet harmonious rhythm, daring metaphors, and rich allegory are easy to translate into paintings. In his poetry, every line is a brushstroke. Music and performance art have a big influence on my artwork, too. "
Fly-By-Night by Nadezda
Nadezda Art Exhibition at Haven Gallery
With her bold brushstrokes, theatrical scenery and film background, Nadezda masterfully sets up the mood in her intriguing art pieces. When looking at her art, the viewer is drawn into a dreamlike world where literally anything can happen. The exhibition Fly-By-Night will be on view at Haven Gallery in Northport, NY from June 1st until June 17th, 2017.
Featured images: Nadezda - Secrets (detail); Nadezda - Spell Of A Black Orchid; Nadezda - Horsie's Lullaby; Nadezda - Fly By Night; Left Nadezda - Black Orchid Right Nadezda - Etude in e-minor n.03; Left: Nadezda - Black Orchid / Right: Nadezda - Etude in e-minor n.03. All images courtesy of Haven Gallery.