Flourishing in the Russian Empire and the Soviet Union, the Russian avant-garde art brought a sense of creative urgency, radical cross-fertilization, and synthesis within the visual arts, becoming a powerful influence on art production in the 20th century that reverberates throughout the course of modern history. Among the artists at the forefront of these dramatic changes and radical developments was Natalia Goncharova, who was involved in a relentless exploration of different visual styles and shifting ideological standpoints. An artist, painter, costume designer, writer, illustrator, and set designer, she was a pioneering and radical figure, celebrated during her lifetime as a leading modernist artist.
This summer, Tate Modern is hosting the UK's first ever retrospective of this seminal avant-garde artist. Simply titled Natalia Goncharova, the exhibition will present over 160 international loans which rarely travel, as well as a room evoking the artist's remarkable 1913 retrospective presented at the Mikhailova Art Salon in Moscow which originally featured some 800 works.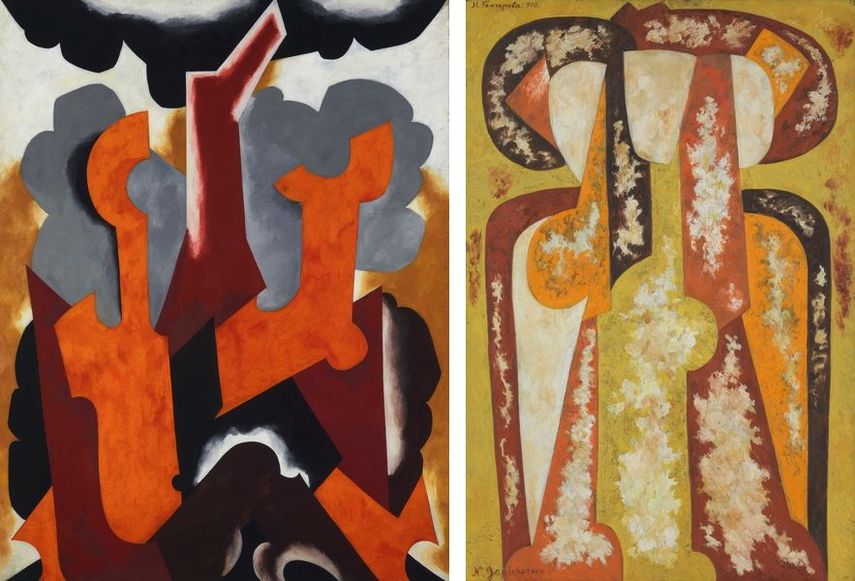 The Practice of Natalia Goncharova
Natalia Goncharova was born in 1881 into an influential, wealthy, and musical family. However, the artist's own interests lay with Russia's rural workers and a cast of otherworldly characters, with a particular focus on "women's work". She was inspired by the traditional customs and cultures of her native Central Russia – inspirations that pervade her life's work.
By the age of 32, Goncharova had already established herself as a leader of the Moscow avant-garde and was the subject of the first monographic exhibition ever staged by a Russian modernist artist. Challenging the limits of artistic, social and gender conventions throughout her career, her artistic output influences and transcends the art movements of the 20th century.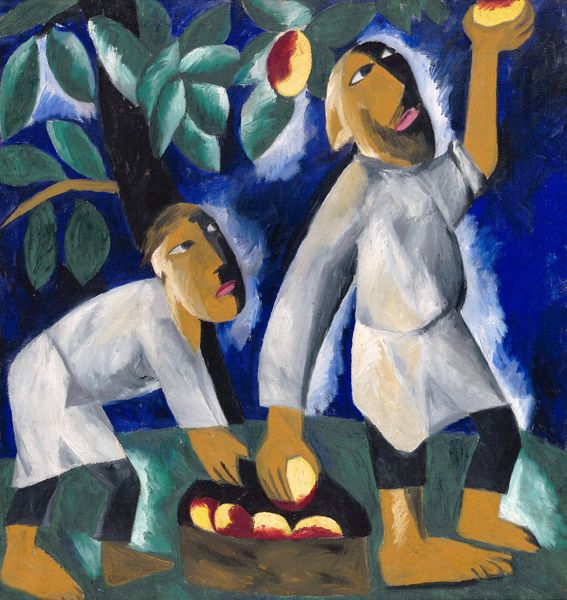 Exhibition Highlights
Among highlights of the show are early paintings such as Peasants Gathering Apples from 1911, the monumental seven-part work The Harvest from 1911, and her scandalous paintings of nudes, for which she was even trialed for obscenity. A selection of religious works includes Evangelists from 1911, which shocked St Petersburg in 1914. The monumental triptych Bathers from 1922 will be displayed in the UK for the first time.
The show will also present a room dedicated to her work in fashion design and her collaborations with Nadezhda Lamanova as well as forays into interior design represented by the decorative screen Spring from 1928.
Bringing together works such as Linen, Loom + Woman and The Forest, all created in the same studio in 1913 and displayed together for the first time since then, the show will underline Goncharova's ground-breaking experiments with the modernist styles of Cubo-Futurism, Abstraction and Rayonism.
Finally, the show closes with a room dedicated to her collaborations with the Ballets Russes, presenting the artist's most groundbreaking work for the theatre, including costume designs for Le Coq d'Or and Les Noces, as well as examples of actual costumes used in historic ballet productions.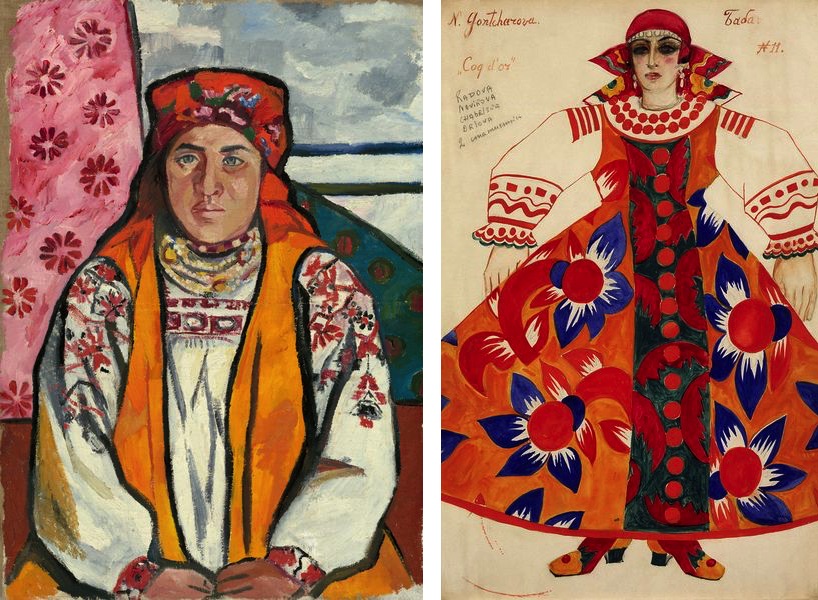 Natalia Goncharova Exhibition at Tate Modern
The exhibition Natalia Goncharova will be on view at The Eyal Ofer Galleries at Tate Modern in London from June 6th until September 8th, 2019. It is curated by Natalia Sidlina, Curator of International Art, and Matthew Gale, Head of Displays, with Katy Wan, Assistant Curator, Tate Modern. It is supported by LetterOne, with additional support from Mr Petr Aven, and is organized by Tate Modern in collaboration with Palazzo Strozzi, Florence and the Ateneum Art Museum, Helsinki.
Featured images: Natalia Goncharova - Set design for the final scene of The Firebird, 1954. Graphite and gouache on paper. Victoria and Albert Museum, London © ADAGP, Paris and DACS, London 2019; Harvest: Angels Throwing Stones on the City, 1911. Oil paint on canvas, 1000 x 1290 mm. State Tretyakov Gallery, Moscow. Bequeathed by A.K. Larionova-Tomilina 1989 © ADAGP, Paris and DACS, London 2019; Cyclist 1913. Oil paint on canvas, 780 x 1050mm. State Russian Museum © ADAGP, Paris and DACS, London 2019. All images courtesy of Tate Modern.