In 1973, the pioneering Polish feminist artist Natalia LL made a video as part of her multimedia performance-based project Consumer Art. By lustfully eating bananas, she wanted to tackle both the local problematic and consumerism as the global phenomenon. It is somehow expected that this work was highly controversial back then, due to an explicit sexual connotation; however, it seems that even today, forty years after it was made, it still causes a social stir.
Namely, along with another video made in 2005 by yet another distinct woman artist Katarzyna Kozyra (featuring a fetish imagery - a woman walking two men in dog costumes on a lead), Consumer Art was removed from the public display at the National Museum in Warsaw after complaints received from the museum visitors who thought the works were indecent and shocking.
Shortly after the removal, people gathered in front of the museum building to protest against the censorship performed by the renowned institution and the Polish ministry of culture. A number of protesters ate bananas, and the action was supported by the artists and curators who posted their selfies while enjoying the phallic fruit on Instagram.
The museum's director Jerzy Miziolek, who was appointed last year by Poland's right-wing government, stated for a local newspaper that the removed videos feature matters as a gender which should not be explicitly shown and are representing disturbing content for youngsters. There was also an indication that Miziolek was warned by the ministry of culture for displaying the scandalous works, but he denied the government's involvement.
Natalia LL's Consumer Art was eventually installed back in the exhibition at the National, and the audience will be able to see it for a short while until 20th- and 21st-century art galleries are to be rehung.
The Artistic Development of Natalia LL
Natalia LL initially started her academic training by attending ceramic class at the State College of Fine Arts (now the Eugeniusz Geppert Academy of Fine Arts) in Wrocław. At one point she decided to switch to photography, and in the mid-1960s, she became a member of ZPAF, the Polish Art Photographers' Association.
The global climate of the 1970s and the experimentation typical for various conceptual and neo-avant-garde practices of the time led Natalie LL to found Permanent Art together with Andrzej Lachowicz, Zbigniew Dłubak and Antoni Dzieduszycki. Their activity was based in an exhibition space called the PERMAFO Gallery, in which they promoted and produced work; the group's strategy was to articulate common situations and document them in the most direct way possible, similarly to what Pop Art was doing.
This excerpt from Natalia LL's text Transformative Attitude from 1972 summarizes her artistic position at the times:
Art realizes itself in every moment of reality, every fact, every second are for us the very fact and the very second which cannot be repeated. That is why I record common and trivial events like eating, sleeping, copulation, resting, speaking, etc. Moreover, each activity of a man being a component of his reality is absolutely equal in evoking a mental reaction in a man who watches the notation. That is why I can transform a registration of one activity into another one. It is not substance and a formal appearance which are essential but an effect, that is meaning.
In 1975, Natalia LL became part of the international feminist movement, participating in numerous exhibitions and symposiums, and ever since she has devotedly explored various aspects of the female experience, acting primarily as an artist, and since 2014 as a lecturer as well, at the University of Fine Arts in Poznań.
Natalia LL - Consumer Art
Banana Eating as Consumer Art – An Interpretation
The series Sztuka konsumpcyjna / Consumer Art and Sztuka postkonsumpcyjna/ Post-consumer Art were produced by the artist in-between 1972 and 1975 and they consist of black-and-white and color photographs, as well as films of women eating a variety of fruits in a suggestive manner. The models are usually sensual blonds caught in Lolita-like poses, while their consuming activity is presented in sterile and controlled fashion, evoking auditions for adult movies or Warhol's famous Screen tests.
The eating activity, therefore, functions as a provocation on many levels. Namely, in the first plac, it can be interpreted in the light of the local socio-political context – at the beginning of the 1970s, the Polish society was still recovering from the Stalinist era and was marked by the social dissatisfaction and unrest. The socialist state had a poor economy, so any sort of exotic goods were hard to find and were considered a commodity (it can be said to a certain extent that a banana was a signifier of the relationship between East and West, or communism and capitalism, during that time). However, Natalia LL's decision to eat a banana was a direct commentary on a shifting of social reality and income of consumerism. The appetite of the citizens grew, as well as a desire to speak or show the themes regarding gender in sexuality freely in public space.
Another important indicator that this piece was indeed the result of the idea of art as an ongoing process compared to the processes of life such as sleeping, eating, breathing, walking. Although this particular performative action is somehow tender, smooth and sensual, a parallel with Viennese Actionism, the performances of the British collective Coum Transmission and other experiments happening in approximately the same decade centered on body politics can be established.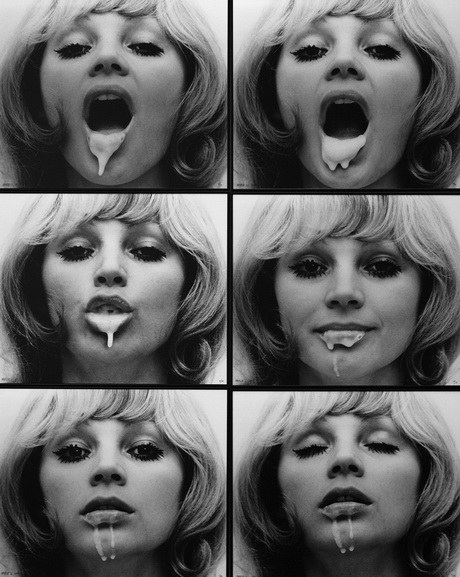 The Pioneering Work of Natalia LL
This iconic piece created by Natalia LL has to be perceived as well in the context of male domination typical for the majority of the governments on a global scale. Namely, it features female pleasure as an active element not subjected to the male gaze, especially because the phallic object becomes reduced to a product for consumption. The women create their own reality by indulging themselves without a need to justify their deeds.
Here it is important to mention that the negative attitude towards women is deeply rooted in Polish culture, in its myths and stereotypes, and regardless of various changes throughout the time, the misogyny became part of contemporary discourse on state-level largely supported by the church. Therefore, it is not surprising that Consumer Art was removed from public display since it presents a threat for deeply conservative spirits who sincerely believe that myths from the past should be our reality today.
Editors' Tip: Natalia LL. Consumer Art and Beyond
Publication edited by prof. Agata Jakubowska, presenting effects of the newest research and interpretations of Natalia LL's work. Texts were written by Anna Markowska, Wojciech Szymański, Ewa Toniak, Monika Bakke, Maja Fowkes, Reuben Fowkes, David Crowley, Eva Badura-Triska and Claudia Calirman – art historians, art critics and curators who participated in the conference that accompanied the monographic exhibition of the artist's works entitled Secretum et Tremor at the Ujazdowski Castle Centre for Contemporary Art.
Featured image: Natalia LL – Consumer Art, 1973. Video still. Image courtesy of the artist.