The prototypical images of a city in the 21st century, its quasi utopian vision, embedded in the LED lightened urban landscape, have been widespread memes. Nate Otto, with his Cities, Towns, and Color Fields exhibition, is presenting a more personal take on the subject at Vertical Gallery in Chicago. Being employed as a social service worker, and therefore engaged with shrinking caring structures under the pressure of economic crisis and austerity measures, upcoming exhibition is a skeptical commentary on the glittering representation of the cities that leave an individual out of the picture. In these works there are no people, only infrastructural rationality expanding into environment. This exhibition is the development of the artistic obsession with the concept of the city. The artist's first elaborated contribution on the subject of the city was made on the blackboard in the 37signals office in Chicago in 2010. Also, the work has been updated several times throughout the years. In the meantime, the systematic exploration of urban imagery has been undertaken, resulting in the forthcoming exhibition.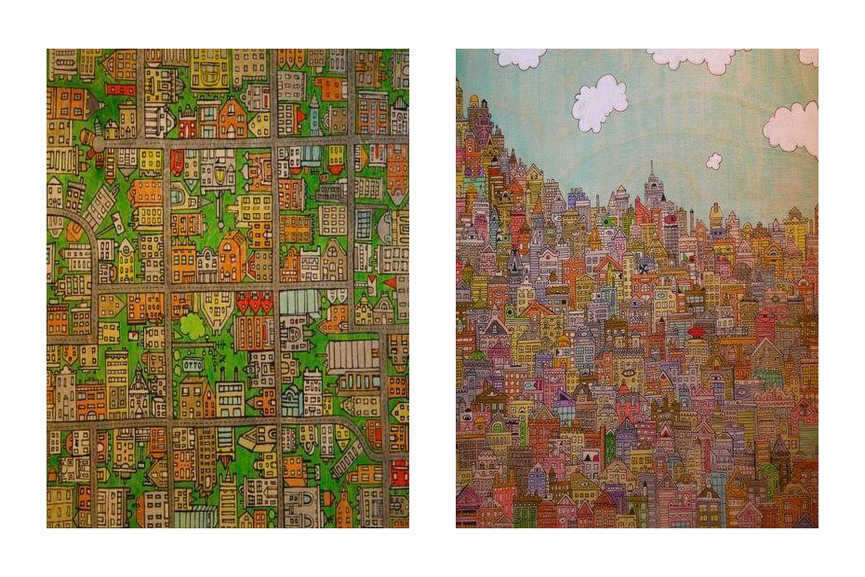 The Reflections On the Urban Landscapes
With the use of acrylic, spray paint, paint marker, collage and ink, the author is doing his reflections on the urban landscapes. Paintings, drawings and collages pay attention to a range of influences, from the abstract expressionism via graphic design to  street art. Those artworks, apparently accessible in terms of choice of colors, simplistic and cartoonish style of expression, popular references, abstract geometric structures, are in fact demanding to decipher, and it is an inquiry about the contemporary habitus. With his sharp and clear moves the artist is more seeking to express the meaning or emotional experience rather than physical reality, which gives us the specific synthesis of imaginist and expressionist approach.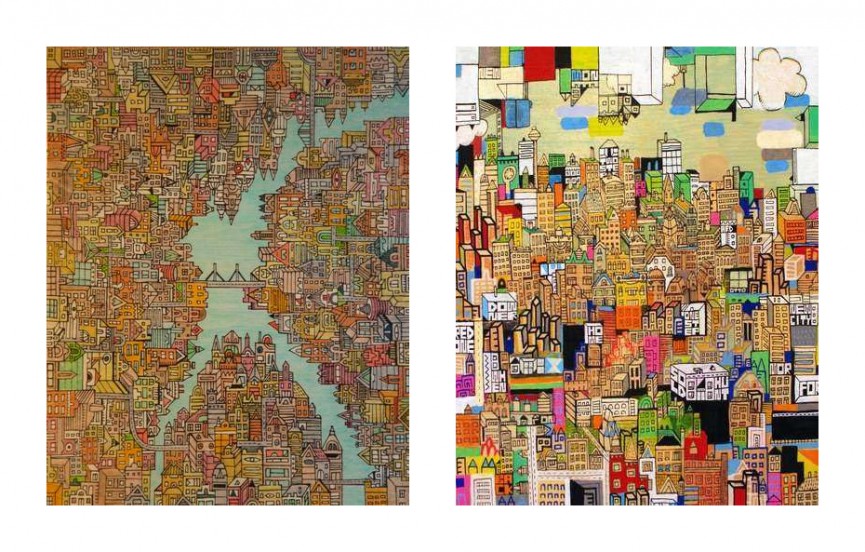 Nate Otto's First Solo of Large Scale Paintings
Nate's previous illustrative works on small panels have been upscaled for the exhibition. Namely, the large format paintings with a  subject of a cityscape are meant to immerse, aimed at experiencing particular feelings and emotions. The geometry of space and notion of location are emancipated from the physical reality as we know it, simplified and subjected to the artist's narrative strategy. Those gestures toward the idea of freedom relate specifically to the autonomy of art. This is Otto's first solo exhibition featuring large scale paintings and it will include his works on canvas, but also over 20 pieces of intensive detail done on wooden panels (take a look at some more artists who also did also large scale paintings here). The Cities, Towns, and Color Fields exhibition will be taking place at Vertical Gallery, Chicago, from February 7th until February 28th 2015 with an opening reception with the artist on Saturday, February 7th, from 6pm to 10pm.
Keep up with the latest art news and join My Widewalls profile today!