The National Gallery in London houses one of the greatest collections of Western European painting from the 13th to the early 20th century. Founded in 1824, from an initial purchase of 36 paintings by the British Government, its collections have since grown to about 2,300 paintings.
In a time when museums and galleries are closed to help contain the spread of coronavirus, the National Gallery has teamed up with digital outdoor screen provider, Ocean Outdoor, to bring some of the most famous and uplifting works of art to thousands of people the length and breadth of the UK. It will allow the public across Birmingham, Edinburgh, Glasgow, Leeds, London, Manchester, Newcastle, Nottingham and Southampton to experience some of the best works from behind the Gallery's temporarily closed doors.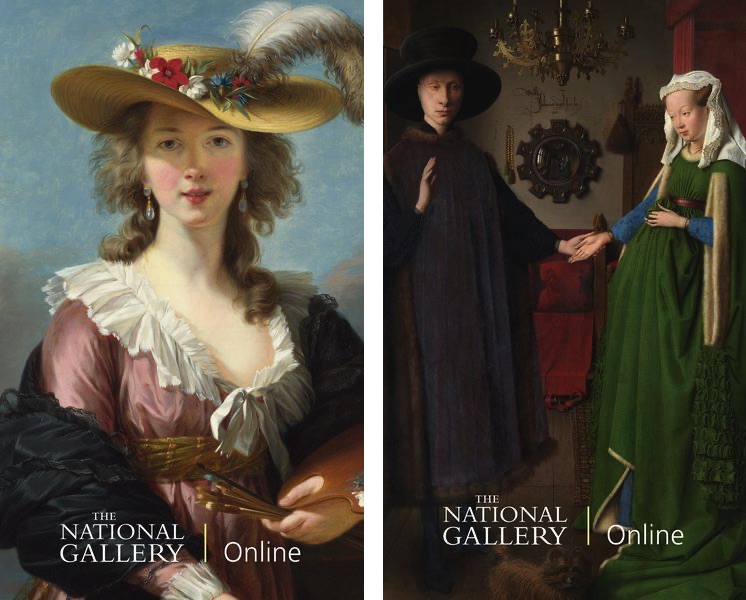 Art in the Times of Crisis
The National Gallery hopes that the works on view across the UK cities will be a cheering sight as they pass by. Shared through Ocean's network of screens, these works on digital display are aimed at becoming a positive force for the nation's wellbeing in a time of crisis.
As Dr. Gabriele Finaldi, Director of the National Gallery, explains, the gallery's role "is to provide access to some of the world's greatest art to give people inspiration and solace in these difficult times."
Therefore, we are hugely grateful for this generous gesture from Ocean Outdoor that is allowing us to bring the Nation's Gallery to the nation's streets and reach even more people.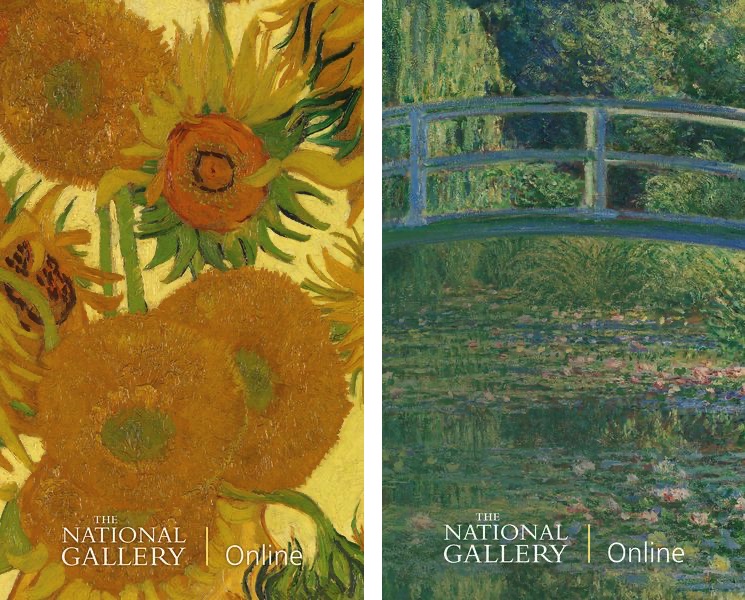 Featured Works
The public will have an opportunity to enjoy seven of the National Gallery's most iconic paintings: Vincent van Gogh's Sunflowers from 1888, an iconic work created with three shades of yellow and nothing else, without any loss of eloquence; and A Wheatfield, with Cypresses from 1889, painted when he was in a mental asylum in Saint Remy in the south of France; Claude Monet's The Water-Lily Pond from 1899, from a series of approximately 250 oil paintings that depict his flower garden at his home in Giverny; Jan van Eyck's The Arnolfini Portrait from 1434, considered one of the most original and complex paintings in Western art because of its beauty, complex iconography, geometric orthogonal perspective, and expansion of the picture space with the use of a mirror; Georges Seurat's Bathers at Asnières from 1884, a massive canvas showing a group of working men on their day off; Élisabeth Vigée Le Brun's Self Portrait in a Straw Hat from 1782, where the artist presents herself as an elegant society lady and as an accomplished professional artist ; and Henri Rousseau's Surprised! from 1891, the first of around 20 'jungle' paintings that Rousseau produced, which are among his most popular works.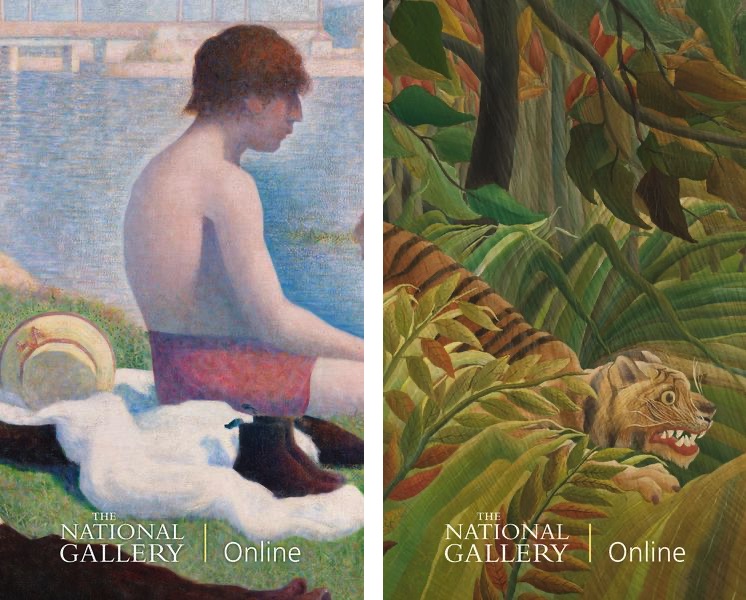 Ocean Outdoor Collaboration
Ocean Outdoor, a facilitator of digital connectivity in the OOH world, has kindly offered its huge digital sites to the National Gallery free for the next two weeks in order to display images of its iconic works. seven of the Gallery's most iconic paintings.
Chris Standish, Ocean Outdoor head of brand partnerships, said that this partnership truly brings the company's Art of Outdoor proposition to life.
After such a difficult period, I can't think of a better way to lift the mood as people swap lockdown for the joy of outdoor spaces.
Featured images: Vincent van Gogh, Sunflowers (detail), 1888. Hydro screen in Glasgow; Jan van Eyck, The Arnolfini Portrait (detail), 1434. Manchester Gateway Piccadilly; Elisabeth Louise Vigée Le Brun, Self Portrait in a Straw Hat (detail), 1782. Manchester Printworks. © Ocean Outdoor. © The National Gallery, London.