An anti-colonial cultural and political movement, The Négritude Movement was founded by a group of African and Caribbean writers and poets in Paris in the 1930s who sought to reclaim the value of blackness and African culture. They joined together through the French language to assert their cultural identity.
Mainly a literary movement founded by the Martinican poet Aimé Césaire, French Guianese poet Léon Damas and the poet and future Senegalese President Léopold Sédar Senghor, it also expanded to visual arts, drawing influence from a range of styles and art movements including Surrealism and the Harlem Renaissance.
The word was first coined in the epic song by Aimé Césaire titled Cahier d'un retour au pays natal where he declared "...my negritude is not a stone, its deafness hurled against the clamor of the day" but instead, it "takes root in the ardent flesh of the soil."
The Négritude Movement responded to the alienated position of black people in history, asserting an identity for them that was their own. At the same time, it rejected colonialism, making an impact on how the colonized viewed themselves. Towards the end of his life, Aimé Césaire has declared that the question he and his friend Léopold Sédar Senghor came to raise after they first met was: "Who am I? Who are we? What are we in this white world?" And he commented: "That's quite a problem".
In 1947, Damas and Sédar Senghor published Anthologies of poetry in order to manifest the existence of Négritude as an aesthetics and as a literary movement. Damas stated the literary and political significance of the publication:
Poverty, illiteracy, exploitation of man by man, social and political racism suffered by the black or the yellow, forced labor, inequalities, lies, resignation, swindles, prejudices, complacencies, cowardice, failures, crimes committed in the name of liberty, of equality, of fraternity, that is the theme of this indigenous poetry in French.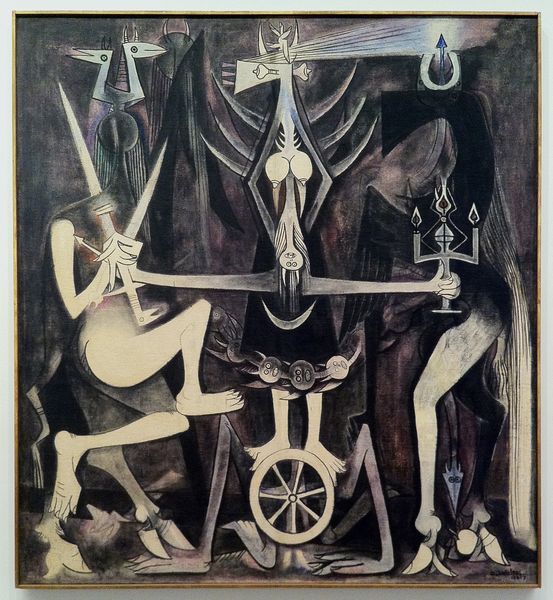 The Négritude Movement in Visual Arts
Characterized by a diverse and tolerant art scene, Paris became the centre of the international Négritude movement. Many artists from Africa and the Caribbean came to the city to study, often meeting at the Clamart tea-shop, the Négritude base on the Left Bank. Among these were London students Frank Bowling, Aubrey Williams, Donald Locke, Ben Enwonwu and Uzo Egonu.
Seeking to critique imperialism and imperial art and to assert a new world avant-garde, these artist began drawing from a diverse range of sources and studies. They argued that for black culture to transcend its past and reflect modernity, it must not only acknowledge traditions of its own people but combine this with an open approach to new ideas and developments in art.
Here are the visual artists whose practice made the greatest impact on the Négritude Movement.
Editors' Tip: The Negritude Movement: W.E.B. Du Bois, Leon Damas, Aime Cesaire, Leopold Senghor, Frantz Fanon, and the Evolution of an Insurgent Idea by Reiland Rabaka
The Negritude Movement provides readers with not only an intellectual history of the Negritude Movement but also its prehistory (W.E.B. Du Bois, the New Negro Movement, and the Harlem Renaissance) and its posthistory (Frantz Fanon and the evolution of Fanonism). By viewing Negritude as an "insurgent idea" (to invoke this book's intentionally incendiary subtitle), as opposed to merely a form of poetics and aesthetics, The Negritude Movement explores Negritude as a "traveling theory" (à la Edward Said's concept) that consistently crisscrossed the Atlantic Ocean in the twentieth century: from Harlem to Haiti, Haiti to Paris, Paris to Martinique, Martinique to Senegal, and on and on ad infinitum.
Featured image: Wifredo Lam - Untitled from Derriere Le Miroir, 1953. Courtesy Samhart Gallery.
Ben Enwonwu
A Nigerian painter and sculptor, Ben Enwonwu is arguably the most influential artist from Africa of the 20th century. One of the first artists from the continent to win critical acclaim, he opened the way for the postcolonial proliferation and increased visibility of modern African art.
Combining indigenous traditions with Western techniques and modes of representation, Enwonwu is credited with inventing a Nigerian national aesthetic. Drawing from his Igbo heritage and his British art academic training, he created a visual language that was both culturally relevant and modern.
Despite being widely celebrated as a painter and sculptor, Enwonwu was also a distinguished writer and art critic. In one of his texts, he argued that while West African culture was seen in terms of ethnography and anthropology and African art characterized as primitive, an "intellectual barrier" existed "which makes it extremely difficult for most Africans to be considered qualified to play an important part in the development and preservation of their art". He argued that international African art needed to respond to contemporary times, but also be aware of traditional, local and global influences.
Featured image Ben Enwonwu - Head of Yoruba Girl. Creative Commons.
Wifredo Lam
A major early 20th-century painter, the Cuban artist Wifredo Lam is celebrated for fusing elements of Cubism and Surrealism with African culture. Interwoven with both purely artistic topics and philosophical and political aspirations, his complex practice drew inspiration from spiritual traditions of Southern America, socialism and modernist trends of the time, but also from African spiritual practices such as Santeria.
An artist who studied in Spain under the same teacher as Salvador Dali and became a friend of Picasso after moving to Paris in 1938, Lam is best known for works populated by hybridized human-animal-vegetal figures. He explored mythic images, creating his own style by fusing European artistic movements with the spirit and forms of his native country. "I responded always to the presence of factors that emanated from our history and our geography, tropical flowers, and black culture," he once said. Lam's distinctive style and exploration of Afro-Cuban visual culture challenged assumptions about non-European art and examined the effects of colonialism.
Featured image: Wifredo Lam - À Point, 1950, via cea +.
Ronald Moody
A Jamaican-born sculptor specializing in wood carvings, Ronald Moody was an artist ahead of his time, but also of his time. During his student years, he socialized with artists and explored philosophy, particularly Indian and Chinese, which were to become important influences on his spiritual life and art.
Moody consistently stressed a commitment to what he called "the recognition of eternal laws," believing that artists should express the unchanging spiritual state of things, order and harmony, rising above the transient conflicts of the day. At once brooding and serene, his sculptures seem to dramatize this struggle. Created in 1934, his breakthrough piece was Wohin, a head carved in oak that reflects the cultural syncretism that guided all of his work.
Moody drew inspiration from a range of cultures. "My past is a mixture of African, Asian, and European influences, and, as I have lived many years in Europe, my present is the result of the friction of Europe with my past. This has not resulted in my becoming an ersatz European, but has shown what is valuable in my inheritance, which I think shows in my work," he once said.
Featured image: Ronald Moody - Une Tete. Image via Creative Commons. .