Bizzarre Magazine's project, Human Nature invites six creatives to Barcelona to tackle the subject of the most epic failures of human evolution. The project is inspired by a common belief that happiness lies in the power to control everything, resulting in new genetics, global warming, plastic islands, extinct species, extreme plastic surgery, etc.
The previous chapter presented introduced the work of Nicolas Barrome, a French artist transforming reality into a colorful, fun world, full of creatures. The next chapter now brings the work of Nem0's, the Italian street artist known for his thought-provoking, dark comedy murals inhabited by characteristic human figures.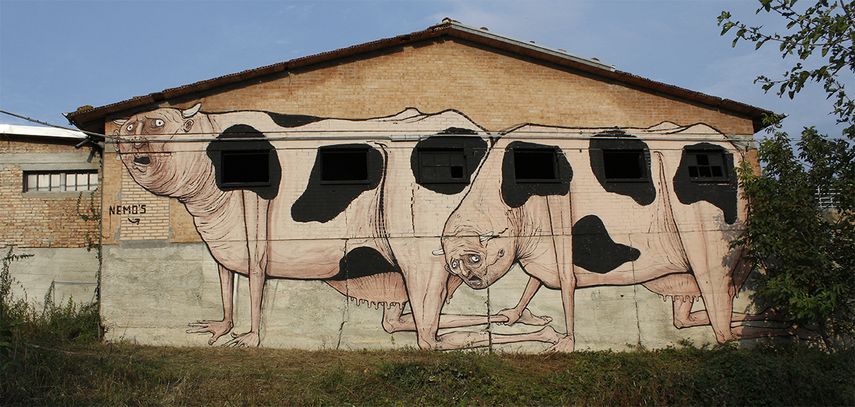 The Practice of Nem0
The artistic expression of Nem0's is sincere, simple and right to the point of debate. He tackles our society's modern values, its selfish aspects, with all the banal and thoughtless actions, or towards shallow and shock-addicted press and media. Imbued with social criticism, his works serve as the pillars of the world of street art.
Nem0's' method involves painting skeletons as a base of his murals, and later covering them with layers of old newspapers. As the newsprint skin erodes and peels oof over time, the innards of his creations are revealed underneath. This way, his works are evolving and living, highlighting the fleeting nature of street art.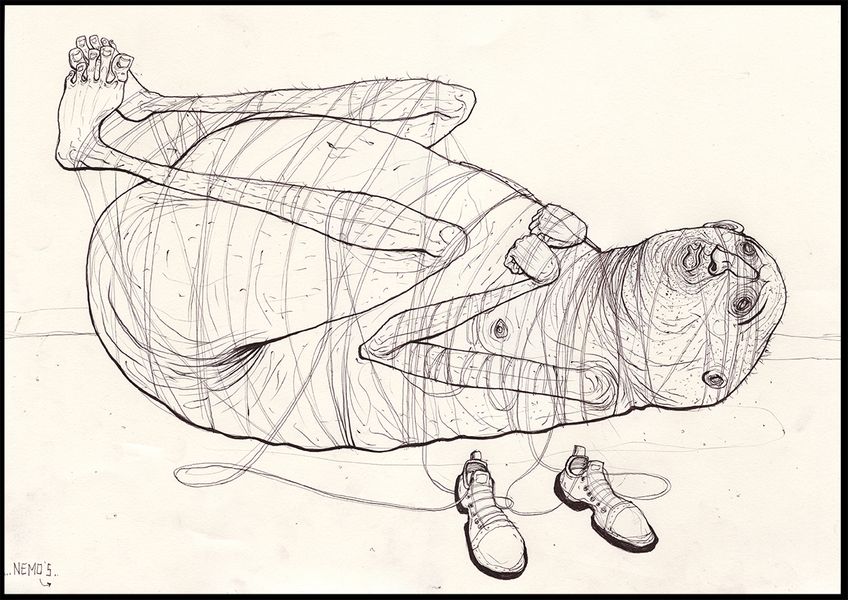 Nem0 for Human Nature
For the third chapter of Human Nature, Nem0's will create a new amazing piece, providing an opportunity for the audience to experience his unique way of seeing.
Divided into two parts, Nem0's' works will be presented in two events in Barcelona.
The mural will be revealed in the space of METRIC on June 15th, between 7:30 and 11 p.m. The event will be accompanied by drinks.
On June 17th, the audience will have an opportunity to take part in the workshop and dinner in the space of Raima. The doors of the venue open at 7:30 p.m., the workshop will start at 8 p.m., with the dinner break at 9:30 p.m.
Featured images: Nem0's public works. All images courtesy Bizzarre.