A Swiss duo composed of two urban artists, Christian Rebecchi and Pablo Togni, NEVERCREW has developed a distinct visual hybrid, combining a simple graphical structure with realistic and formally complex elements, arranged in different spatial levels. Working together since 1996, this incredibly talented duo has developed the issue of the comparison, extending it outside in a direct way and making it an important feature of their practice. The latest body of work by these world renowned painters and muralists will soon be on view at Unit 5 Gallery. Titled Scales, the exhibition will reflect mankind's effect on nature and the ecosystems, delving into the often flawed relationship between natural and man-made environments. In their first solo show in the UK, the artists will showcase a stunning new collection of original paintings and sculptures.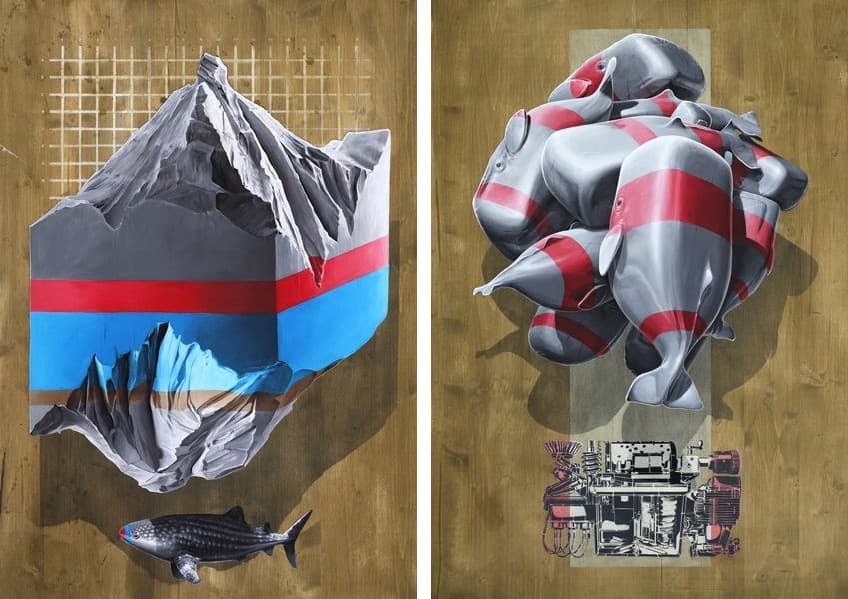 The Practice of NEVERCREW
Working together work almost two decades, NEVERCREW has produced some of the largest and most impressive murals around the world, from Miami, Aalborg, Vancouver, Hamburg, and Belgrade, to Cairo, Manchester, Satka and Grenoble. Their unique approach to muralism, along with their highly detailed paintings and sculptures has won the duo widespread praise and accolades. Working on particular "living systems", the duo wants to examine the human condition, the relationship between mankind and nature, between mankind and its nature, and on economic or social systems. To incorporate everything into a broader and more global topic, they create working structures made of elements connected one to each other and articulated. These mechanisms act as a trigger, a generator from which the rest develops.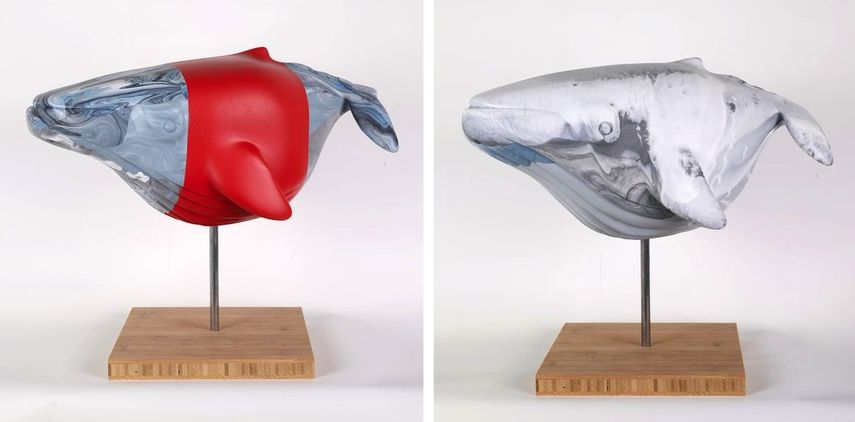 Calling for a Balance
The latest exhibition will present ten new original paintings on wood and a series of thirteen sculptures. With this latest body of work, NEVERCREW aims to bring forward their reflection about the position that mankind occupies inside man-made and natural systems. With a title referring to a tool used to measure weight, the exhibition recalls the essence of equilibrium and imbalance. Guided by economic goals, men have abused their power on other men, animals and places, leading up to the social injustice, the exploitation of resources, and the unscrupulous pollution. This imbalance that a man has created is becoming more and more visibly damaging and dangerous. With a natural balance being endangered and a social balance being compromised, the relationship between men and their environment has become uneasy and their mutual future uncertain.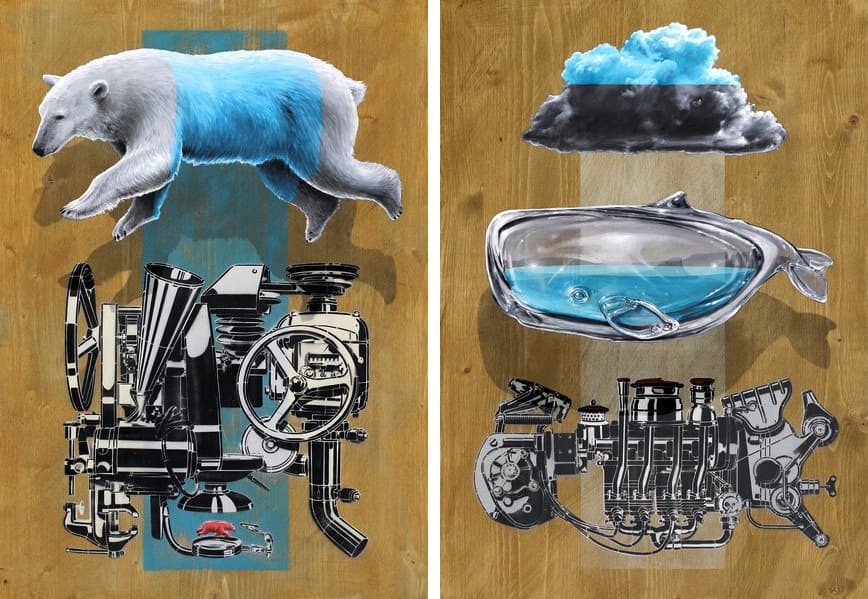 NEVERCREW Art Exhibition at Unit 5 Gallery
If a mankind loses its empathy and awareness, it risks losing the connection with reality, with nature and therefore with its own humanity. Bringing this notion in the forefront, the works of NEVERCREW strongly resonate with the audience. The exhibition Scales will be on view at Unit 5 Gallery in London from September 8th until September 21st, 2017. The private view will be held on Thursday, September 7th, from 7 to 9 p.m.
Featured images: NEVERCREW - Black Machine. Teatro Colosseo Torino, 2015; NEVERCREW in Manchester, 2016. Photo by Henrik Haven; NEVERCREW - Tuning Machine, 2017 Ordering Machine. Grenoble 2016; Defined Whale, 2017; Black machine, 2017; Baring machine. Satka Street Art Festival, 2017. All images courtesy of Unit 5 London.