Concerned about nature, constant pollution, and negative repercussions of human involvement with the environment, NEVERCREW teamed up with Above Second Gallery for a show in Hong Kong, in which these issues are explored through the medium of art. Displaying original artworks, limited edition prints and sculptures, the exhibition titled Discordant will show us the potency of art in raising important questions considering the world we are living in today. Moreover, the show is designed to raise funds for a local charity Foodlink that offers meals to the needy and advocates against food wastage.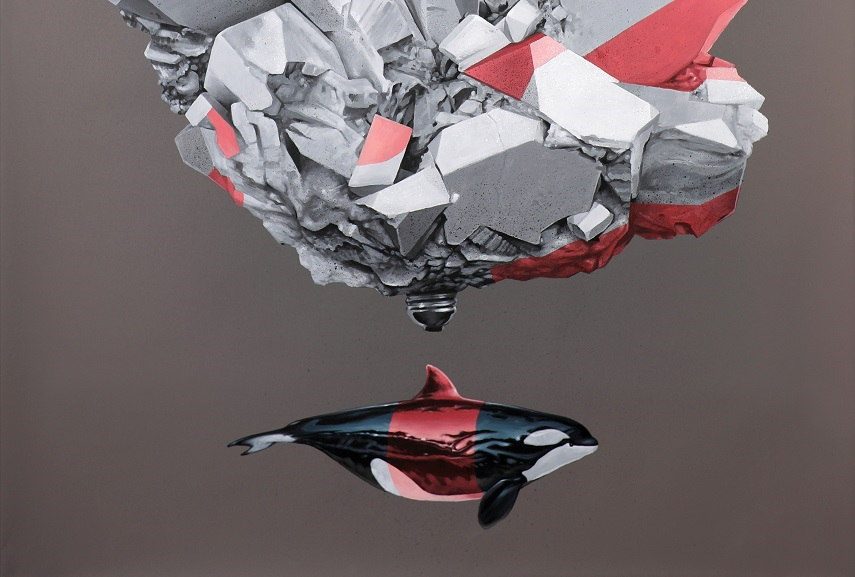 The Distinctive Style of NEVERCREW
NEVERCREW creates worlds that combine the contrasts of two and three-dimensional spaces. The merging of dimensions has a specific purpose of pointing at the conflicting and disconnected elements of our society, which are often positioned on the extremes of the nature/machine divide. However, creating art that conveys a strong political message would be in vain, unless they bring their work in dialog with the public. Therefore, they choose to position their art pieces on surfaces that are visible to the largest audience, such as the walls in public spaces. Starting out and working as street artists, the creatives examine the perpetual struggle of each individual to strike a balance between the demands of lifestyle and obligations towards the environment.
Economy and environment, mankind and nature, are always at odds with one another. NEVERCREW's artistic practice comments on pollution, exploitation of natural resources, mismanagement of waste, and overproduction as "a signal of an imbalanced relationship with the natural system."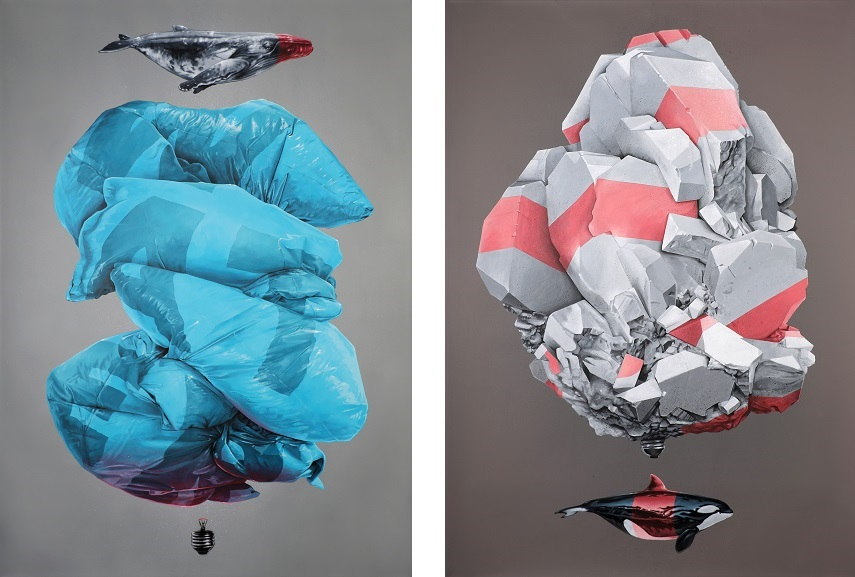 Influences that Shaped the Swiss Duo
NEVERCREW is a Swiss artistic duo composed of Christian Rebecchi and Pablo Togni. They started to work together in 1995, while both attending the school in Lugano. Among their first projects were graphics and illustrations for the vinyl and mix-tape designs. Different influences shaped the NEVERCREW's hyper-realistic and large-scale works, such as 1990s hip-hop culture, and comics. However, the uniqueness of their style manifested through the combination of discordant elements possesses its philosophical stance, which motifs and depicted forms translate in the best manner. Political and environmental messages are embedded in the NEVERCREW's work, showing us the discordance between mankind and nature.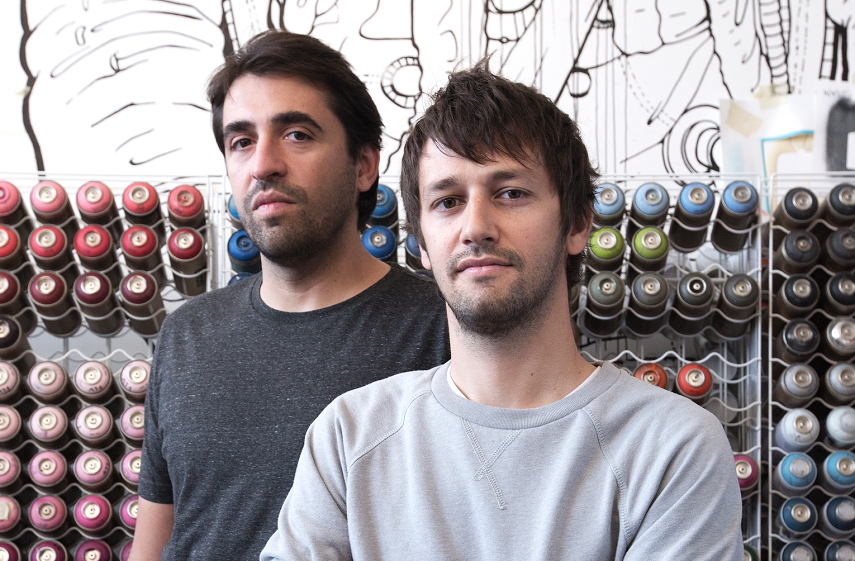 Discordant at Above Second Gallery
Since officially joining forces, Christian Rebecchi and Pablo Togni have been producing numerous artworks in different media – from graffiti and installations, to sculpture. The precarious and often forced balance between the opposites that marks their art production creates complex graphical structures arranged among different spatial levels that can be defined as a hybrid. Hong Kong turned out to be a perfect place for the exhibition of NEVERCREW's new work, and the teaming up with Foodlink is a right gesture that shows us the complexity of contemporary condition that necessitates art's engagement.
The opening reception of NEVERCREW's exhibition Discordant at Above Second Gallery will be on Saturday, March 18, from 1-9pm. The exhibition will be on view until April 22, 2017.
Featured image: NEVERCREW - Waves, A, detail; NEVERCREW - Equalising machine; NEVERCREW - Mirroring machine - multiple n°38; NEVERCREW - Ordering machine n°2. All images courtesy of Above Second Gallery.