Scorching heat of the Belgrade asphalt, dense peaking traffic, high Sun, fumes and the rush of the Friday afternoon followed me to the front garden of the Mikser House, where I was meeting two guys from Switzerland who just gave a beautiful gift to my city - a new mural entitled Imitation of Life no 9. Leaning on an empty outdoor bar there was a couple of relaxed fellows, clothes stained with color, backpack, camera, upward gazes - this was my first impression of the NeverCrew. I came up to them, we introduced and the conversation started flowing.
Since they met in art school, Christian and Pablo became friends and closest working partners. Independent artists and muralists from day one, NeverCrew followed their own path from the very beginning. They found their expression in the world of figurative painting, but they felt challenged with spray can technique and walls, without ever entering the realm of graffiti in the anticipated way. Today, they create murals as a result of a marvelous symbiosis of their minds, thinking like great painters and painting on large scale across Europe.
Their creative process starts from contemplation, discussion, brainstorming, it moves to sketches, sometimes a lot of sketches, ending up on walls in the brilliant and unexpected fusions of natural and mechanical components.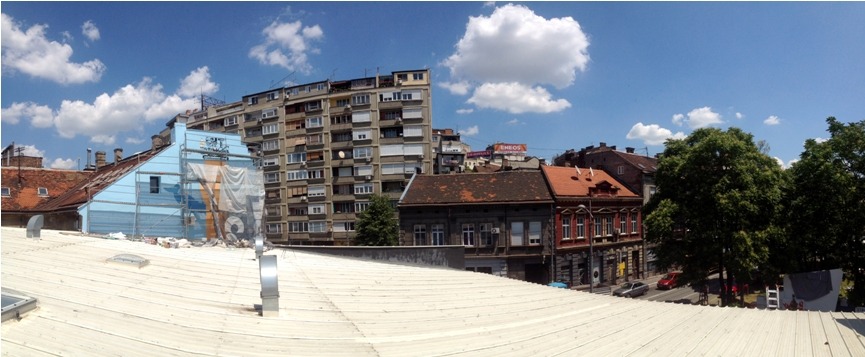 Interview
Widewalls: Thank you guys for meeting me! Can you tell me a little bit about the NeverCrew, what do you do?
NC: We are Christian and Pablo and we work as independent artists, mainly street artists. Mural painting is our main thing. We also do a lot of work on canvas, sculptures, installations. We use many diverse techniques, but we started from wall painting. We are very much connected to cartoons as well...
Widewalls: How and where did you start working together?
NC: We met in art school, CSIA in Lugano. Hip hop movement was very strong in our region in the 90s, and in all that activity we decided to try and do murals. We were not very much into the hip hop itself. We started using spray cans and we did our first mural in 1996. It was an indoor piece in a private building in Bellinzona, our town. Nothing major, but we liked the technique and we continued.
Widewalls: Did you ever write graffiti in traditional sense, like tagging, letter forms?
NC: We were not really into the hip hop type of art. We were really young and we really liked the spray can, not so much for leaving our own name but as the means for expression. Seeing ourselves more as designers, draughtsmen, we never really got into the whole movement the usual way. The illegal component of graffiti never truly appealed to us. We were initially attracted to the way of painting and the creative potential, but as painters, not taggers. And since at that time the only way to fit into the street art movement was to do the hip hop style of graffiti, the letter forms, we were considered a little strange in our region. Still, this approach was came naturally to both of us and we pursued it.
Widewalls: So young and so driven, did you have any role-models, artists you admired? Tell me about the inspirations you absorb.
NC: We don't have a main source of inspiration, we have a lot of them. A lot of what we do comes from movies and literature. We are a duo, so the inspiration comes in double. The things we each think about during the creative process are later composed into the piece, but we do not think too much about particulars. It also happens naturally. However, because of so many reasons, we share great love and admiration for the work of Joseph Beuys. We respect his way of thinking immensely, but we cannot with certainty define the amount of influence he has had on our work.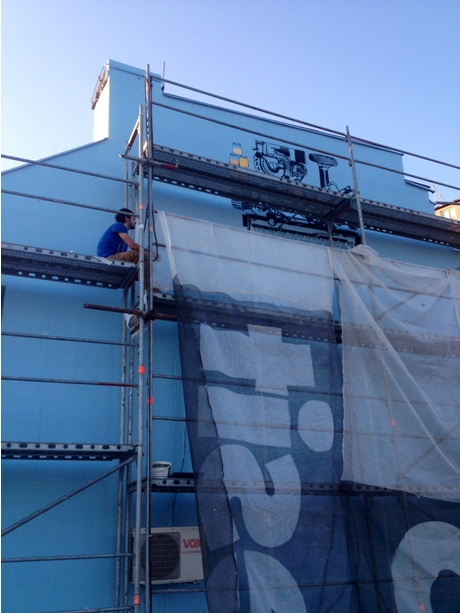 Widewalls: And your creative process? Do you shape ideas individually and then combine them or how does it work?
NC: We used to discuss a lot. But after such long time of working together, the projects just seem to come out. We are, in a way, mixed in our minds. Sometimes, one of us suggests something and we both develop it. Our ideas flow from the mind of one to the mind of another, back and forth, they merge and when the concept is complete, we realize it. Of course, we are not aware of this process, but we guess this is how it works.
Widewalls: And your whales, where do they come from?
NC: Haha… Well, it's not just one side of the whale. For us, they have a lot of meanings. For people, whale feels familiar, but also, it's something no one can really understand. It's a mammal, but it lives in another dimension. Like astronauts we also paint a lot - it's human, but living somewhere where people don't live.
Whale, as an animal, more than other animals, transcends it's obvious nature, it is much more evocative. It's less conditioned with external boundaries of life. It connects us with people, but allows us to remain outside of the tangible. Whale could be the symbol of freedom of our expression.
Widewalls: Can you define your style? Is it surrealism?
NC: No, not really. It is surrealism as well, but it's a mixture of many components that fascinate and intrigue us, all put together in what we do.
Widewalls: And the machines?
NC: They are maybe the main element of our work, because they are the point of connection between the two of us. They are smaller than whales. In our work we use a series of recurring elements. They are usually whales, sections of composition and the mechanism. We compose our work out of these elements, using what we need at the moment. The mechanism, better than other composing elements, manages to connect the two creative personas of ours. In reality, these mechanisms are imaginary, they do not exist. We compose them our of various fragments from our file, where we gather all the elements from our work. This file, of course, is getting bigger over the years, all made of pieces from our mural projects. Because of this and in relation to the place we are working at, our mechanisms are evolving from painting to painting. They are packed with layered elements alluding to our previous works and with each project, we add new fragments that cannot be combined in reality, but when painted together - they do make an impression. Symbolically, the mechanism is the representation of our entire work together. These mechanisms are also always in interaction with the subject, exchanging energy with it. At times, we only paint the machines.
Widewalls: How did your collaboration with Mikser Festival happen?
NC: In April this year, we received an invitation from the program coordinator, we liked the concept of Utopia and we accepted it. At the moment, we are working in Dublin, so we took a break to do the Belgrade mural.
Widewalls: How does your mural correspond to the Utopia theme of the festival?
NC: It's a combination of our work and the concept of the event. We generally don't like to be overly descriptive about our work. It's about transformation, evolution, which are all ideas very current in this area. Our mechanism is evolving, the whale evolved a little also. It has little legs and it's flying. The mechanism contains elements that reminisce Tesla coil and other locally inspired fragments.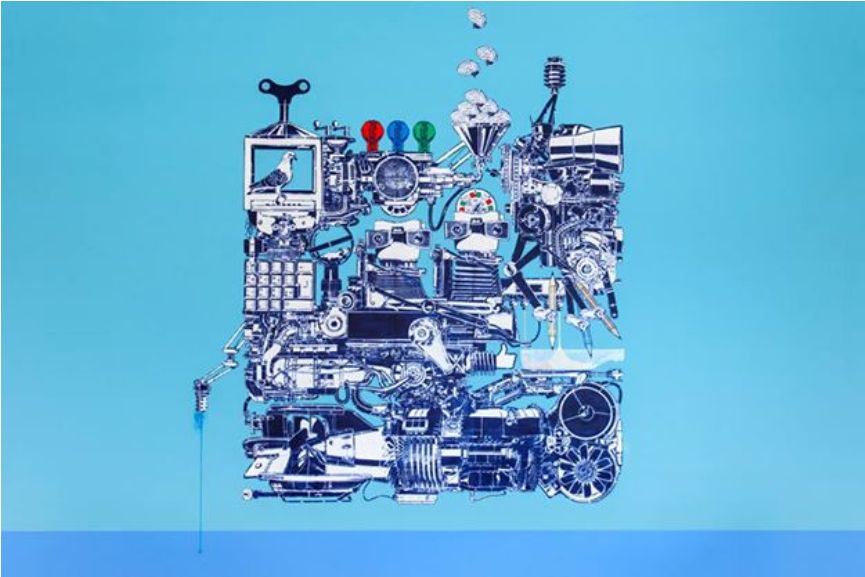 Widewalls: In the end, can you tell me a couple of words about your Facebook experience in Milan?
NC: It was interesting to meet the real people behind it, because it's such a huge company that is everywhere around us, but you never feel the human side of it. Companies usually ask us specific things when they commission murals, but Facebook in Milan gave us almost complete creative freedom. They just liked our work, we guess they found it in some way connected to their main concept as well.
The End
This is where our conversation ended and we parted. Two talented artists from Switzerland who worked for three days under the relentless Belgrade sun and were desperate for some rest and I, happy to have met the people who have just made a corner of Belgrade prettier with a dreamlike depiction of a Whale with little legs that flies.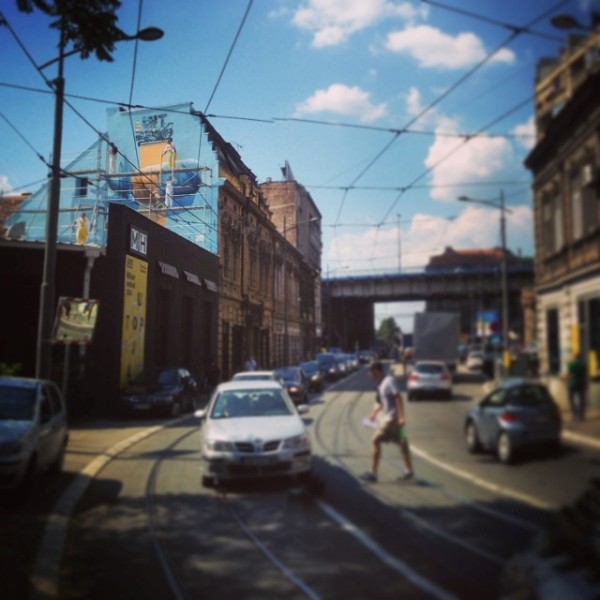 NeverCrew
NeverCrew are Christian Rebecchi and Pablo Togni, two artists from a small town near Lugano, Switzerland. They both graduated from art school CSIA in Lugano and continued their art education in Milan, studying painting at the Brera Academy of Art. The duo has since been collaborating with numerous successful companies, conducting amazing murals over the continent.