If there's anything Banksy is famous for, it's his to-the-point artworks which almost always tackle complex socio-political concepts through simple imagery. A brand new artwork by the mysterious street artists was revealed on September 11th in London, as a protest targeting one of the world's largest arts fairs. The visitors will be able to see it for a week at Art the Arms Fair, an exhibition set up to oppose another showcase, the Defense Systems & Equipment International (DSEi), also being held in the British capital this week.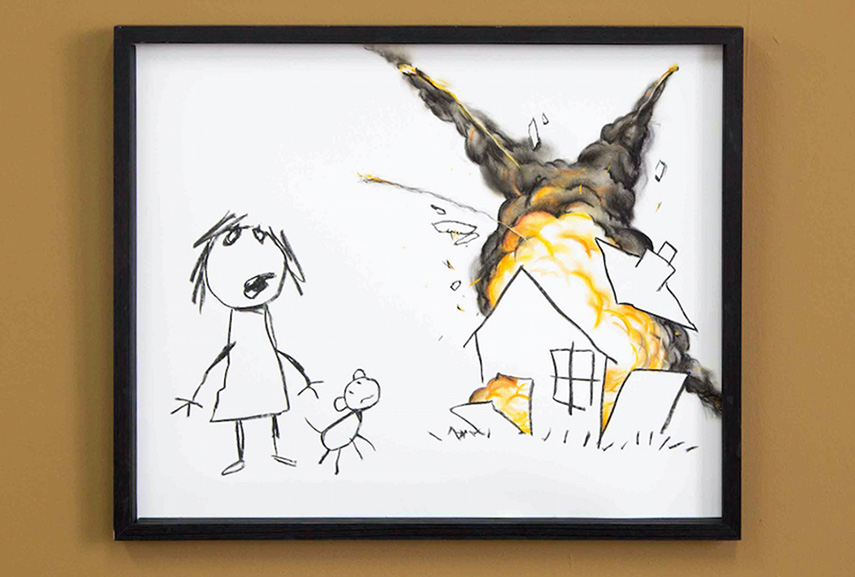 Civilian Drone Strike
Entitled Civilian Drone Strike, Banksy's latest work of art is depicted in a childlike manner - much like the mural he gave as a present to a Bristol school last year. Here, we see a horrified stick figure and their dog watching their house being destroyed by three planes flying above that seem to be made out of paper. The artwork will be part of the auction and exhibition aiming to make the DSEi conference visible, according to the organizers, as 1600 companies from around the globe will tout military hardware to delegates from countries like Saudi Arabia, Bahrain, Qatar, Pakistan and Algeria. Thanks to donations, the show will include the works of some 100 artists, including Peter Kennard, Guerrilla Girls, Darren Cullen and mash-up duo Cassetteboy, all of which are set to be put on display in Poplar's SET gallery.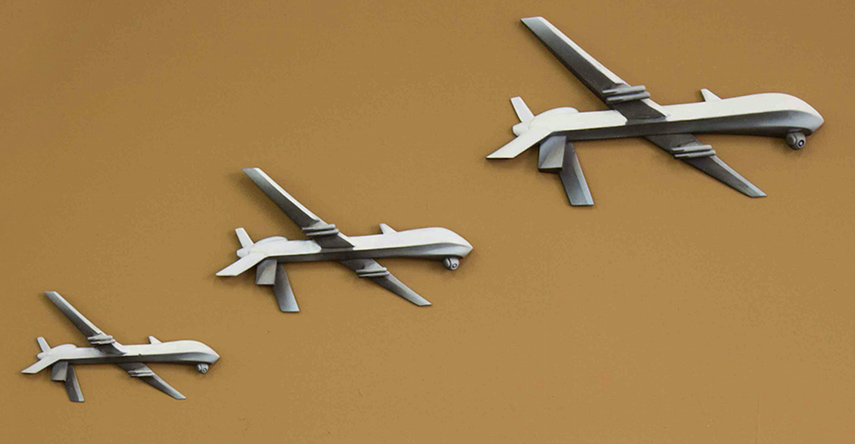 Banksy's New Artwork as a Statement Against Arms
Speaking of the fair, Art the Arms Fair organizer Sam Walton said: "[It] is about creating a space for something that is peaceful, positive and beautiful, and we think that's what people in Newham want to see in their borough." He also cited the importance of Banksy's participation, as his work is "world renowned and always razor sharp and topical." He continues: "Banksy is apparently offering a critique of the military industrial complex by deliberately destroying a rather nice child's drawing."
The piece will be auctioned off at 6pm on Friday, September 15th 2017, with proceeds going towards Campaign Against Arms Trade and human rights group Reprieve. The reserve price is set at £10.
Images via banksy.co.uk.