Almost a year since his last recorded activity, world's most famous street artist Banksy broke his silence today. Bristol born artist shared a photo in his Instagram, which had been inactive since Oct. 31, 2013. Changing the official account from @banksyny to @banksy.co.uk, the artist surprised everyone with the new piece that, in a typical Banksy fashion, came with no explanation or additional information. However, only minutes later, Banksy's official website was updated with photographs of the new art piece, this time followed by the two-minute video. Continuing the tradition of sarcastically criticizing political and social issues around the world, the subject of his work was the artist's visit to Gaza, Palestine (for more politically charged art, click here).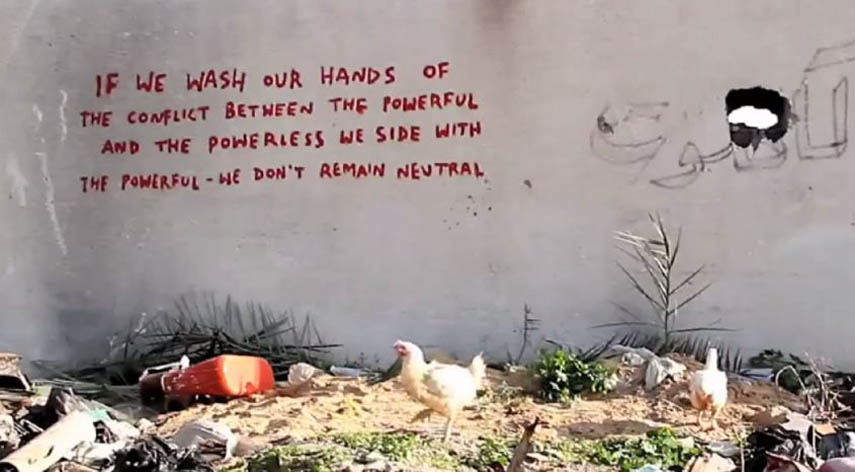 Highlighting Plight of Palestinians in Gaza
Highlighting the troubles of the area's 1.8 million Palestinian residents, Banksy's website explains that Gaza is often described as 'the world's largest open air prison' because no-one is allowed to enter or leave, adding,  But that seems a bit unfair to prisons - they don't have their electricity and drinking water cut off randomly almost every day. The commentary is followed by the image of Palestinian children in front of the new art by Banksy featuring the children swinging from an Israeli watch tower (read about the idea a group of artists initiated called Artists for Palestine UK).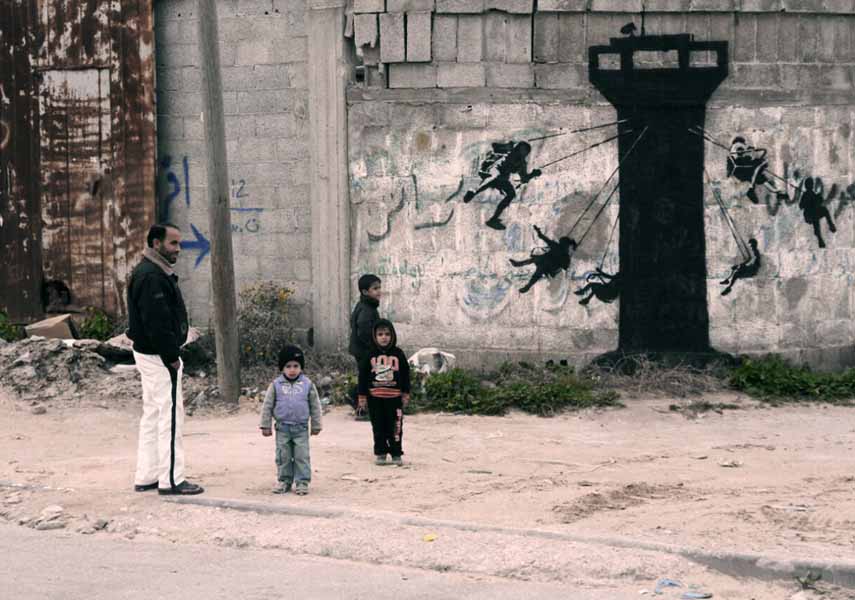 But this wasn't the only piece Banksy has made during his visit to Palestine, which the artist in his 2005 statement wittily compared to Glastonbury because of its giant walls, the dirt and the falafel stalls. The first image of the Banksy in Gaza project, represents the image of Greek myth of Niobe. In Greek mythology, Niobe was the Queen of Thebes who had 14 children and taunted Leto, who only had two children, Apollo and Artemis. In his rage, Leto sent his children to kill all Niobe's offspring. Only during last summer's bombing of Gaza, it was reported by the United Nations Office for the Coordination of Humanitarian Affairs that 2,205 people were killed by the Israeli military, including 1,483 civilians and 10,626 people were injured.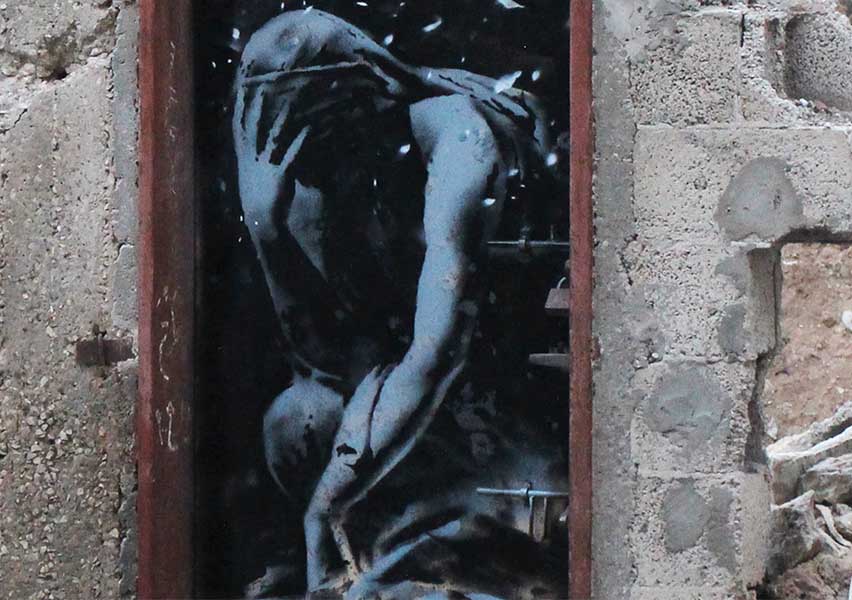 The third piece may seem out of place, but the cute mural of a white cat also holds an explanation on Bansky's website. A local man came up and said 'Please - what does this mean?' I explained I wanted to highlight the destruction in Gaza by posting photos on my website – but on the internet people only look at pictures of kittens. The project concludes with the new Banksy video from Gaza called Make this the year YOU discover a new destination. By sarcastically inviting people to Palestine and promoting all the unique and exciting things one can do there, Banksy this way emphasizes more the disaster and the everyday tragedy in Gaza.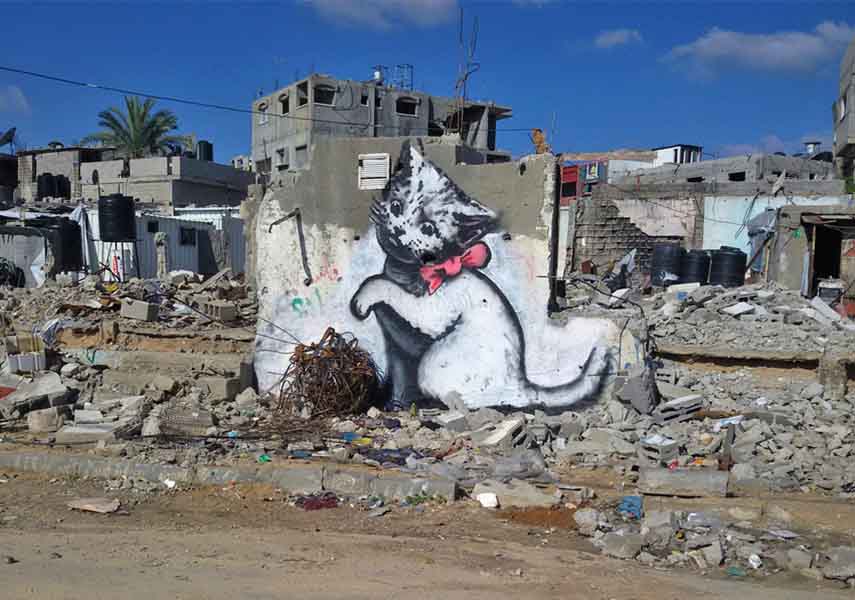 Banksy's Last Mural in Germany Destroyed
And while Banksy's in Gaza, a vandal in Hamburg, Germany destroyed the artist's last remaining mural entitled Bomb Hugger, depicting a little girl embracing a bomb, on a concrete pillar in Hamburg's city center in 2003. Spraying the words GRAFFITI above the piece, the case is being treated as an act of deliberate vandalism based on the dripping technique used. And even though this northern German city has a vibrant street art scene and its residents are very familiar with the street art culture, Hamburg's residents have barely noticed or reacted to the incident. Read about another vandalized Banksy art piece in August last year.
For more art news, sign up for My Widewalls today!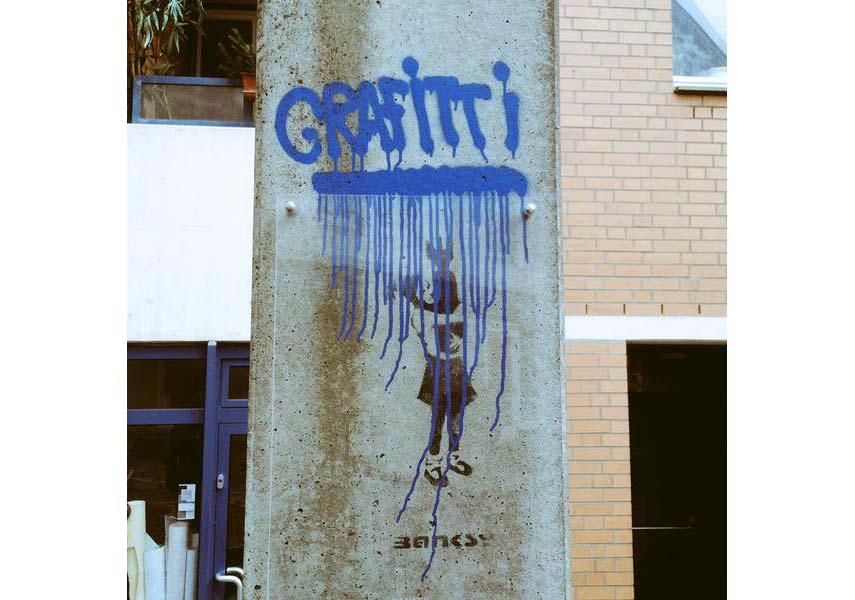 All images via banksy.co.uk.