Ricardo Richey aka APEX was born in San Francisco in 1978. He is a street artist that distinguishes with his beautifully crafted graffiti lettering. APEX creates colorful abstract patterns in combination with classical elements of graffiti writing. Richey is one of the few graffiti artists with the ability to include architectural elements in his artworks. He thereby not only absorbs architecture from his direct environment when creating street art pieces but also incorporates these elements in his studio work. APEX builds a relationship of built architecture and his art. The complex fields of color and shape transcend into their own form of architecture.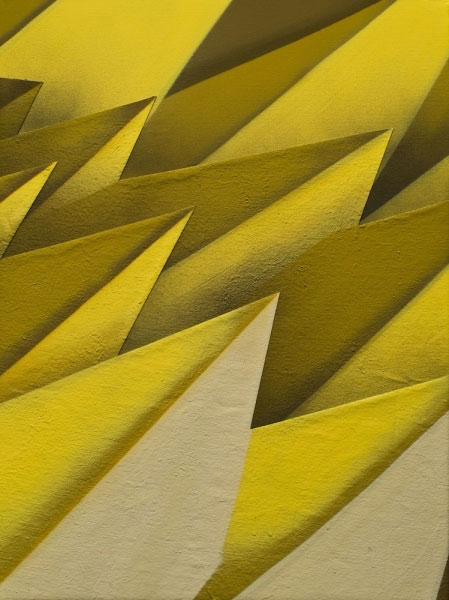 New Dimensions
The exhibition As Above, So Below, at San Francisco's own Shooting Gallery will present a new chapter in the artistic development of APEX.  It is an experimental exhibition in which the artist explores new territories modern and contemporary art.  APEX quickly made a name for himself in the world of street art, in both the Bay Area and abroad. Having coined the term "Super Burner," his pieces are most commonly huge, multilayered productions, packed with patterns and a vivid array of colors. The works exhibited in As Above, So Below is the venture into further abstraction. APEX plays with minimalist color blocking, sleek lines and new architectural forms and arches. Careful compositions of colors and shapes take APEX's work into a totally new dimension.  While maintaining the dynamism that continues to characterize the street artist, APEX wields this energy into a refined body of work ready to go from street to gallery.
As Above, So Below
Shooting Gallery will host the opening reception of As Above, So Below on November 8th. The exhibition that marks the artists most abstract series of works to date will be divided into the two spaces of Shooting Gallery. The main space will present the artist's modern abstractions. In addition to the gallery's main space, APEX will also occupy one of the Shooting Gallery's project spaces, representing the So Below portion of the show's title. The project space will feature some of APEX's signature and most recognizable earlier style-graffiti and hand-styles.
San Francisco
Part of the Gestalt Collective that engages in collaborative murals in San Francisco, Apex curated mural projects on Bluxome Alley, other districts of San Francisco, and the SFMOMA display windows in association with St. Johns Community Center (San Francisco, 2002). His work has been shown extensively both in the Bay Area and abroad. He was the artist in residence at the Headlands Center for the Arts (2007), and was featured in documentaries and publications regarding the Mission District in San Francisco.