Since the launch of Instagram, many artists have used it as a promotional platform for their work, communication with followers and as a unique space for informing the public about their future plans. Richard Prince, however, saw it as an opportunity to make art. When asked about his thoughts on Instagram, the controversial artist said, "It's almost like it was invented for someone like myself... It's like carrying around a gallery in your pocket... Everything became easy." After being kicked off the site for posting his infamous work from 1983's series Spiritual America, featuring 10 year old Brook Shields posing naked, Prince re-emerged on the site by printing out postings from celebrities on canvas, re-photographing them, and posting them anew to his own feed in his own twist on the #regram, turning his Instagram account into a conceptual art project. Now he went even further by basing his entire new exhibition "New Portraits" on the other peoples' Instagram profiles.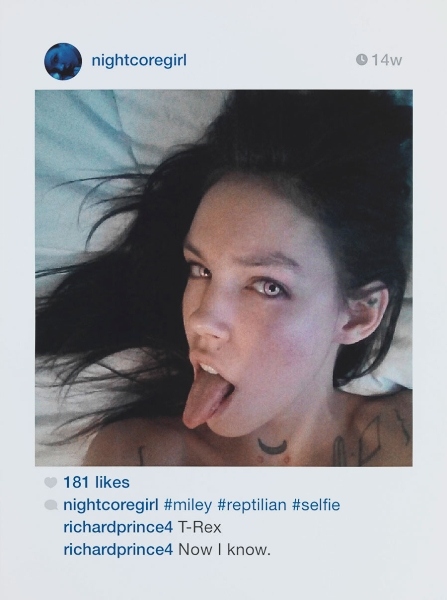 Instagram on Canvas
The show features 37 images taken from other peoples' Instagram accounts, some famous, others semi-famous and "internet celebrities", all enlarged to roughly 4 x 6 feet and printed on canvas. Prince even incorporated his comments in the photos, inviting the subjects on the photo for a date, or suggesting something already happened. But, for those familiar with Richard Prince's work, taking others' images (created in various media) and then exhibiting them as his own - is nothing new, and it's actually what made him artistically significant and famous. However, although his appropriation work is nearly as revolutionary as Robert Rauschenberg's and Andy Warhol's who devoted significant space to others' photographs in their works (via the use of silkscreening, for example), Prince took the practice one step further in the late 1970s by making such "sampled" images arguably the entirety of his work and showing very little evidence of any transformation or the artist's hand.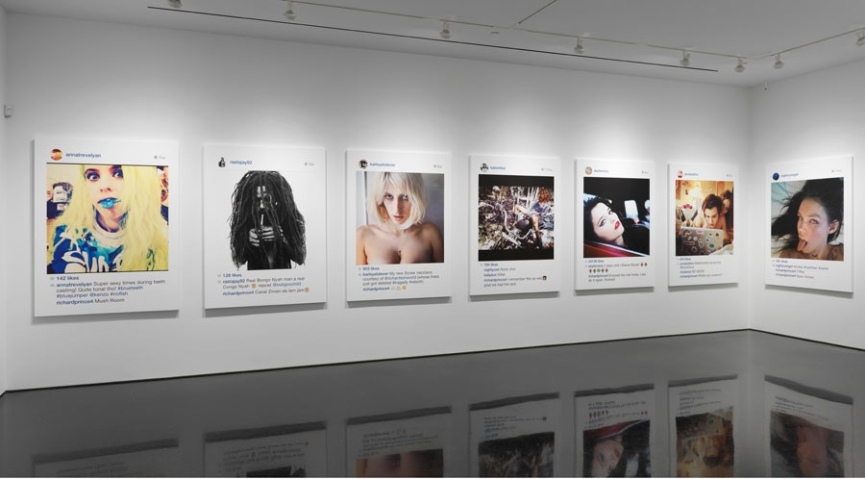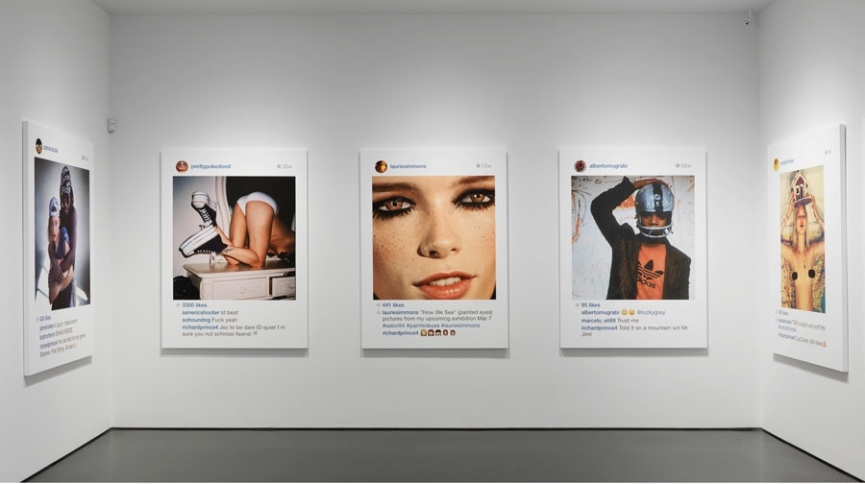 Richard Prince's Instagrams
Opened September 19 at Gagosian Gallery in New York, Prince's latest work probably resembles the most revealing body of work after his "Publicities" series in 2000 that featured collected autographed celebrity images according to similar looks and poses. The reaction on the current exhibition is as unexpected as the show itself. The artists himself expressed amazement when he saw photographs surfing on Instagram (of course) of viewers taking selfies in front of his work. Although there is a constant question of authorship (as it happens with Prince who is currently one of the worlds' most profitable artists), that doesn't seem to stop the show from a major success.
The show is still on view at Gagosian Gallery until October 25, 2014.