A global headquarters of the art market, the city of New York has the highest market share by value of art sales in the world, is a center of high net worth wealth, and has the largest population of millionaires and billionaires globally. Now the specifics behind the city's strength as a global art capital have been published in the first study on New York collecting that has ever been undertaken.
Conducted by arts economist Clare McAndrew, with contributions by Paul Cossu, John Cahill, Jonathan Olsoff and Pamela Grutman, The New York Art Market Report surveys over a thousand collectors and advisors, dispelling common misconceptions about collecting practices and art advisories, as well as demonstrating the legal and regulatory advantages that New York uniquely offers. As Elizabeth Dee, Co-Founder of Independent, commented, "the findings show a very high caliber of expertise across all sectors of New York's art market."
The New York art market is in a strong position as we move forward in the year ahead.
New York as a Global Art Capital
Since New York was one of the US cities most severely affected by COVID-19, which has had specific and acute effects on the art market, the study aims to provide a descriptive picture of the New York art market, showing how it may be best placed to deal with the current challenges it faces.
The city's strength has been based around three fundamental areas: the strong base of wealth within the US, a highly developed cultural infrastructure and the fact that it is one of the most transparent centers worldwide for the art trade.
The city has by far the largest number of high net worth and ultra-high net worth individuals in the world, as well as a stronger and more developed upper middle-class than emerging regions. Not only a home, but it is also the temporary residence of many global millionaires.
At the same time, NYC has a dense and diverse range of galleries, auction houses, and public and private arts institutions, showcasing the world's greatest art. With a highly developed cultural infrastructure, the city has all it need to support a healthy trade in art.
The city's transparency in art trade comes from its a relatively business friendly fiscal environment and liberal trading regime, offer a high level of protection to local and international buyers and sellers and giving businesses sufficient incentives to encourage inward and outward trade.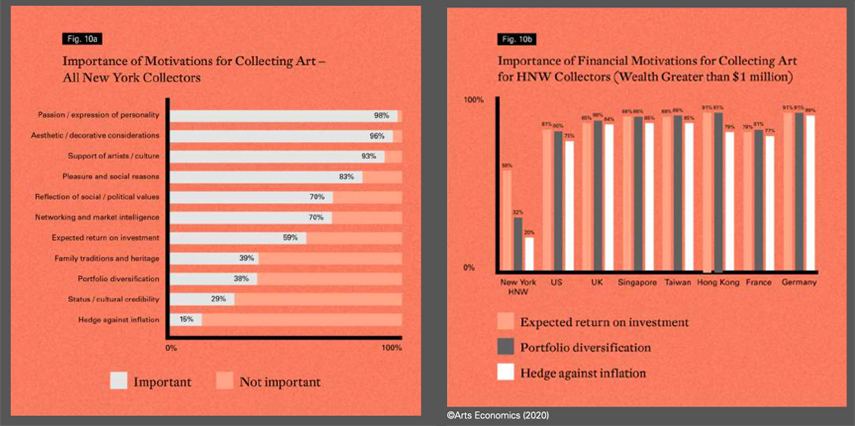 Key Findings
Regarding collecting, the study emphasizes that by far the most frequently used channel to purchase art by New York collectors is galleries, with 76% using them always or often. Only 10% of New Yorkers purchase art through online platforms always or often. 96% of the New York collectors surveyed had also purchased through art fairs. Furthermore, despite the COVID-19 pandemic, 76% of New York collectors were willing to attend indoor events, exhibitions and fairs in New York over the next 12 months.
Among key findings regarding the New York collectors, is that they have some of the world largest collections, they are significantly less investment driven, 80% of the works in their collections are by living artists and over half of them prefer working with new York galleries.
The similar goes for the art advisors, where 74% prefer to work with New York-based galleries and 60% of their sales are through them.
When it comes to the art events in the city, New York collectors are highly engaged with gallery exhibitions and events, 74% of art advisors use art fairs to purchase art, mostly focusing on New York-based fairs, and 76% of New Yorkers are willing to attend events in the next 12 months.
Read the whole report here.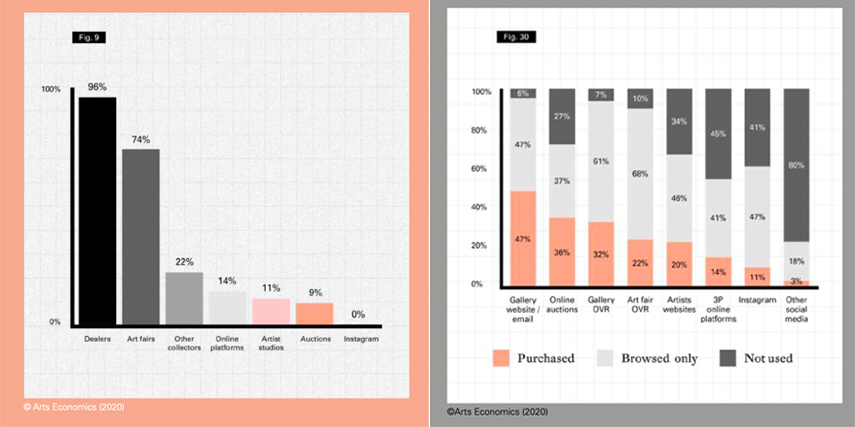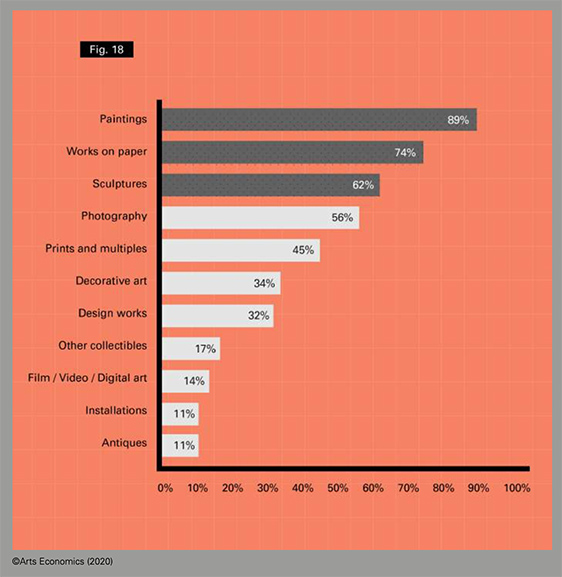 Featured image: New York Art Market Report 2020. ©Arts Economics (2020)