The upcoming season of art auctions in New York presents two standout market features that stray from the norm. Firstly, the presence of works featuring key muses of the artists, with the highlights containing unique and nuanced treatments of these well-known subjects. The second key feature of the upcoming sales is a market leaning towards stylistic and chronological 'breakthrough' works that feature the embryonic stages of the respective aesthetic developments.

Pablo Picasso and Francis Bacon - Christie's Star Lots
The first key trend to observe within the upcoming auctions is the appearance of works that feature key artistic muses from the familiar blue-chips. In this regard, Christie's star lot in the Impressionist and Modern Art evening sale (15 May 2017) is arguably Pablo Picasso's Femme assise, robe bleue (1939) which has an estimate of $35 million to $50 million. The work is a portrait of Dora Maar executed towards the beginning of the Second World War and features Maar with a mysterious smile and is thus a rare and fascinating example of Picasso's developing image of her. Similarly, from Christie's Contemporary Art evening sale (17 May 2017), the key lots to watch will be Francis Bacon's Three Studies for a Portrait of George Dyer, (1963). As with Picasso's Femme assise, robe bleue, Bacon's work presents another in the seasons offerings of early depictions of key artistic muses. This example, Three Studies for a Portrait of George Dyer, is the first portrait Bacon painted of his lover and greatest muse, mere months after the two met. The masculinity and anxiety that transcends from the painting is a pure example of the qualities of Bacon's representation of Dyer that form a large portion of his esteemed reputation. The piece is likely to go for somewhere between $50-70 million, although given its quality and biographical importance, there is a chance it could exceed this.

At Sotheby's, The "Greatest Early Masterpiece" by Egon Schiele
Another key feature of this month's auctions highlights a notable market trend for breakthrough pieces and early works featuring strong transitional or elementary aesthetics. In particular, Sotheby's Impressionist and Modern Art sale (16 May 2017) appears to be betting on the market's current demand for said works. In this respect, in their Impressionist and Modern Art evening auction, two of the sale's key works, Egon Schiele's Danaë (1909) and Gustav Klimt's Woman in Armchair (1897-98), fall within this categorization. Schiele's mythological work is the first large-scale figural work by the artist to come to market since 2001 and was painted when he was just 19 years old. The piece has been lauded as Schiele's "greatest early masterpiece" and is indeed an extraordinary example of the foundations of the Viennese artist's unique aesthetic. Danaë is estimated to fetch between $30 and $40 million, which places the piece within the same price range as the artist's previous auction record from 2011 of $39.8 million for Häuser mit bunter Wäsche (Vorstadt II), executed at the height of its maker's artistic prowess. Similarly, Gustav Klimt's Woman in Armchair (1897-98) is a strong example of the artist's early portraiture. The estimate for Woman in Armchair is a distinctly more modest: $7 to $9 million. This is understandable, given the aesthetics of the piece, but considering Klimt's active market, the lot is still likely to bring in a high hammer price.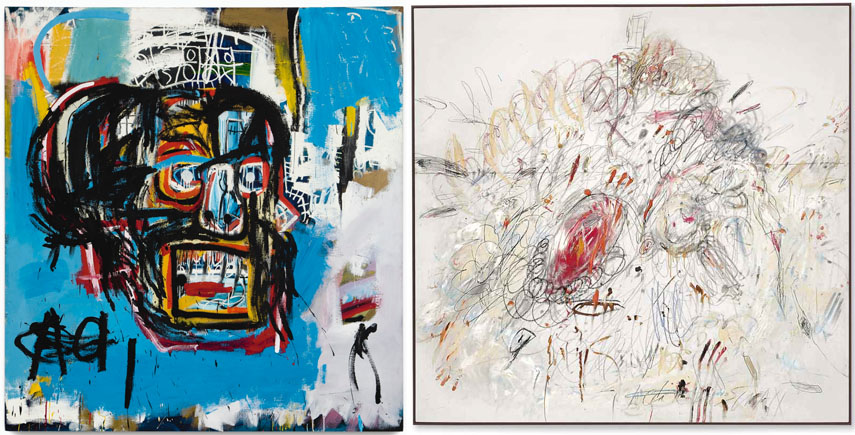 Can Basquiat's "Untitled" Beat the Current Record?
In combination with this, one of the highlights of Sotheby's Contemporary Art evening auction (18 May 2017) also follows this vein. Jean-Michel Basquiat's Untitled (1982), as with the Schiele and Klimt pieces, is an early demonstration of the artist's powerfully unique aesthetic. Untitled (1982) is a raw masterwork executed at the beginning of one of his most pivotal years, which heralded the then-virtually unknown Basquiat on to the cultural and market radar. The current work was acquired during the same year and has not been on public display since its initial unveiling in June 1982. Whether the work can beat the current auction record of $57.3 million set in May last year or not, it is likely to fetch upwards of $45 million.
In terms of the representation of key masterworks and those from the most acclaimed styles and periods, the sales are not especially strong, unsurprisingly given sellers' reluctance to sell key masterpieces at present. However, there are some key works that do stand out within this category. Most notable is Christie's Post-War and Contemporary Art evening auction's (17 May 2017) offering of Cy Twombly's Leda and the Swan (1962) with an estimate of $35–$55 million. The piece, unseen in public for over thirty years, is a powerful demonstration of Twombly's exploration of the mythological subject and the themes of sex and violence that often preoccupied his work in the early 1960s. The current lot is one of two (with the other being housed in MoMA) that mark the pinnacle of his painterly practice during this period and of this subject matter. Another highlight throughout the season that features pinnacles of thematic and technical aesthetics include Bonhams' standout piece: Henri Matisse's vibrant cut-out Arbre de Neige (1947) (Est. $800,000- 1,200,000) in their Contemporary Art auction (17 May 2017). This artwork was apparently missing from the recent Tate and MoMA exhibitions, as its location was unknown to the curators and indeed, the quality warrants such a claim.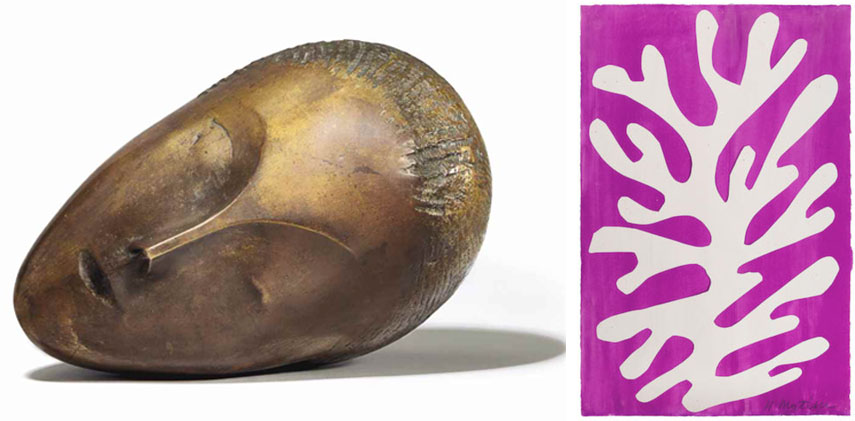 A Solid Sign for Market Health
Along with these, what also stands out is a strong presence of exceptional sculptural works within the various sales this May. Sotheby's Impressionist evening sale (15 May 2017) includes a large selection of works from The Finn Family Collection, acquired by David and Laura Finn over the course of 50 years. The collection includes Alberto Giacometti's Bust de Diego with an estimate of $10-$15 million, that consists of a portrait of the artist's brother. Christie's contribution to the strong sculpture showing is Constantin Brancusi's La Muse Endormie (1910) in their Impressionist and Modern Art evening sale, which has an estimate of $20-30 million. Across the board in both the Contemporary and Modern Art sales, there is a substantial attention paid to sculpture, with some of sculptural works by the likes of Henry Moore, Jeff Koons, Bruce Nauman and Urs Fisher.
All in all, there is a favorable, if not exceptional, body of works coming up for auction this month, although within this, there are some truly unique and fascinating pieces that will be bound to make headline-grabbing prices. However, the fact that the market is leaning towards a more intense interest in the irregular works, if not 'masterpieces', be it the early or transitional artworks or the unusual. This can only be a solid sign for market health upon which the re-emergence of the 'masterpieces' can grow.
Featured image: Sotheby's auction, via businessinsider.com.