Following the just-finished giga week in New York, the first of two major ones filled with art auctions every year, we have to ask - after Salvator Mundi, can anything satisfy us anymore?
Reports are coming in regarding the sales of artworks across the two biggest auction houses, Christie's and Sotheby's, joined by Phillips, which took place between May 14 and 18 and, while the biggest lot of all was Amedeo Modigliani's nude, its new price seem to have failed to surprise anyone - and it was certainly not a small one to pay.
Nevertheless, we'd say that the $961 million total for 20th century art sales in New York reported by Christie's - which amount to $1.79 billion if we combine them with the sale of the collection of Peggy and David Rockefeller - is quite impressive. New records were set, artworks found new owners, millions were spent, and that's what we'll dwell on while we await the next big auction season, coming up in November.
May 14
Sotheby's Impressionist & Modern Art Evening Sale
On May 14th, the New York Auction May 2018 Giga-Week officially started, with Sotheby's Impressionist & Modern Art Evening Sale. As expected, the star of the night was Amedeo Modigliani's 1917 painting Nu couché (sur le côté gauche) - estimated at $150 million, it reached $157.2 million, thus falling short as the price includes the buyer's premium. The artwork, although the most expensive of the sale, failed to break Modigliani's auction record set in 2015, when the 1917-18 Nu couché sold for $170.4 million at Christie's New York.
The $318,3 million sale at Sotheby's, which failed to sell only 13 out of 45 lots offered, included Pablo Picasso's Le Repos, which went for a little over its high estimate - $36.9 million, and Claude Monet's Matinée Sur La Seine, on the other hand selling a little over its low estimate, $20.5 million. Almost doubling its high estimate was Georgia O'Keeffe's Lake George with White Birch which went for $11.3 million.
Modigliani Reinvents the Nude - Sotheby's
May 15
Christie's Impressionist and Modern Art Evening Sale
The May 15 Impressionist and Modern Art Evening Sale at Christie's scored $416 million including buyer's premium, almost doubling on last year's result - even without the withdrawn Picasso.
One third of the artworks sold above their estimate, starting with Kazimir Malevich's Suprematist Composition from 1916, which broke its own record and notched $85.8 million. Another highlight was Constantin Brancusi's elegant piece La jeune fille sophistiquée (Portrait de Nancy Cunard), setting a new record for the artist with its $71 million hammer price! A painting worth mentioning is Vincent van Gogh's Vue de l'asile et de la Chapelle Saint-Paul de Mausole (Saint-Rémy) which, although it went only a little over its low estimate, it doubled in value since its last auction sale in 2012, achieving $39.7 million.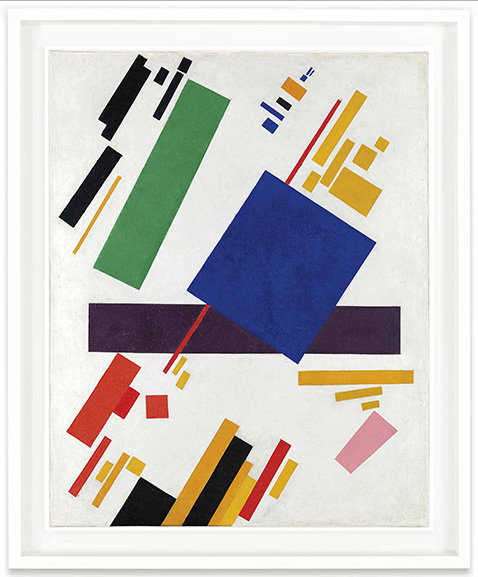 Sotheby's Impressionist and Modern Art Day Sale
Not as impressive as the rest, Sotheby's Impressionist and Modern Art Day Sale donned $40,876,125, led by Max Ernst's Les Asperges De La Lune sculpture, which went for $3.2 million. Picasso's L'Atelier was rather disappointing, almost selling for its low estimate and achieving $1.2 million. Same goes for Les Amoureux aux Trois Bouquets by Marc Chagall, which went for $1.15 million.
May 16
Sotheby's Contemporary Art Evening Auction
It was "only" the fourth best-selling artwork at Sotheby's Contemporary Art Evening Auction on May 16, yet Kerry James Marchall's Past Times from 1997 was the most talked about one. Namely, the work, which was recently included in a retrospective of the artist's work, fetched $21.1 million, donning the new record for a living African American artist.
But let's not forget the winners of the $284.5 million worth of evening: Jackson Pollock's Number 32 from 1949, fetching $34.1 million, Jean-Michel Basquiat's Flesh and Spirit which went for $30.7 million, and Pacific Coast Highway and Santa Monica by David Hockney, achieving $28.5 million, all with buyer's premium.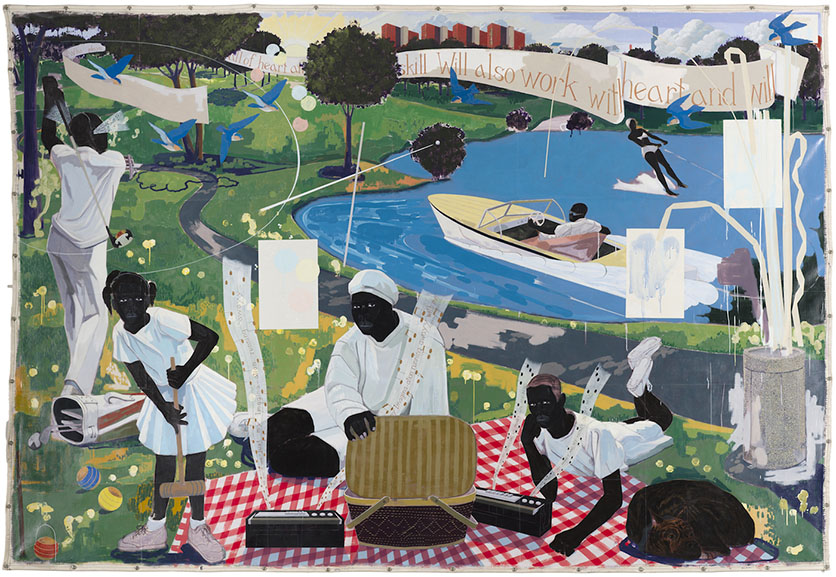 Christie's Impressionist and Modern Art Day Sale
Over at Christie's on the same day, a much less interesting sale compared to the May 15 one. The auction totaled $27.4 million, starting with Pablo Picasso's Buste d'homme with $1.57 million, Claude Monet's Mauves and Paul Klee's Versprengter Reiter with $1.33 million each. An unusual sight - a female artist among the highest results - Dorothea Tanning's The Temptation of St Anthony fetched $1.52 million.
May 17
Christie's Post-War and Contemporary Art Evening Sale
It was a solid one - Christie's Post-War and Contemporary Art Evening Sale brought in a total of $398,709,500 with buyer's premium on May 17. Even though it failed to succeed the spring sale of $448 million, 91% of lots found their buyers. Francis Bacon's Study for Portrait from 1997, depicting his former lover George Dyer, was sold for $49.9 million, followed by Andy Warhol's Double Elvis with $37 million, whose Most Wanted Men No 11, John Joseph H., Jr was also in the top 5 with $28.4 million.
Other highlights include Mark Rothko's No 7 (Dark Over Light), scoring $30.6 million and Jeff Koons' Play-Doh, reaching $22.8 million.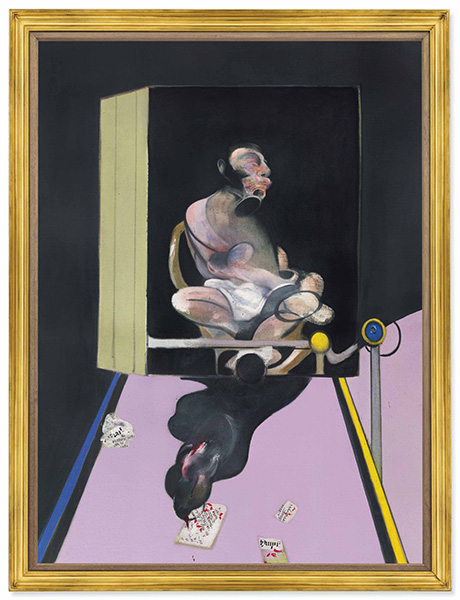 Sotheby's Contemporary Art Day Auction
In the Contemporary world over at Sotheby's, the $107,027,500 sale brought a few pleasant surprises. The highest bid of the evening belongs to Mark Tansey, and his Study for Push/Pull which was sold for $3.14 million, doubling its low estimate. In it, we see a group of four explorers daringly cross a deep abyss in a desert landscape.
Following closely is perhaps a more famous name, Helen Frankenthaler, whose Blue Reach went for $3 million. Another artwork by our artist of the year 2017, Kerry James Marshall, Lost Boys: aka Black Al, went well over its high estimate of $700,000 to sell for $2,66 million!
The SUV and the Sphinx: Mark Tansey's 'Study for Push/Pull'
Phillips 20th Century & Contemporary Art Evening Sale
Even though two big lots failed to sell, Phillips's 20th Century & Contemporary art evening sale was a success, with $132 million. The 91% sell-through rate was led by Jean-Michel Basquiat's Flexible, sold for $45.3 million with fees, more than doubling its expected price. The evening was not a good one for two German artists, as Gerhard Richter's Abstraktes Bild and Sigmar Polke's Stadtbild II didn't change hands this time round.
And confirming a rock-solid year at auctions for Kerry James Marshall is the Untitled (Blanket Couple) from 2014, which went for $4.3 million with fees - although it was below its high estimate. Other highlights include Jenny Holzer's Truisms: UNEX sign, which went for $471,000 and Pat Steir's Elective Affinity Waterfall, for $1.9 million.
Jean-Michel Basquiat 'Flexible', 1984
May 18
Christie's Post-War and Contemporary Art Morning & Afternoon Sessions
Combined, Christie's Post-War and Contemporary Art Morning and Afternoon Sessions went up to $102.293.625, $60.770.250 and $41.523.375 respectively.
The morning was marked by Wayne Thiebaud's Three Candid Apples with $3.86 million, certainly not a new sight at auctions, and Joan Mitchell, certainly not such a frequent sight at auctions, whose Iva fetched $3.3 million with buyer's premium.
The afternoon was led by Donald Judd's Untitled, which went for $2.6 million, and Martine Hotel Pot with Alone by Jonas Wood, sold for $2.3 million.
Featured image: Amedeo Modigliani - Nu couché (sur le côté gauche), 1917. Oil on canvas, 35 1/4 by 57 3/4 in, 89.5 by 146.7 cm. Sold for $157,159,000 at Sotheby's New York 2018.