The figures for the New York Contemporary Art Sales Fall season recently released showed a staggering total of $1,703,991,563 made in sales during that period. Referring to the chart of New York Contemporary Art Auctions 2005-2014 it can be seen how dramatic this figure really is when compared to previous Fall season results, even after a dramatic increase in Fall 2012 followed by modest increases in Fall 2013 and Spring 2014, nobody was expecting for such a giant leap in the figures. The second chart breaks the figures down to an average for two five year blocks, the average sales for 2005-2009 being $523million while the period 2010-2014 saw an average of $1.003billion, nearly double the sales.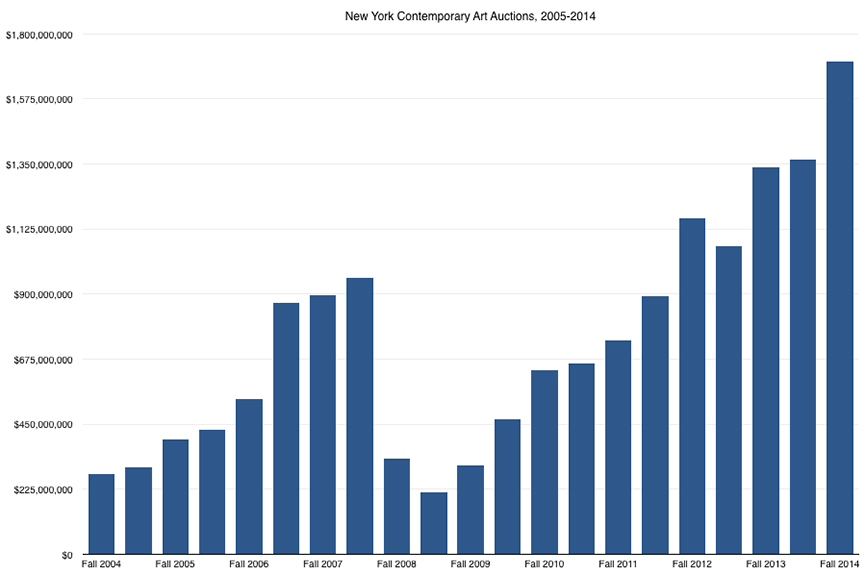 New York Contemporary Art Sales
The Fall 2014 season was somewhat of a bonanza for New York Contemporary Art Sales with auction houses breaking records for total sales and for individual works of art. Christie's grossed $852.9million from 75 works of art in their contemporary New York sale in November that comfortably beat the estimated figure of $630million to $836million and was more than double than main rivals Sotheby's achieved, with their New York Contemporary Art Sale managing a grand total of $343.7million. The previous record was also set by Christie's in May 2014 with a total of $745million. The two weeks of New York Contemporary Art Sales for the Fall season closed with a tame 70 minute auction at Phillips, generating a total of $52million, perhaps caused by a few empty pockets after the record breaking Christie's contemporary sale. Christie's Chairman Brett Gorvy stated in the press conference that people were buying art for themselves with 500 bidders from 43 countries taking part and that new buyers were facilitated by recent outreach efforts in Shanghai, Hong Kong and the Middle East.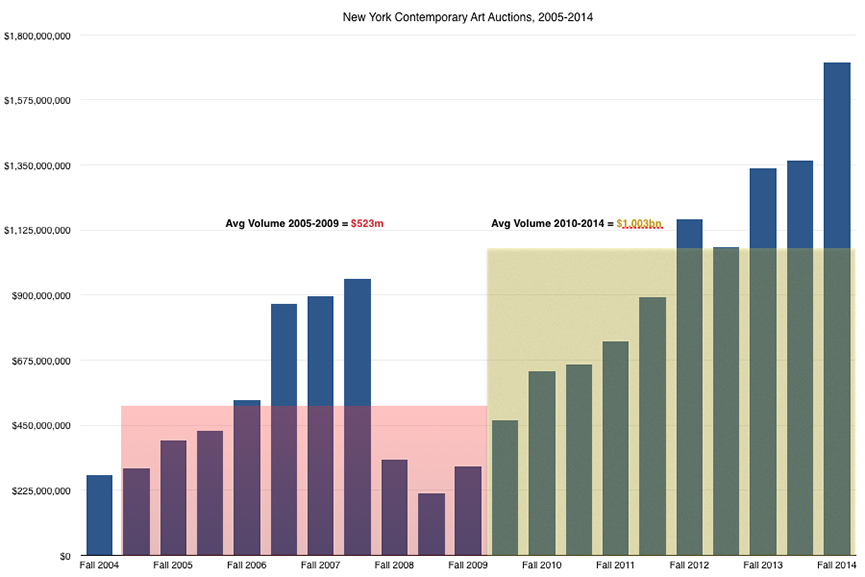 Popular Contemporary Art Sales
A number of new records were set for individual artists at The New York Contemporary Art Sales Fall season with Andy Warhol proving as popular as ever as a number of his works were available including Triple Elvis (Ferus Type) 1963 which raked in a mind boggling $73million (or $81.9million if you include the fees!) while Cy Twombly had an untitled piece from 1970 finally sell for $69.6million that smashed the previous $21.7million record for a Twombly. The Christie's sale also set new records for Ed Ruscha, Peter Doig, Arshile Gorky, Martin Kippenberger, Georg Baselitz, Yayoi Kusama, Cindy Sherman, Mark Tansey, Elaine Sturtevant and Seth Price. Meanwhile over a Sotheby's A Mark Rothko pulled in $44.97million and Jasper Johns 1983 Flag painting reached $32million. At the other end of the scale, Phillips were offering sales of works by young, hip art stars and set new records for Danh Vo ($629,000), Fredrik Vaerslev ($317,000) and Rashid Johnson ($197,000), loose change compared to the bigger established stars of the art world. Although there were some disappointments, Jeff Koons being one, with work failing to sell or going for the low estimates, it would appear that there is an increasing appetite for the collecting of contemporary works of art as demonstrated by the record breaking figures generated in The New York Contemporary Art sales for the Fall season 2014.
For all the latest contemporary auctions news sign up to My Widewalls today!