Despite all the obstacles posed by the Covid-19 pandemic, the New York auctions in May 2021 will be the first crunch moment of the year for the top end of the art market.
The first highlights that stood out were a remarkable piece by Picasso offered by Christie's during their 20th Century Evening Sale and a superlative Basquiat offered by Sotheby's during their Contemporary Art Evening Sale.
More artworks not to miss now include exquisite works by Alberto Giacometti, Julio González, Mark Rothko, Piet Mondrian, Georges Seurat, Paul Cézanne, Claude Monet, Edgar Degas, Robert Colescott, Banksy, Bruce Nauman, Cy Twombly, Joan Mitchell and Norman Lewis.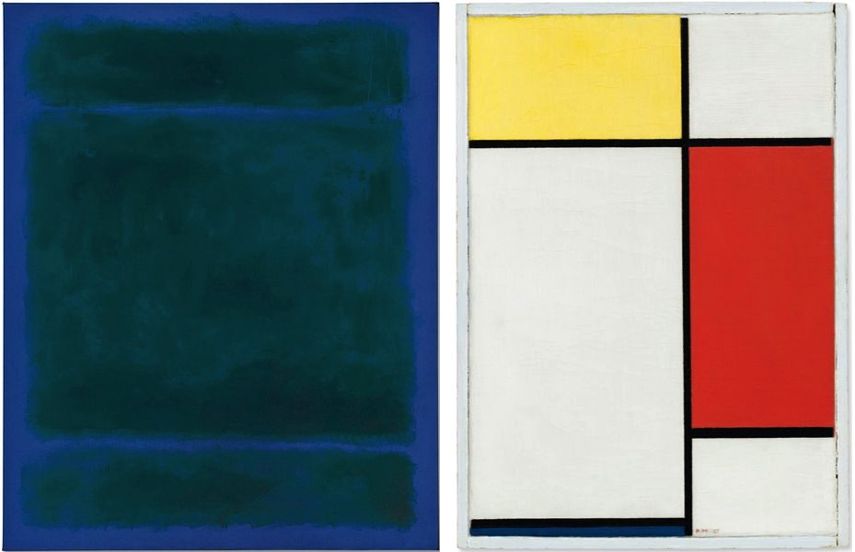 Christie's 20th Century Evening Sale (May 13)
Taking place on May 13th at 7 p.m. (EDT), Christie's 20th Century Evening Sale will be redefined to introduce a new 21st Century Evening Sale, revolutionizing the traditional marquee sale week. The auction will highlight the radical nature of the art made from the 1880s to the 1980s, bringing together titans of Impressionism with champions of Abstract Expressionism, Pablo Picasso's muses and Andy Warhol's stars.
The auction house will offer Alberto Giacometti's Femme debout from circa 1952, estimated between $2,800,000 and $3,500,000, and Julio González's Danseuse à la palette, estimated between $600,000 and $800,000. The works, which demonstrate the compelling diversity of twentieth-century sculpture, are exhibited at Christie's Hong Kong until April 22nd.
Featuring one of Giacometti's signature elongated figures, Femme debout embodies the compelling power and multivalent iconography of these female figures characterized by hieratic, motionless bodies.
On the other hand, González's Danseuse à la palette is one of his revolutionary linear metal sculptures, created during a period of prolific invention. Rendered from a striking economy of means, the work is characterized by an impressive dynamism.
Exhibited at Christie's Hong alongside Giacometti and González, Mark Rothko's Untitled from 1970 (estimate on request; in the region of $40 million) is another highlight of the sale. A radiant and stately masterpiece, this work marked his triumphant return to full, vibrant color. It was created during the final months of the artist's life, as part of a final body of work that Rothko viewed as his most profound achievement. At the same time, the work is revelatory of the artist's mental and emotional state in the days and weeks leading up to his suicide in February of 1970.
As Emily Kaplan, Co-Head of Christie's 20th Century Evening Sale, explained, the work "offers a parting vision of glowing, incandescent color; a luminous, resonant hymn that eloquently encapsulates the spirit of his life's work."
The sale will also be highlighted by two works by Georges Seurat, Paysage et personnages (La jupe rose), 1884, estimated between $7 and 10 million, and Le Saint-Cyrien,1884, estimated between $3 and 5 million. Being sold from the Family of Robert Treat Paine II, these works are among the few examples of Seurat's extensive preparatory practice for this masterpiece to remain in private hands.
As Cyanne Chutkow, Deputy Chairman, Impressionist and Modern Art, Christie's, explained, these works are "among the most fully realized and richly colored studies for Georges Seurat's revolutionary Un Dimanche d'été à l'Ile de La Grande Jatte to come to market in years," demonstrating "the artist's radical departure from the established notions of composition and coloration."
The auction will also include Piet Mondrian's Composition: No. II, with Yellow, Red and Blue from 1927 (estimate on request; in the region of $25 million). A rare and exceptional example of the artist's revolutionary abstract aesthetic, the work encapsulates the spirit of Mondrian's "classical period".
Vanessa Fusco, Co-Head of the 20th Century Evening sale explained the work is "filled with a dynamic internal energy, in which each line, each plane, each color is brought to life by its relationship to the other elements within the painting."
The piece was exhibited at Christie's Hong Kong from April 12th until April 14th and is currently on view at Christie's London until April 22nd, alongside Claude Monet's Waterloo Bridge, effet de brouillard, 1899-1903 and Pablo Picasso's iconic portrait Femme assise près d'une fenêtre (Marie-Thérèse), 30 October 1932.
Another highlight of the sale is Vincent van Gogh's spectacular landscape Le pont de Trinquetaille, estimated between $25,000,000-35,000,000. The work was painted during his pivotal fifteen-month stay in Arles in the Southern France, a period regarded not only a central turning point in the artist's life, but in modern art as a whole. The work is characterized by the artist's groundbreaking use of autonomous color in his subjective vision of nature and the landscape, plunging perspectives and clear distinction between the foreground and background. As Christie's Senior International Director, Impressionist and Modern Art Jay Vincze said, the works of this scale and importance are incredibly rare.
...everything about it, from the vibrant, 'absinthe' colour of the sky and the highly structured composition to the thick and expressive brushwork of the water speaks of an artist at the very height of his creative powers.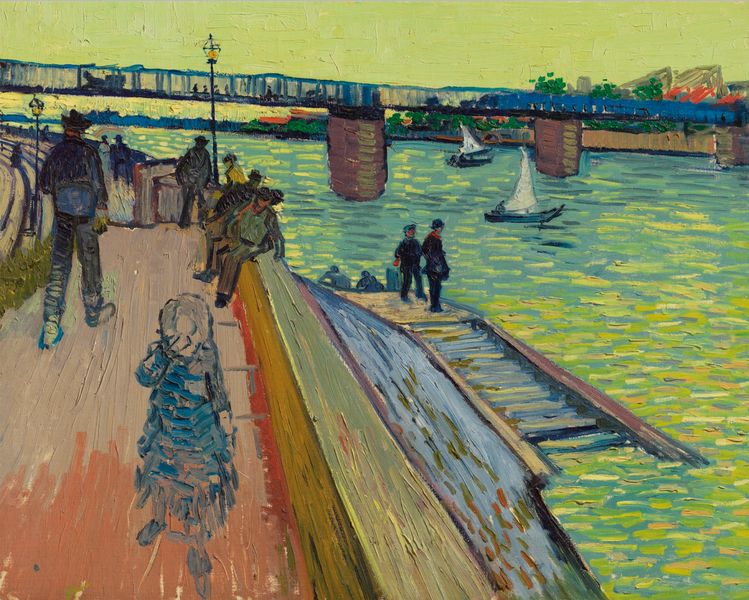 Christie's 21st Century Evening Sale (May 11)
It can be said that this auction season will be remembered for dueling Basquiats. During their 21sr Century Evening Sale on May 11th, Christie's will offer Jean-Michel Basquiat's monumental painting In This Case, estimated in excess of $50 million.The last in the series of the artist's holy trinity of "skull" paintings made in 1983, the work is characterized by its blazing color, pyrotechnic vigor and explosive anatomical vision of the skull executed on an immense scale. Combining his interest into anatomy and centuries of stylistic influence, the skull became a furnace in which Basquiat poured the contents of his visual imagination. This particular piece is a tribute to Michael Stewart, a young African American street artist whose death following his arrest by police in 1983 shook the community. Other two Basquiat's work with large-scale skull depictions have sold above the $50 million mark. If the work reaches its low estimate, it will be among the most expensive works by the artist ever sold at auction.
In This Case will be on view at Christie's Hong Kong on April 28th before returning to New York for exhibition at Rockefeller Center ahead of the auction.
Another highlight of the evening will be Kerry James Marshall's powerful Nat-Shango (Thunder) from 1991, estimated between $6.5 and 8.5 mililon. An early example of the revolutionary portraits of Black figures, the work features the life-sized figure of a man standing front and center, wielding an axe in each hand. The composition also features an assemblage of enigmatic heads, a series of portraits of young white women taken from covers of the popular Harlequin romance novels, confronting issues regarding beauty, race and sexuality.
Ana Maria Celis, Senior Vice President and 21st Century Art Specialist, explained:
The whole scene is bathed in a rich twilight—provided by the solar eclipse that Turner believed to be a sign from God to start his rebellion—saturating both the deep blue sky and verdant green fields with an eerie luminosity. With dawning light on the horizon, the setting with its pristine white farmhouse surrounded by picket fencing is strangely at odds with the lived experience of the enslaved people forced to work the land.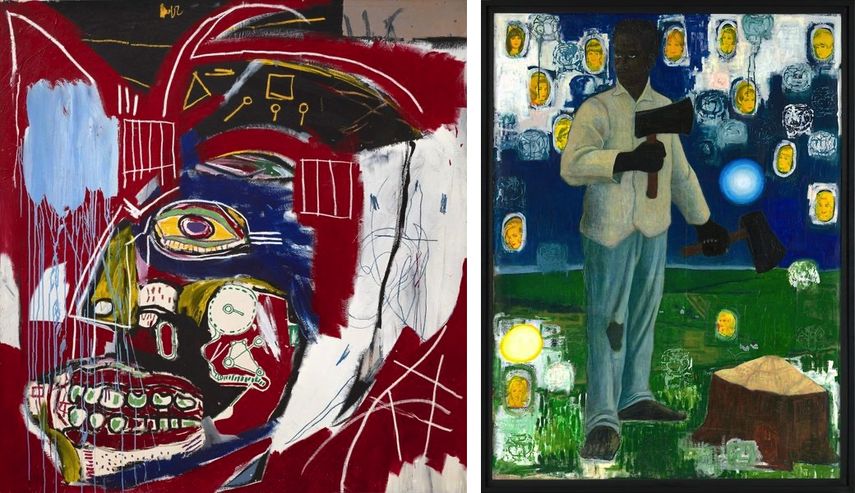 Sotheby's Impressionist and Modern Art Evening Auction (May 12)
Taking place on May 12th at 8:30 p.m. (EDT), Sotheby's Impressionist and Modern Art Evening Auction will bring together a triumphant group of Impressionist works by the masters Paul Cézanne, Claude Monet and Edgar Degas.
Estimated between $40,000,000 and $60,000,000, Monet's Le Bassin aux nymphéas from 1917-19 is one of the finest works from the Water Lilies series to ever appear at auction. The work is part of the legendary series depicting his water lily pond at Giverny, which are now recognized as an important bridge between Impressionism and Abstract Expressionism.
Julian Dawes, Co-Head of Sotheby's Impressionist & Modern Art Department in New York described the work as "a remarkable example of Monet's late-period works from his cherished home at Giverny," which "beautifully encapsulates how Monet's oeuvre evolved over time from his Impressionist breakthroughs to a more abstract focus with hi preoccupation of his pond and water lilies."
The auction will also offer Monet's extraordinary landscape and still life La Seine à Lavacourt, débâcle from 1880, estimated between $6,000,000 and $8,000,000, as well as Fleurs dans un pot (Roses et brouillard) from 1878, estimated between $4,000,000 and $6,000,000.
Painted at the height of Cézanne's career, the exemplary still life Nature Morte: pommes et poires encapsulates the pioneering trajectory of artistry in the late nineteenth century. Estimated between $25,000,000 and $35,000,000, the work is a masterful example of the artist's mature still lifes of the late 1880s and 1890s, standing among his simplest yet most powerful and elegant arrangements. The emphasis here falls exclusively on the fruit, laid in a forward-facing arc that repeats the quiet ellipse of the plate. The work has an illustrious provenance dating to epoque-defining dealer Ambroise Vollard.
The sale will also include one of the finest examples of Degas' Danseuse, estimated between $10,000,000 and $15,000,000. For nearly 70 years, the work was in the collection of the Museum of Fine Arts Boston. Capturing the splendor of the Parisian ballet, this pastel demonstrates the artist's genius for rendering color and his inimitable control over this medium. Complex and delicate, the work is believed to depict Marie von Goethem, dancer for the Paris Opera Ballet at the Palais Garnier.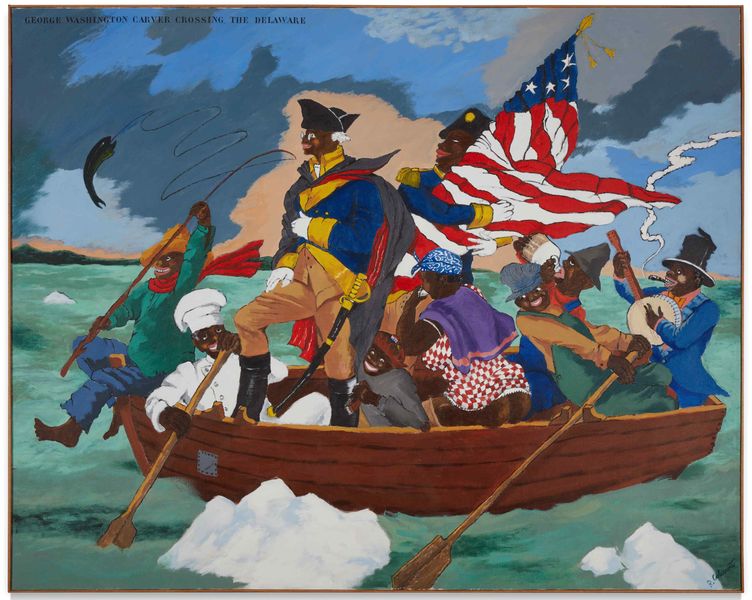 Sotheby's Contemporary Art Evening Auction (May 12)
Taking place on May 12th at 7.30 p.m. (EDT), Sotheby's Contemporary Art Evening Sale will bring together many of the most celebrated Post-War and Contemporary artists. Taken as a whole, the sale will tell the story of the development of abstract and figurative art from the Post-War period up to the present day. For the first time, Sotheby's will accept Bitcoin (BTC) and Ether (ETH) as payment for a physical artwork, in a groundbreaking development made possible thanks to a collaboration with Coinbase, one of the world's largest cryptocurrency exchanges. This market-defining new arrangement is a continuation of Sotheby's experimentation with new technologies, and follows the success of The Fungible Collection, a NFT collection by Pak.
Among the auction highlights is Robert Colescott's George Washington Carver Crossing the Delaware: Page from an American History Textbook from 1975, estimated between $9,000,000 and $12,000,000 and poised to shatter the artist's current auction record of $921.500. The work references Emanuel Lautze's iconic scene Washington Crossing the Delaware from 1851, while countering exclusionary narrative the has long dominated art history. Turning the iconic image on its head, the artist used essentialized racial caricatures to highlight how American history is built on a legacy of racism and inequity.
Acquired directly from John Beggruen Gallery in San Francisco in 1976, the work has remained in the same esteemed private Midwestern collection ever since. Ahead of the auction, the work was on view in Hong Kong from April 16th until April 21st and will travel to Los Angeles from April 24th until April 26th, before returning to New York for public exhibition from May 1st until May 12th.
And then, we have Banksy's Love is in the Air, an iconic protest image estimated at $3/5 million. Bidding for the work, will be conducted in USD, but now the buyer will, for the first time, also have the option to pay the hammer price with cryptocurrency. By pairing this signature painting with an innovative and first-of-its-kind payment solution, the auction house seeks to open the sale to a new generation of collectors.
Featuring a subject in the archetypal pose of civic unrest, Love is in the Air is an iconic canvas now synonymous with the artist's indelible graphic style, wry humor and galvanizing political commentary. The subject is holding a bunch of flowers instead of a projectile, a delicate touch that seeks to remind the viewer of the injustice and inequality that exists around us, but also offer a simple message of hope. One of the artist's most cherished works on canvas, it has been referenced, replicated and imitated countless times in a testament to its visual power.
Stefan Pepe, Sotheby's Chief Technology Officer, commented:
Leveraging the trusted exchange Coinbase is a natural progression and is in line with our dedication to enhancing our client buying experience and developing new ways to expand our client base by meeting them where they are.
The sale will also present Cy Twombly's Untitled (Rome), from the artist's celebrated series of Blackboard paintings. Estimated at $35/45 million, the works speaks to the profound inspiration the artist drew from the culture, history and aesthetics of Rome, where the series was initially conceived. The series marked the artist's abandonment of the richly colorful and expressive compositions from the early 1960s titled Baroque Paintings.
More highlights include Joan Mitchell's Untitled from 1958 (est. $6/8 million), representing the pinnacle of the artist's unique mode of Abstract Expressionism and her remarkable sensory engagement with nature; Norman Lewis' Evening Rhapsody from 1955 (est. $700,000/1,000,000), a harmonious orchestration of color and gesture that embodies the dynamism that characterized the Abstract Expressionist movement; and Bruce Nauman's Life, Death, Love, Hate, Pleasure, Pain from 1983 (est. $4.5/6.5 million), one of a total of 12 neon sculptures featuring a circular ring of text that encapsulates the artist's career-long fascination with paradoxes of language.
Featured image: Claude Monet - Le Bassin aux Nymphéas at Sotheby's Gallery.