It's been a while since Banksy did New York. Globally famous for his political, satirical and subversive works, Banksy did a famous New York residency in October 2013 entitled Better Out Than In. Creating one piece a day for a whole month and documenting it on both a dedicated website and an Instagram account, Banksy's time spent in NY was definitely the talk of the month in the world of street art, gaining a lot of publicity and sparking some negative reactions as well. This residency also resulted in a documentary entitled Banksy Does New York. Since Banksy's art has already reached many parts of the globe, we must raise some question about his future plans and wonder if it might be time for another residency. And if so, where will that residency be?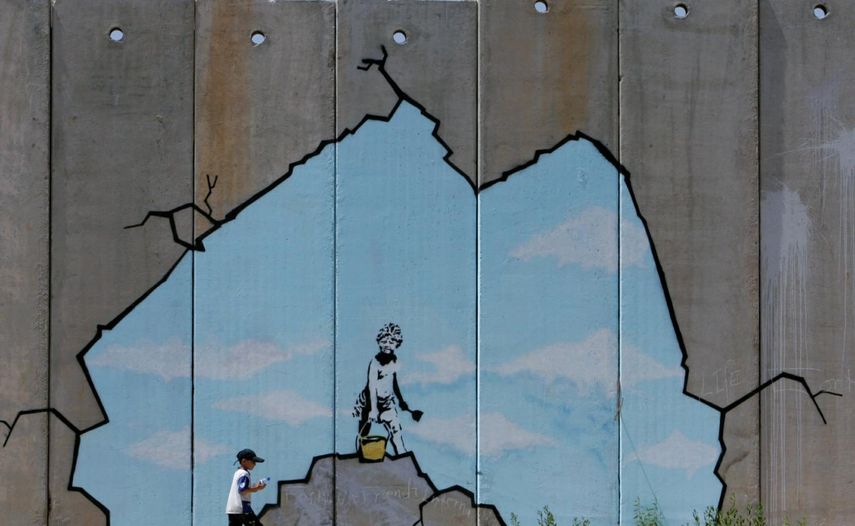 Art as a Political Weapon
With the digital era, the news travel the globe in a speed of light. This allows street artists to contemplate on the problems on a much larger social scale. The artist who has certainly speeded up the process of globalization in the world of street art is Banksy. He seems to be omnipresent and his art has reached many corners of the globe. Using art as a deadly political weapon, Banksy's work always interacts with global politics and issues. With thousands of migrants fleeing war-torn Syria and other countries, the year of 2015 was quite a busy one for him. Last year he has visited the Gaza strip, a decade since he has created nine images on Israel's highly controversial West Bank barrier. This time, he has created a series of new works across Palestinian ruins, documenting on camera the devastation wrought by Israeli militia on the way. He also did a series of murals in Calais refugee camp making a clear statement regarding the refugee crisis, including one depicting Steve Jobs as a refugee, a piece inspired by The Raft of the Medusa featuring a boat full of refugees, and Les Misérables-inspired piece protesting the use of tear gas in the migrant camp in France.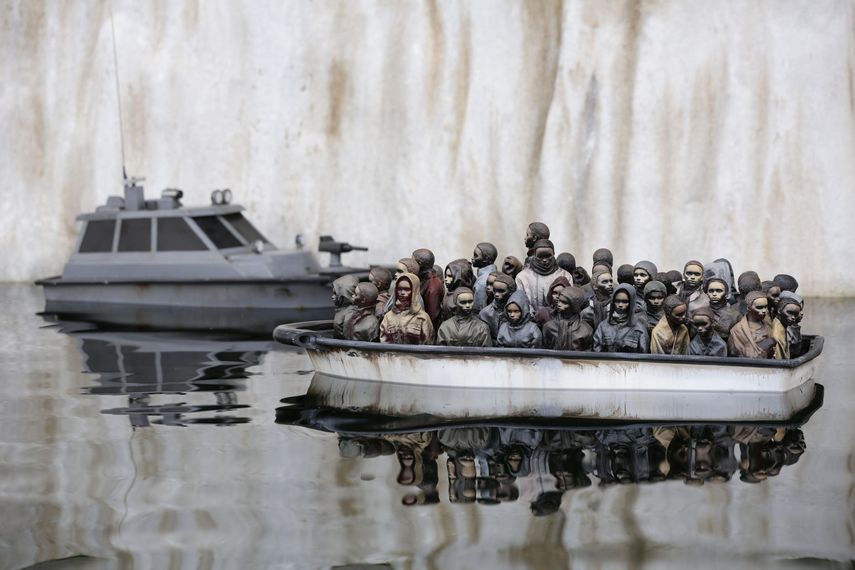 We Are Not All in the Same Boat
A Banksy project that has certainly reached the headlines elast year was Dismaland – Bemusement Park. Constructed as the small British town near Bristol, the subversive theme park was a dark parody of Disneyland and there was nothing fun about it. Featuring fifty-eight international artists besides Banksy, including Damien Hirst, Jenny Holzer and Mike Ross, the temporary project of Dismaland was the 'festival of art, amusements and entry-level anarchism'. As a dystopian and depressing take on amusement parks, this place was packed with irony, satire and honesty. With ten new Banksy pieces and much more by other renowned artists, the exhibition featured a run-down castle, a dead Cinderella and a pond with a miniature remote controlled boat packed with migrants, among others. Dismaland was permanently shut down on September 27th, and it was dismantled and sent to Calais to be used as a shelter for refugees.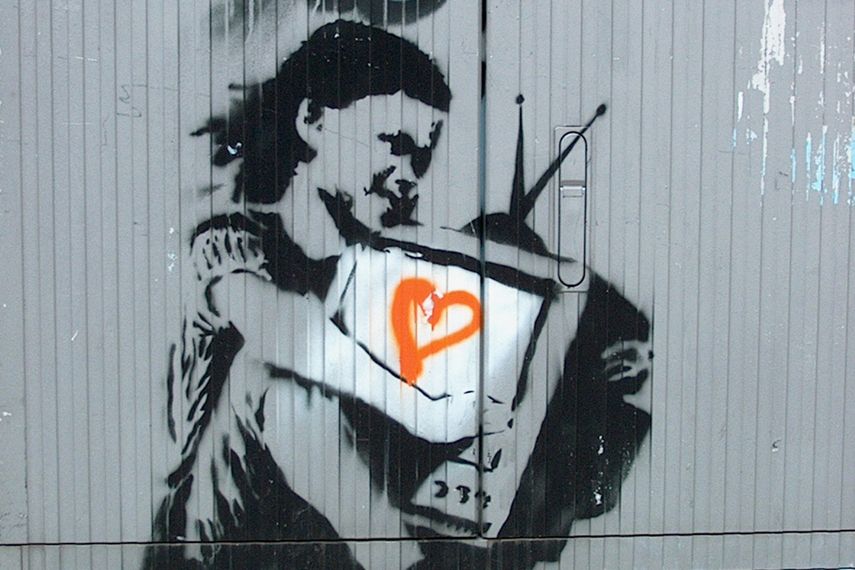 The Next Banksy Residency?
Having in mind his prior activities and the issues he touched upon in the year that is behind us, we allowed ourselves to speculate about Banksy's future plans and destinations. We have narrowed down our predictions to three geopolitically important European cities.
Greece
Besides the rare piece in Corfu Town, there are no other signs Banksy has visited Greece recently. With the number of migrants and refugees arriving on Greece's shores exploding in 2015 and 2016, this country is a hot destination for any artist doing the politically charged work. Another famed artist and dissident Ai Weiwei has already chosen the Greek island of Lesbos for his studio, as Lesbos being the main point of entry into Europe for hundreds of thousands of refugees fleeing conflicts, instability, oppression and poverty. As for Banksy, our prediction in Greece would be Athens. Since his urban interventions, a previous residency included, have mainly involved big cities and busy, public spaces, visible and accessible to a lot of people, Athens would be a perfect destination as the capital of a country harshly hit by the migrant crisis, but also an ancient city with a rich cultural heritage that Banksy could interact with.
Italy
On the other hand, the Italian migration route is surging again after a lull this winter. In the wake of the controversial deal struck recently allowing asylum seekers reaching Greece to be deported back to Turkey, the number of refugees arriving in Italy is rising sharply and it has raised fears they would soon turn towards even more dangerous journeys on other routes. Again, in the Italian context, we would place a Banksy residency in the capital of this troubled country – Rome. It is also a culturally important European city that could be a great inspiration for Banksy's politically engaging works. Banksy has already visited Italy before, but his only surviving work there is a Naples mural entitled Madonna With a Pistol that has been placed under protective cover recently. It might be time for another visit.
Germany
In the end, it seems that all these migrant routes eventually lead to Germany. The refugees have initially received a warm welcome given by the German Chancellor Angela Merkel, but as public doubts deepen over her open-door policy towards them, public fury, racism and xenophobia have started to rise. Further, Germany's capital is certainly a Mecca for street art. Yet, we still don't know for sure if Banksy has visited Berlin since his early works in 2003. Even thought a guided tour for Banksy works across Berlin exists, the authenticity of the majority of the pieces is debatable since many younger artists have been influenced by his characteristic style. It would be great to see Banksy come back to this vibrant city, so it might be time for an official visit.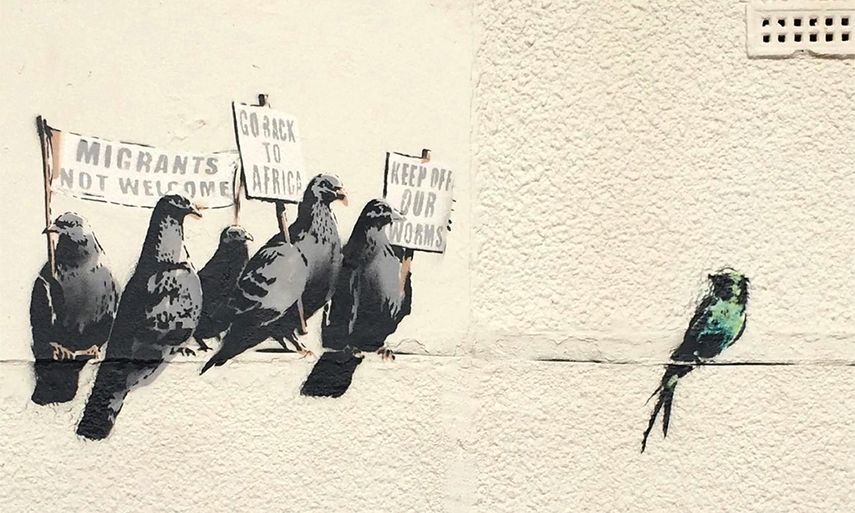 The Veil of Mistery
Starting from his identity, everything about Banksy and things he does or plans is under the veil of mystery. He has become a huge cultural phenomenon, and his work attracts huge publicity and sparks various readings, analysis and theories. Concerning his next destination, these are all just speculations yet, but we would really like him to do another city as he did New York. The street art world would definitely benefit greatly from another Banksy residency.
Editors' Tip: Wall and Piece by Banksy
Banksy, a legendary guerrilla street artist who has marked walls, streets, and bridges of cities around the world. He managed to smuggle his artworks into major museums in New York as well as Tate Modern in London and adorned Israel's West Bank barrier with satirical images. All around the world he has been throwing politically pointed and often funny street art wherever he pleases. This book is an important overview of his career. The book features the skill and variety of Banksy's techniques (stencils, illustrations, paintings, screen prints and sculptures are all on display), the caustic wit of his writing and his genius as a prankster. The identity of Banksy remains unknown, but his work is prolific. This title is the collected works of Britain's most wanted artist.
Featured image: Banksy in New York, via nydailynews.com