Mike Winkelmann, a digital artist who goes by Beeple, has created a drawing every single day for the last 13 years. Initially working with pen and paper, he now mostly uses computer software such as the program Cinema 4D. On Thursday, a two-week-long single-lot online auction of a composite of the first 5,000 days of the project, simply titled Everydays – The First 5000 Days, began at Christie's concurrently with First | Open. This sale marks the first time that a purely digital NFT (Non-Fungible Token)-based work of art has ever been offered by a major auction house. It will also be the first time that Christie's will accept payment in the cryptocurrency Ether. Given that this is a new medium for Christie's, the estimate for will be listed as "unknown."
Just days before Beeple's was put up for sale by Christie's, another of his works sold for $6.6 million at Nifty Gateway, an online cryptocurrency marketplace for digital art. According to Nifty Gateway, that makes the Beeple piece the most expensive digital work ever auctioned. Within hours, Everydays – The First 5000 Days had skyrocketed in price, and the work had been bid up to $3 million so far.
For many of us, the rise of NFTs is quite mind-boggling. But what exactly are they?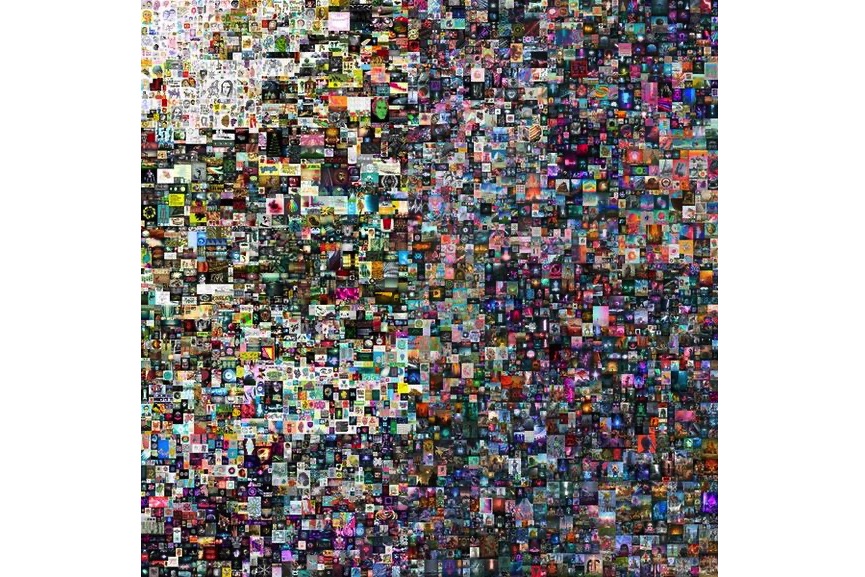 What Are NFTs?
NFTs are non-fungible tokens that run on a blockchain network, a digital ledger that records all transactions of cryptocurrencies like bitcoin. The difference with bitcoin and other tokens, though, is that each NFT is unique and can't be replicated, which makes them sellable. NFTs offer a formalization of digital ownership, cleverly responding to the art world's need for authentication and provenance. Each one accrues value independently, deriving their value from how scarce they are.
Finding their use in art and sports, but also virtual real estate and gaming, they're stored in digital wallets as collectors' items. The total value of NFT transactions quadrupled to $250 million last year, while the number of digital wallets trading them almost doubled to over 222,179. These trades are taking place at websites such as MakersPlace, SuperRare, and Rarible, where memes and graphic collectibles are sold alongside artworks like Beeple's.
The crypto art is the strongest growing subsection of the digital collectibles market. While Digital Art has a long-established history as an artistic medium, it was the introduction of NFTs and blockchain technology that provided the possibility to assign to assign value and provenance to digital works of art. This was previously impossible due to the ease of duplication.
Each NFT-based digital creation now contains a digital signature from the artist and all vital details including time of creation, edition size and a record of any prior sales permanently attached to the artwork. Noah Davis, Specialist, Post-War and Contemporary Art, remarked that "NFT-based art is on the threshold of becoming the next ingeniously disruptive force in the art market." A true exercise in abstraction, the actual NFT-based artwork is just a code, it doesn't exist. Explaining that Christie's has never offered a new media artwork of this scale or importance before, he says this sale places the auction house "in the vanguard of this exhilarating movement." Beeple adds:
The technology is now at a place with the blockchain to be able to prove ownership and have true scarcity with digital artwork so I think we are going to see an explosion of not only new artwork, but also new collectors and I am very honored to be a part of this movement.
Everydays – The First 5000 Days
Before becoming a name on the digital art market, Beeple has done so in the creative world, collaborating with global brands including Apple, Space X, Nike, and Samsung and creating concert visuals for artists such as Ariana Grande, Justin Bieber, Childish Gambino, Nicki Minaj, Skrillex and deadmau5 among others. A computer science graduate, he only began researching NFTs in mid-October.
The artist began working on his piece on May 1st, 2007, setting out to create and post a new work of art every day indefinitely. Ever since, the artist hasn't missed a single day in 13 years. Everydays – The First 5000 Days comprises every single individual image from Beeple's first 5,000 Everydays compiled into a single composition, providing an insight into his artistic journey from his early days of anonymity to the digital art star that he is today.
Utilizing rich symbolism and his signature grotesque, hypnotizing digital style, the piece is a commentary on social contradictions and absurdities, including society's simultaneous obsession with and fear of technology, desire and resentment towards wealth, and of course, the political turbulence of recent years.
The work is a token encrypted with Beeple's signature, which is individually identified on the blockchain. The rightful ownership and authenticity of the work has been generated by MakersPlace, a premier marketplace for digital creators.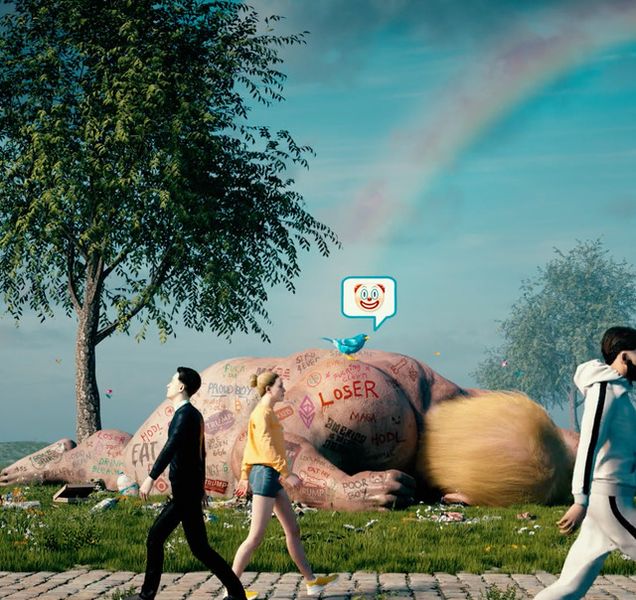 Beeple's Market
Beeple has already been auctioning his digital works, making $3.5 million in a single weekend in December when he auctioned off multiple editions of three digital artworks and 21 unique works. This was only the second time the artist had ever offered his art on sale. Many buyers immediately resold the works at higher prices, seeing their initial investment multiply within minutes. Today, many of these works are selling for more than 1,000% of their original price.
This was when Christie's recognized this is something to capitalized on, aligning themselves right up against a potential paradigm shift. This definitely signifies that the fine art world is finally starting to recognize the work of digital artists as real art. Similar to the outside mentality of another burgeoning movement - street art, digital art will certainly disrupt the traditional categories for collecting contemporary art. And just like street art, it is connected to a "deep culture" of tech. "We're at this moment in time where there could be a drastic shift—a demographic shift, a generational shift—when it comes to what excites younger collectors," Noah Davis told Art Market Monitor this month.
Another Beeple's NFT work, CROSSROADS, sold just a few days prior to the Christie's auction at Nifty Gateway for $6.6 million, was designed as a response to the 2020 presidential election. The artist prepared two videos, one featuring a victorious Trump, the other featuring a despondent one, that would play depending on the election's outcome.
While the art world disdains collector buying a work and then immediately reselling it at a profit, the blockchain that authenticates the work can now also create a set of rules that govern its future use. For example, Beeple's contract will ensure that he, as the artist, earns 10% of every sale on the secondary market.
Ever since the famous 1973 Robert Skull auction, there has been a debate over whether artists should receive royalties on sales of their work on the secondary market, which, nearly half a century on, still hasn't happened in the U.S.
Now, this has become an industry standard for NFTs, allowing the artists to profit from the value of their work growing. It seems that this is the first time where artists have an upper hand in a market.
At the same time, since the majority of the action is taking elsewhere, NFTs ditch the concept of the art market - that seemingly arbitrary system of high culture that builds value out of a system of galleries, curators and cultural institutions that many of the crypto advocates see as the last bastion of a remote and opaque high culture.
The Craze Around the NFT Artwork Art Market
Currently, the digital art market is skyrocketing. At the end of February, the creator of the wildly popular Nyan Cat GIF, a pixelated gray cat which is a throwback to 1980s video game characters seen in Pac-Man or Atari, decided to celebrate its 10-year anniversary by selling it as NFT at auction at the new NFT marketplace Foundation. Torres created a remastered version of the original GIF, which includes a series of tweaks. The price shot up in the final 30 minutes of bidding from around 3ETH ($5,000) to 15ETH (roughly $18,000), finally selling for an amazing 300ETH (around $561,000).
This is the first famous meme to sell as an NFT. The artist said that a part of him was thinking that it couldn't be real as it was happening, and many of us couldn't agree more. Launched as an NFT marketplace earlier that month, the NFT marketplace Foundation hit $1 million in sales within its first two weeks.
And jus the other day, Canadian musician Grimes sold a suite of her artworks in the form of NFTs for $5.8 million. Published as WarNymph Collection Vol. 1 and launched via a tweet and sold via Nifty Gateway, the suite was sold within 20 minutes. These works were previously debuted last year in a digital show jointly presented with Los Angeles dealer Michele Maccarone and GalleryPlatform.LA.
It didn't take long for NFTs to shift from a niche pursuit to a global obsession. Whether crypto art is something lasting or a fad, it yet remains to be seen.
Featured image: Beeple - Everydays – The First 5000 Days (detail). Courtesy Christie's.