A celebrated British photographer, Nick Brandt is famous for his poignant black and white images and activism related to the preservation of the animals and natural world of East Africa before it is destroyed by mankind. Taken with focus, patience and care, his images of African animals show the audience the catastrophe, as a result of poaching, in a more subtle way.
In the latest series This Empty World, which will soon be on view at Waddington Custot, the photographer uses color for the first time, as well as a digital medium format, bringing immediacy to a subject that demands our attention. Talking about this choice the artist explained he sought to capture "the unnatural, often garish and sickly colors of modern human life, to better express the human invasion of the natural world."
Black and white would not have been nearly as expressive for this.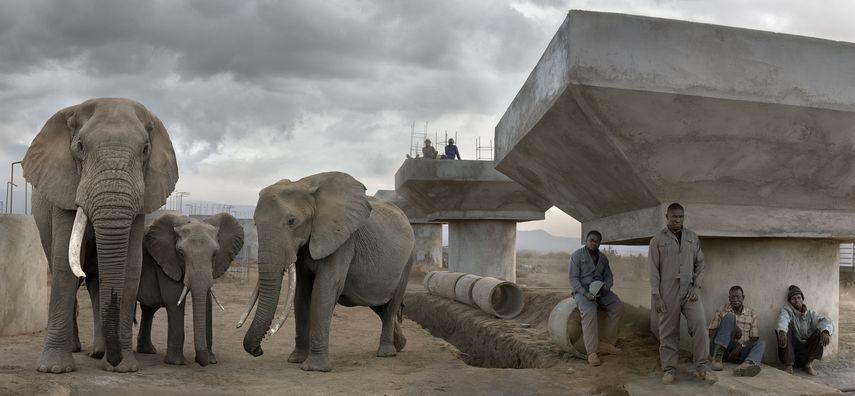 The Practice of Nick Brandt
Over the course of his entire career, Nick Brandt has been creating striking black-and-white images of animals on the African continent. Fusing art and activism, he focuses on the animals which roam Tanzania and Kenya, capturing them in monumental photographs while fighting for their preservation.
After directing Michael Jackson's Earth Song music video in 1995, he returned again to Africa in 2000 to create the last testament for these extraordinary animals in these extraordinary places. As he recalls, he was struck that "the destruction of those animals would escalate to the degree that it did." Ever since, he has been capturing the spirit of these magnificent creatures with his camera, implicitly asking what would happen when they disappear.
The escalating environmental and ecological degradation in East Africa, which was previously explored in Inherit the Dust, is now the subject of This Empty World.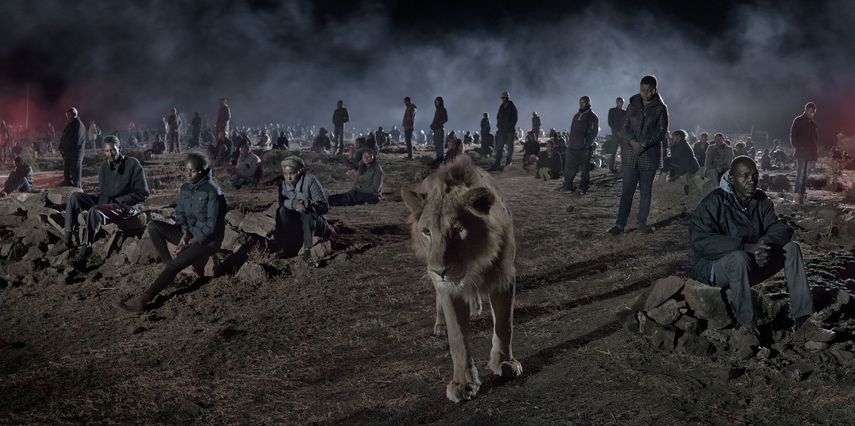 This Empty World
Shot on Maasai land in Kenya, This Empty World deals with "the escalating destruction of the African natural world at the hands of humans, showing a world where, overwhelmed by runaway development, there is no longer space for animals to survive."
Combining animals and human development within one physical space was for me symbolic of this predicament.
Brandt first shot images of animals in their natural habitat and combined them in post-production with images of people and temporary urban structures he built in the same location. The resulting images show dramatic scenes that confront urgent environmental issues, such as the scarcity of resources.
Shot mostly at night, the images capture the neon glow of urban lights illuminating passive crowds and displaced animals. The powerful images reveal not only the mounting tension between animals and humans, but also the mutual suffering shared by both as victims of environmental devastation.

Nick Brandt Exhibition at Waddington Custot
As Brandt explains, never to say "never" again is one of the things he learned from working on this series.
I said I would only ever photograph with film and in black and white. Then I came up with concept, which could only be executed in colour for aesthetic reasons, and with digital cameras for multiple technical reasons.
The exhibition This Empty World will be on view at Waddington Custot in London from February 7th until March 7th, 2019. The exhibition will be accompanied by the related monograph, to be published by Thames & Hudson.
Featured images: Nick Brandt - Bus Station With Elephant in the Dust, 2018. Archival pigment print, 56 x 89.6 in / 142.2 x 227.6 cm; River Bed With Hyenas, 2018; The Gathering, 2018. All images courtesy Waddington Custot.