One of the most significant African American artists working today, Nick Cave has been creating art based on performativity, aimed to tackle identity and racial issues. By employing an array of media spanning sculpture, installation, video and performance, Cave critically articulates the burning subjects of social justice, gun violence, and civic responsibility.
The artist's agenda has to be perceived in regards to the historical context of the late 1970s. Namely, although during that time the influence of the Black Panther Party for Self-Defense, a political organization founded in 1966, was fading, their activity meant a lot for the upcoming generations willing to articulate their own identity in an overtly racist society. For visual and performance artists, such an appeal was delivered through historical explorations of colonialism, and an array of forgotten cultural patterns and practices of the black community.
That is how young Cave started out - by embracing the heritage and translating it in regards to the contemporary moment. The artist is best known for his Soundsuits series which will be partly on display along with some other Cave's works in the upcoming exhibition at the Akron Art Museum in Ohio.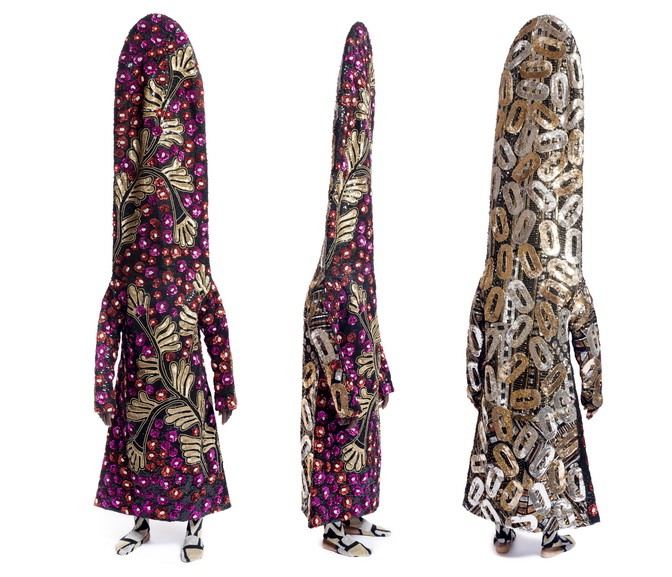 The Struggling Artist
Nick Cave was born in 1959 and grew up in a humble family consisting of a single mother and seven brothers. During his career, he was mostly focused on assemblages and found objects which are related to the poverty he was exposed to as a child. After finishing high school in 1977, Cave started attending the Kansas City Art Institute, where he developed his performance-based approach. As a student, he started collaborating with Alvin Ailey who was a prominent choreographer, activist, and a founder of the Alvin Ailey American Dance Theater and the Ailey School in New York City.
Around 1981, Cave worked as a display and fashion designer and simultaneously pursued his artistic career as a dancer and artist. In 1988, he earned Ma degree from Cranbrook Academy of Art in Bloomfield Hills, Michigan, and shortly after started lecturing at the Art Institute of Chicago in Chicago.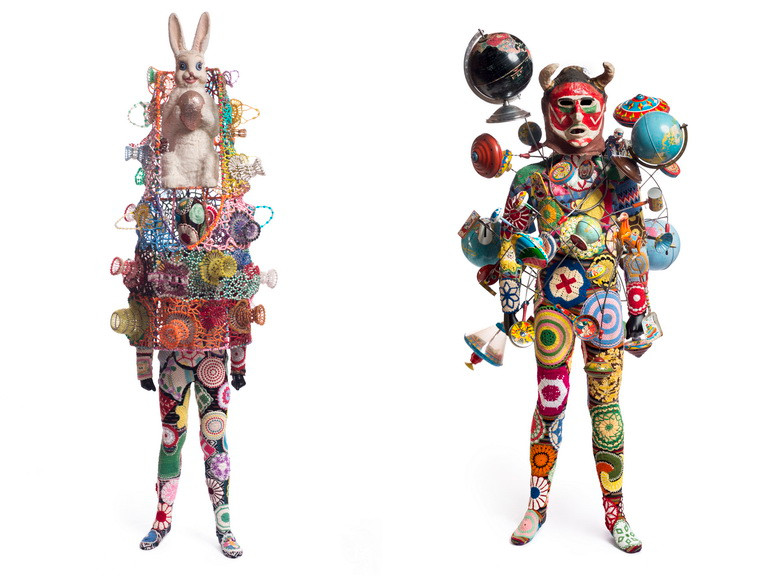 Post-Colonial Aspirations of Nick Cave
Nick Cave's practice mostly encompasses large-scale installations and mixed media sculptures. By combining found objects and brightly colored fabrics, the artist produces hybrid works which defy categorization although formally they remain within the inherited models of representation. However, all of his artworks tackle the omnipresent racial tensions; a good example is TM 13, a 2012 sculpture which deals with the life and death of Trayvon Martin, a 17-year-old African American teenager who was fatally shot by the police.
Cave's sculptures often include the parts of a black mannequins which are positioned at the center or top of a piece, creating an altar-like effect. The artist believes that by constructing his sculptures in this fashion, the observers are able to "examine the history of trauma and racism, ... the objectification of the black male."
As it was already mentioned, Cave gained quite a recognition with his Soundsuits. To be more precise, those are sculptural costumes made of dyed human hair, plastic buttons, beads, sisal, wire, feathers, and sequins. They cover the whole body of the performer and are practically functioning as a performative tool aimed to disguise gender, race, and class, so the observer is confronted with a berserk entity which evokes an array of emotions. Soundsuits are signifiers of social and material culture and can transmit different concepts at the same time so their meaning is not fixed and changes in regards to the context of time, space, movement.
In 1992, Cave launched this series for the first time as a reaction to the brutal beating of Rodney King, a construction worker turned writer and activist, by Los Angeles police. These costumes are most often displayed in exhibition spaces as static sculptures, but the artist is using them for live performance, video, and photography. Since then, Cave produced over five hundred soundsuits, which are reminiscent of African ceremonial garments, carnival costumes, and ball culture.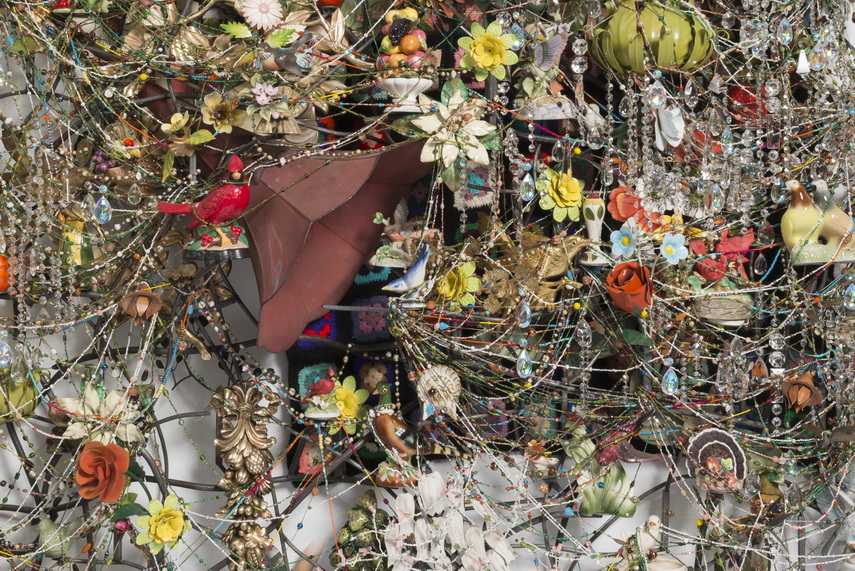 Nick Cave Art at Akron Art Museum
The upcoming exhibition will be formed to urge for equality and will contribute to the ongoing struggle in the light of Black Lives Matter initiative and overall racial awareness agenda. The exhibition title Feat. tends to accentuate the hard manual labor behind the works, as well as a satirical articulation of the notion of talent in the context of stereotypes related to the Black community. The exhibition curator and Akron Art Museum Chief Ellen Rudolph stated:
Every artwork that Nick creates offers exciting discoveries. The way he transforms discarded items into spectacular assemblages is magical—the drama, beauty and deep meaning that he builds into his work gives off an energy all its own.
The installment will actually be presented as an immersive installation and will function as a transformative place where, according to the artist, your narrative can be featured and your dreams can soar.
The exhibition was organized by the Frist Art Museum, Nashville, Tennessee with the kind support of the National Endowment for the Arts.
Nick Cave: Feat. will be on display at Karl and Bertl Arnstein Galleries at Akron Art Museum in Akron, OH, USA from 23 February until 2 June 2019.
Featured image: Nick Cave - Wall Relief, 2013. Mixed media, including ceramic birds, metal flowers, afghans, strung crystals, and gramophone, 97 x 74 x 21 in. Courtesy of the artist and Jack Shainman Gallery, New York, © Nick Cave, Photo: James Prinz Photography. Images courtesy Akron Art Museum.