Regarded as a precursor of the British graffiti phenomenon, Nick Walker has influenced generations of street artists. The latest Nick Walker art exhibition will soon be on view at Galerie Brugier Rigail. Titled Unspoken Words, the exhibition is a synthesis of his classic work and of his experimentations, providing a unique insight into the artist's inspiration. While discovering his new work, a different approach comes to light. The Vandal, his recurring character, evolves, sometimes flirting with abstraction in the series of encrypted works. This latest display of his work raises several questions: would the artist make Vandal disappear? Would he erase it, replace it or simply make it evolve?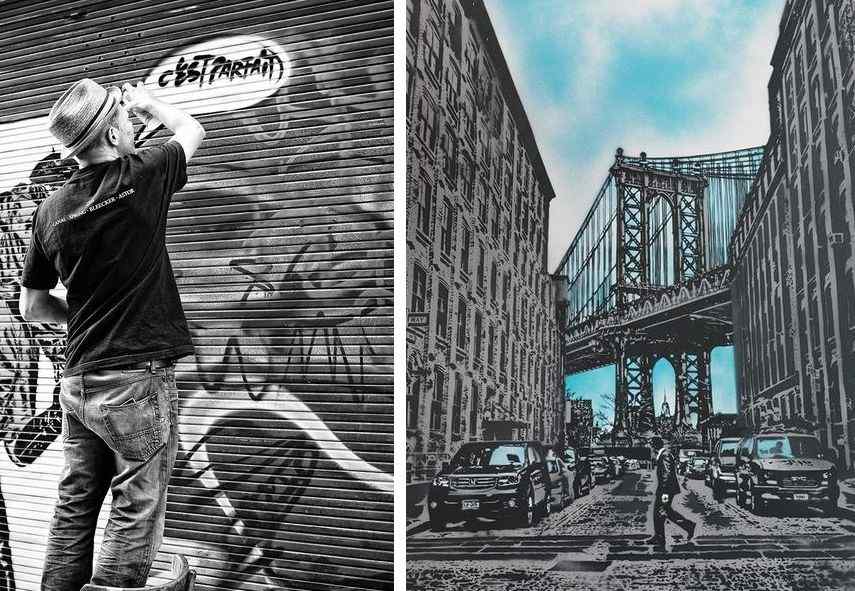 Unspoken Words
In 2006, Nick Walker created an alter ego that visits cities around the globe to color the walls of the cities - the Vandal. The Vandal is a black suited and bowler-hatted character that allows Walker to declare his independence and freedom from classical street art. The character is also a symbol for the artist's humoristic expression. We have followed this familiar and recurring character through his many journeys. In these new works, the character brings some kind of silence that is hovering over those canvases, projecting us to our own reflections. Works featured in the exhibition present a panorama that shows the scope of Walker's work, but it also presents a window into the future of his work. Once again, he invites us into his phantasmagoric universe that is an expression of his humor, bringing us the vision of the world projecting us to our cities limbo.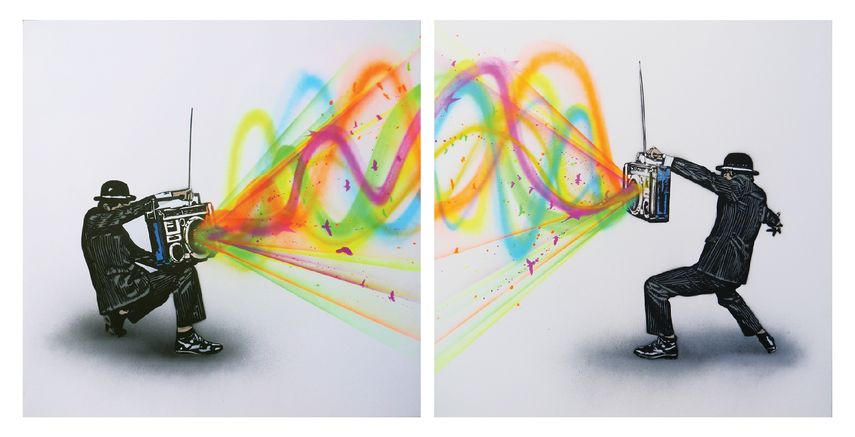 The Practice of Nick Walker
Coming from the avant-garde graffiti scene of Bristol from the early 1980s, Nick Walker is now regarded as one of the most famous street artists in the world. Being constantly evolving, innovative, modern and stimulating, his work has become a model for many emerging artists. Combining the energy and imagery of graffiti with the mastery of the stencil, he creates pieces that are highly sophisticated and admirable. Being a forerunner of this technique, he believes that the combination allows him to "juxtapose almost photographic imagery with the rawness which evolved from conventional graffiti styles." His immediately recognizable style and unique sense of humor have earned him a worldwide reputation.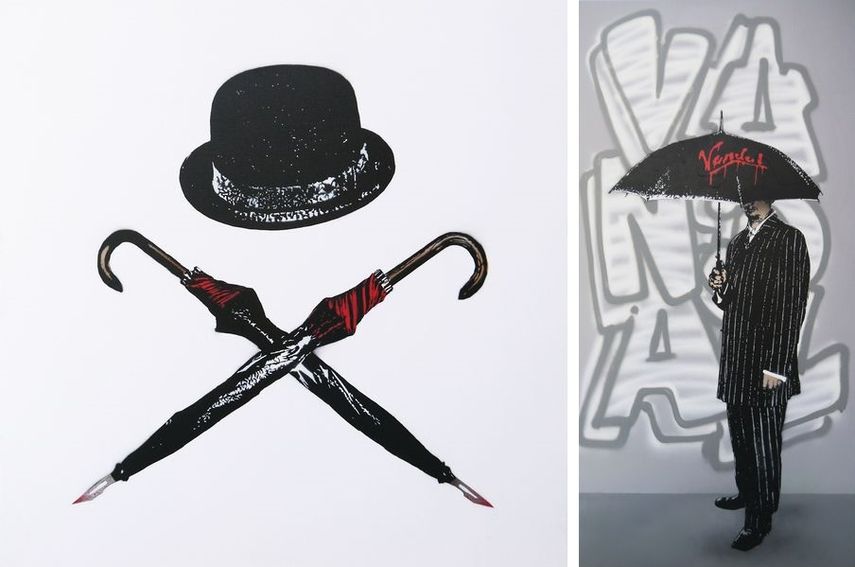 Nick Walker Art at Galerie Brugier Rigail
The Vandal is representative of the artist's desire to imbue his detailed pieces with irony and humor. With this character, we become an accomplice in his schemes. The witness takes part himself and turns into this gentleman-bad-boy. The exhibition Unspoken Words will be on view at Galerie Brugier-Rigail in Paris from March 23rd until April 15th, 2017. The vernissage will be held on March 23rd from 6 p.m. The exhibition will be accompanied by the book titled Unspoken Words that will be presented at the gallery on March 25th at 4 p.m.
Featured image: Nick Walker - The Duel (detail), diptych, 2016. All images courtesy Galerie Brugier Rigail.