Nicolas Bruno art exhibition Between Realms at the Haven Gallery features a collection of images transmuted from the artist's dreams as a means of coping and controlling his sleep paralysis affliction. Marked as the artist's first solo show with the gallery, the artist offers his public the visual taste of what lies in between the realm of sleep and reality. Drawing inspiration from his suffering with sleep paralysis – a condition which sees the separation of the wakeful mind and the mobile functions of the sleeping body, where the individual begins to experience visual and auditory hallucinations – defines his new body of work comprised of nine photographs, five embellished works, and three drawings.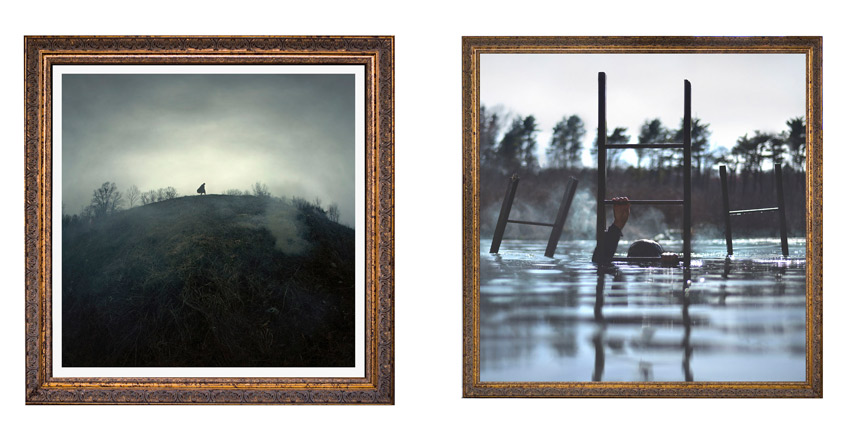 Nicolas Bruno's Art – The State of Being Asleep and Being Awake
Transforming his night horrors into a source of inspiration for his artwork, the photographer Nicolas Bruno has used these frightening experiences to not only seize control of the danger he feels but to confront his antagonists on his own terms. As perfect and elaborate examples of staged photography, Bruno offers us various surreal situations which reflect the anxiety, tension, and fear his sleep paralysis offers him. Looking also to painters and sculptors of the past for the inspiration for his compositions, the artist also allows these to influence the design of his props and costumes for his characters which he personally creates. As such, his photography provides hidden clues and symbolism only people who suffer from the same condition would understand, and also a blend of history and his own twist on the subject, on the other hand.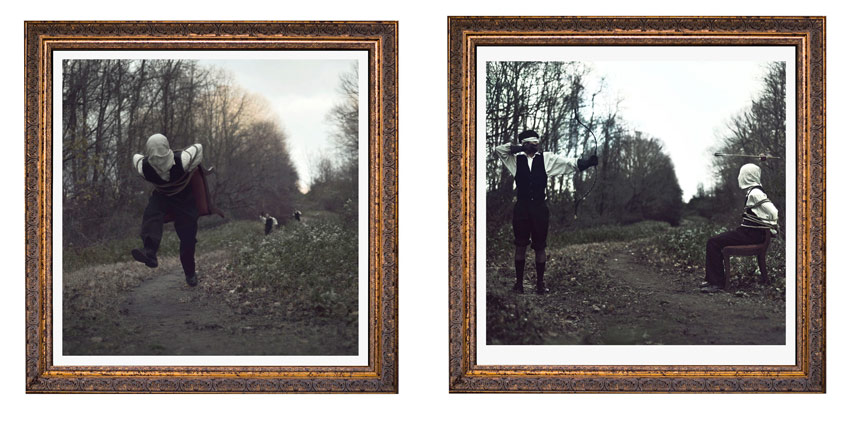 Between Realms
Through his visual means of confrontation and self-possession, Bruno quells his fears while simultaneously sharing universal familiar emotions of anxiety, suspense, uncertainty, and danger. Influenced by his memories of living in a waterside town, and spending time by the sea, his images reflect a certain sense of nostalgia while they also possess a strong feeling of embodiment, entrapment, and secrecy which reflect the world of his night horrors. Bruno's Italian heritage inspires his choice in titles while his admiration of art history lingers in his imagery. Symbolism, dualities, and the reoccurring motifs of obstructed vision, anonymity, and being hunted dominate much of Bruno's fascinating work.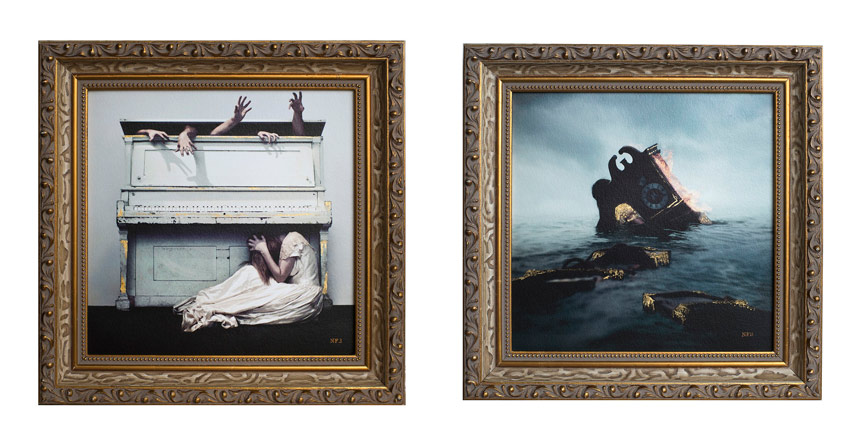 Nicolas Bruno Art Exhibition at Haven Gallery in Northport
Haven Gallery is delighted to present the Nicolas Bruno exhibition Between Realms which marks the beginning of the collaboration between the gallery and the artist. His first solo show at the gallery showcases Bruno's photography, five embellished works, and three drawings which drew inspiration from his terrifying experiences with Sleep Paralysis. As such, his surreal self-portraiture, and constructed worlds of uncertainty exist on a plane between waking and sleeping. Lingering influences of the 19th-century Romanticists, historical texts of occultism, and dream symbology lace each composition which is offered to the Northport public starting on February, 25th, 2017 through April 2nd, 2017. During the opening reception on Saturday, February 25th, 2017 from 6 – 8 pm, the artist will be present while his family will be catering the event with their Greek and Italian inspired cooking.
All images courtesy of Haven Gallery. Featured image in slider: Nicolas Bruno - The Escape Artist Pt.I, detail;Nicolas Bruno - Ocean Breathes Salty, detail; Nicolas Bruno - Stordito, detail