If reduced to plain words, one would say ceramics, penis, ears, noses, feet and hands, compressed, all in one, are some kind of bizarre reduction of the human body. This would indeed be a cruel and an unfair joke to the ceramics made by Nicolás Guagnini, a very intriguing author famous for his unorthodox style and an almost grotesque way of visual presentation. Carrie Reichardt used her craftsmanship to create ceramics which served as symbols of resistance, battling certain issues of the society, and she so vigorously called such practice craftivism. Paul McCarthy formed his sculptures in order to harshly, and to the point of vomit, criticize today's consumer based civilization. Coming from a very similar standpoint but using a considerably different visual argot, Nicolás Guagnini is depicting the human self-destructing obsession with power. By using some of the most iconic symbols of all, a foot - a message of dominance, and male's copulating organ as an emblem of omnipotence,  Nicolás Guagnini is overloading our senses with all-attacking images. All of the artwork mentioned is currently on view at the Bortolami Gallery.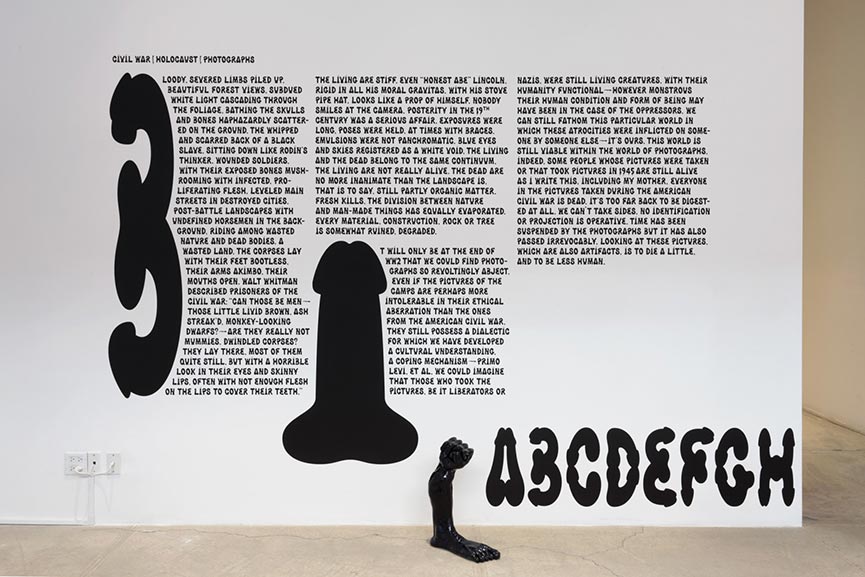 Touch the ceramics
Being one of the most tactile of mediums used to form a certain piece of art, ceramics truly does justice to Guagnini's work. His 12 vitrified glazed ceramics, all aggregations of parts of human body and two monumental heads made from majolica-glazed stoneware reinforced with epoxy, serve as a strong statement and elaborate critique to the notion of power and its effects. Some of the ceramic pieces are placed directly on the floor, while the others rest on books from the artist's library and cedar pedestals dyed with black sumi ink. These books have their own role in Guagnini's story, as some of the titles clearly reflect what notions artist wants to attack. Among others, titles like Exit Utopia / Architectural Provocations 1958 – 76, Donald Judd and How Look are just some of the ones that the author used for support in his ceramics storytelling.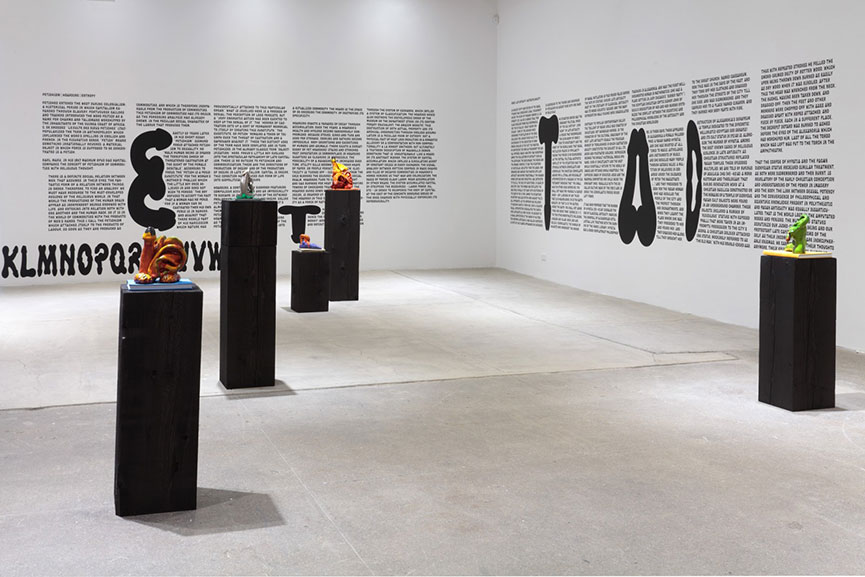 Notes on the Dickface
In the support of the installations at the Bortolami Gallery, a written narrative is presented, covering the walls surrounding the artwork, serving as a particular form of connective reading material. One the stories is portraying horror as common denominator in the chapters of civil war and the holocaust. Its separate paragraphs talk about how the photography influenced that period, capturing its essence and preserving it for future generations. Second one represents the crossroad where ear and external voices collide, forming the rupture in wholeness of the individual as one succumbs to schizophrenia. Third story tells, in separate sections, short anecdotes about meaning of photography, ceramics and painting. Specific font is designed to illustrate the narrative, a penis-shaped one, with a clear intention to push further the Guagnini's story of the power. The font, or precisely, typeface is called Dickface and it is made by skillful hands of Bill Hayden. There is also an illustrated publication of the mentioned font, entitled Some Notes on Dickface a 17 x 11 inch and it is produced in an edition of 1,000 copies, with a text by the artist.
For those interested in obtaining the font, it is available for purchase at the dickface.me.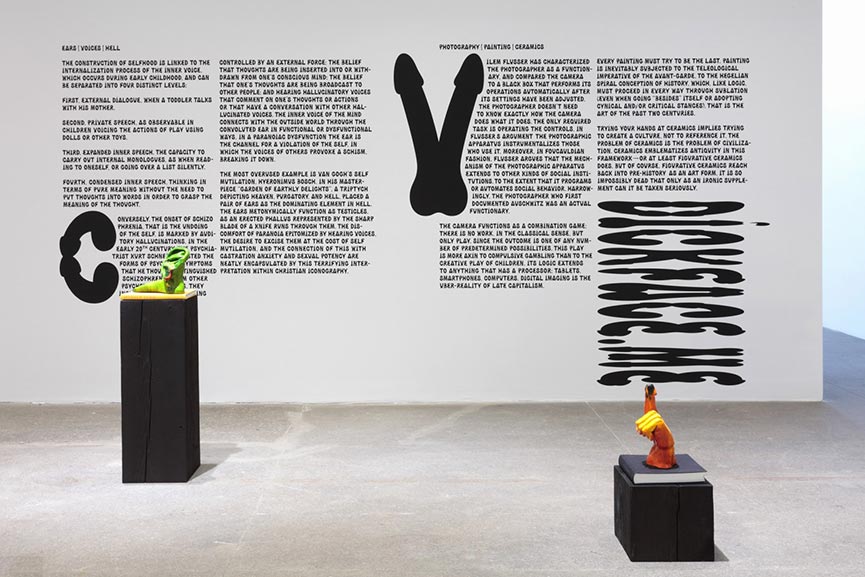 A Few Things About the Author
Nicolás Guagnini was born in 1966 in Buenos Aires, Argentina, and has lived and worked in New York since 1998. From 1997 through 2010, together with Karin Schneider, Guagnini produced films under the moniker Union Guacha Productions; their works have been screened in numerous institutions, including the Museum of Modern Art, New York; the Centre Pompidou, Paris and many others. Guagnini was also a founding member of the cooperative gallery Orchard, where, among other projects, he organized the exhibition September 11, 1973.
The exhibition opened the 20th November and it's on display at Bortolami Gallery until the 10th of January 2015.
Enjoy the ceramics, sculptures and vivid creations by some of the most alluring artists today - sign up for My Widewalls for free and be the first to read about new and exciting artwork!