The remarkable success of humorous and satirical works by artist Nicole Eisenman helped return the figurative representations of human shape into the forefront of the art scene, burdened for decades by the dominance of abstract painting. The artist who has worked with a variety of media for almost four decades, will finally open her first survey show in New York. Nicole Eisenman exhibition that will be on view at New Museum will focus on her canvas works but will also feature several plaster and wax sculptures recently made by the prominent New York-based artist. Al-ugh-ories exhibition will explore issues of class inequalities and uneven distribution of wealth and power but will also deal with more personal themes such as gender, sexuality and family dynamics.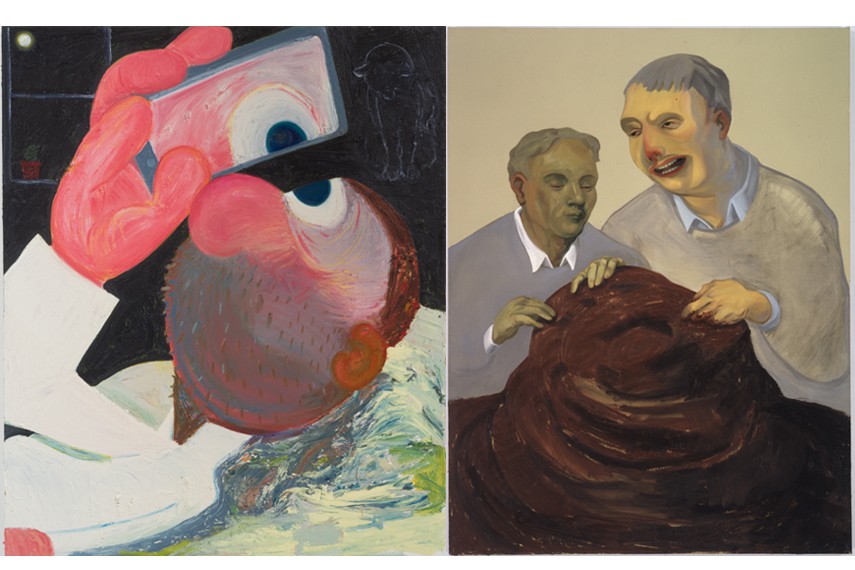 First New York Survey exhibition of Works by Nicole Eisenman
Widely recognized as one of the most intriguing artists of her generation, Nicole Eisenman made a name for herself by combining banal scenes from everyday life with an array of deeply engaging social and economic issues. Her works are marked with emotional and psychological tension and a unique sense of humor often used to pinpoint the important issues of today. Nicole Eisenman was deeply influenced by the works of Pablo Picasso, Edvard Munch and Paul Cézanne, but the artist's approach remains contemporary even when in reference to the old masters' works. Eisenman skilfully depicts an array of characters, imaginary and real, and from all ages, professional and social groups and then places them in everyday situations to explore the true nature of humankind. She often portrays scenes from work or family life like reading, eating or making love but adds a sense of emotional turmoil thus expressing the many forms of human desires that can appear simultaneously intense and awkward.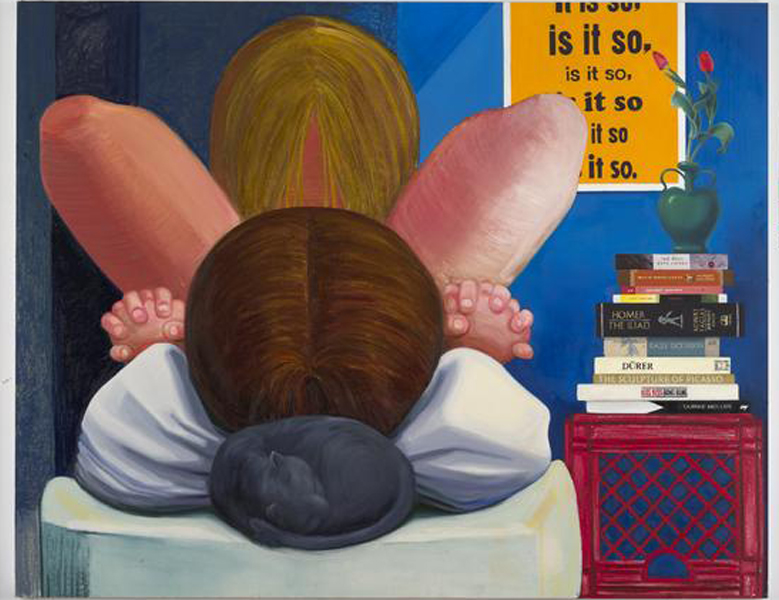 Past and Present Collide in the Works by Nicole Eisenman
Although she often gets in a conversation with the painters from the past, Nicole Eisenman also draws inspiration from current social and political situations. This unique mixture of different eras will be visible at the upcoming Al-ugh-ories exhibition, particularly in her The Triumph of Poverty artwork. This piece represents a recreation of the lost 16-century painting by Hans Holbein, but it is at the same time inspired by inequalities and the economic crisis of 2008. The piece featuring an image of a fragile prince entitled Hamlet represents a depiction of the well-known Shakespeare character but also a contemplation about the possibility of having a thoughtful and sensitive American leader in post-George W. Bush era.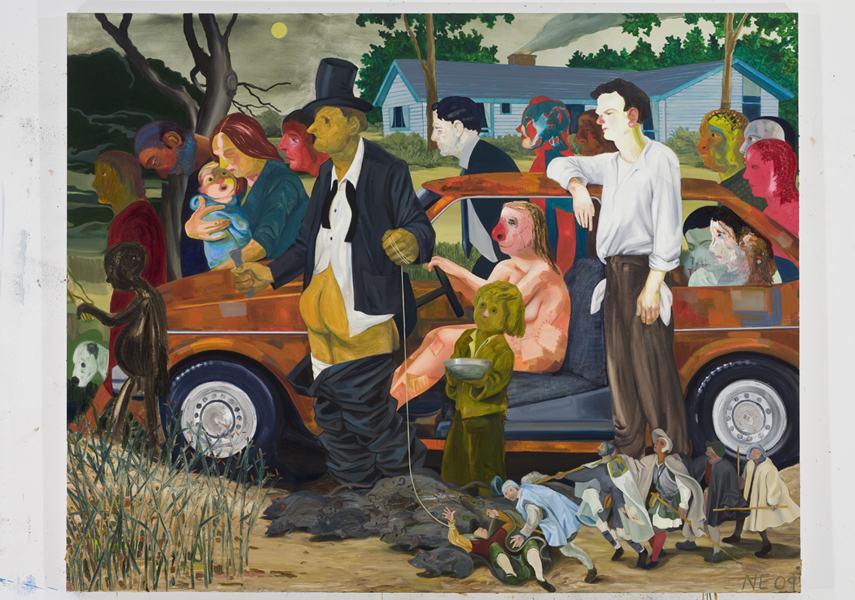 Never-before-seen Sculptures on View at New Museum in New York
Nicole Eisenman left the deepest mark in contemporary painting, but she also experimented with a variety of media, including prints and sculptures. Three of her sculptural works will be also on display at Al-ugh-ories exhibition in New York including new giant wax head figures created especially for this exhibition. A retrospective of works by one of the finest figurative painters of today will be on view from May 4th to June 26th, 2016 on the third floor of the New Museum in New York. Al-ugh-ories exhibition will be accompanied by an extensive catalog that will encompass an essay on Nicole Eisenman's work written by Grace Dunham and a contribution by poet Eileen Myles. The catalog will be completed with an interview conducted with the artist by Helga Christoffersen, Assistant Curator, and Massimiliano Gioni Artistic Director of New Museum.
Featured image : Left : Nicole Eisenman - I'm with Stupid, 2001 / Right : Nicole Eisenman - Deep Sea Diver, 2007 ; All images are courtesy of the artist and Susanne Vielmetter Los Angeles