The work of Nicole Pon Horvath invites the viewer to slow down and get mindful through art. She creates paintings that inspire us to stay still and reflect. The French-born and Algeria-raised artist has always felt she was drawn to the Japanese culture and art. After moving to Japan, she has decided to freely pursue her childhood passion of using her own hands in artistic endeavors. She has been taught traditional disciplines by Japanese Masters, particularly Shoko Ohta who encouraged Nicole to work only in black and white until she felt ready to graduate to color.
Inspired by the color of the sky that evoked some happy memories of Algeria, she began taking photographs of her immediate surroundings. She aimed to capture the feelings of calm and piece in order to recall these precious moments later on. That was only the beginning of her artistic journey. She now creates works whose stunning minimalism apparent in many Japanese art forms offers viewers a feeling of serenity. Her works express the sensitive transformation of emotions which occur during meditative awareness. In this stillness, she creates moments of happiness and profound connection to the natural elements. Nature is an important source of inspiration for her. She explores the moon, bamboo, and trees, fascinated with rebirth after trauma which opens the space for new beginnings.
We had a conversation with Nicole Pon Horvath in order to learn more about her practice and passions. In an exclusive Widewalls interview, Nicole talks about her interest in Japanese art and culture, traditional disciplines she has been studying, mindfulness in her process, nature as her inspiration, new beginnings and much more. Scroll down and enjoy!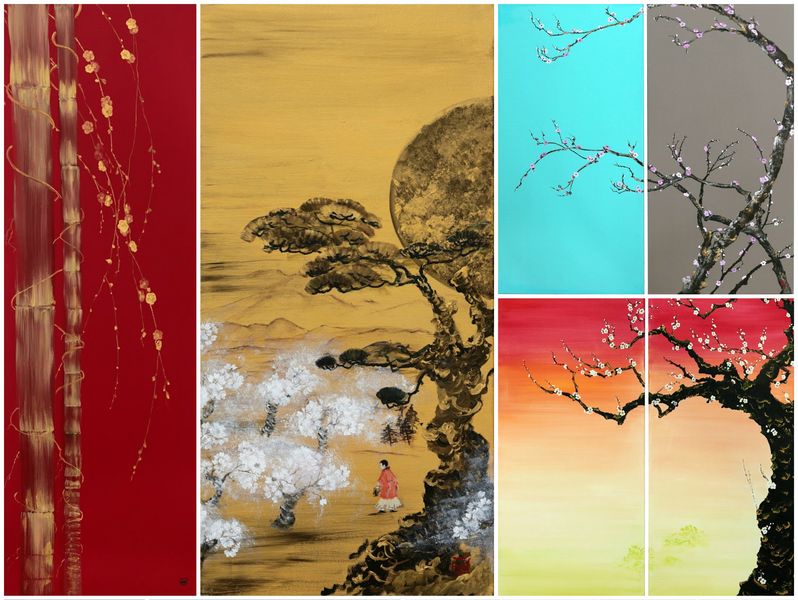 Finding Inspiration in Japanese Art and Culture
Widewalls: How did you first develop an interest in Japanese art and culture?
Nicole Pon Horvath: Japanese art, culture and style were always within me. Without realizing it, and without ever having been to Japan, my preferences always drew me to the Japanese way.  It was present in my surroundings, in my thoughts and lifestyle. My choice of décor was always pure and minimalist.  I was drawn to delicate branches, ikebana, simple Japanese paintings. All these signs were within me, but I didn't identify them as being distinctly Japanese until 1989.
In 1989, life took me out of France and brought me and my family to Tokyo. It was here I was finally able to identify what my mind already knew. My affinity for all things Japanese was awakened and bloomed - I felt like I had come home. I think I must have been Japanese in a former life.
Japanese shrines, traditional buildings, gardens, sculptures, paintings, and food - all of these things brought about a full awakening of my senses. I began traveling throughout Japan and photographing my surroundings.  This was the beginning of my love affair with the country and its people. Now I am living with my family in Singapore, but Japan will always be in my heart and in my very essence.
WW: You have been taught traditional disciplines of ink painting, painting with pigments and Ikebana by Japanese Masters. Could you tell us something about this process?
NH: Ohta Sensei (my teacher) compared me to a Lotus.  She said: "Nicole-san, Lotus grows in dirty mud. You are in the mud. Learning takes time, energy, understanding subtle details….and years. When blooming, you will experience respect, gratitude, blessings."
This translated to having to paint a thousand strokes before I understood and had it right. These strokes could only be painted after producing my own ink which required rubbing a piece of special charcoal for 10 minutes, then mixing it with a little water on a stone. There was no jumping straight into a painting - it was stripped back and it wasn't until I learned how much water was the right amount to mix with my charcoal that I moved on to the next step. It wasn't until Sensei was pleased with my black and white work that she allowed me to learn how to use colors and pigments. It was definitely a lesson in perseverance and humility. Now, after completing a project, I feel blessed.  I am profoundly happy and I feel so much love, respect, and gratitude for my Sensei and her teachings; for mother nature; and for the gifts life provides.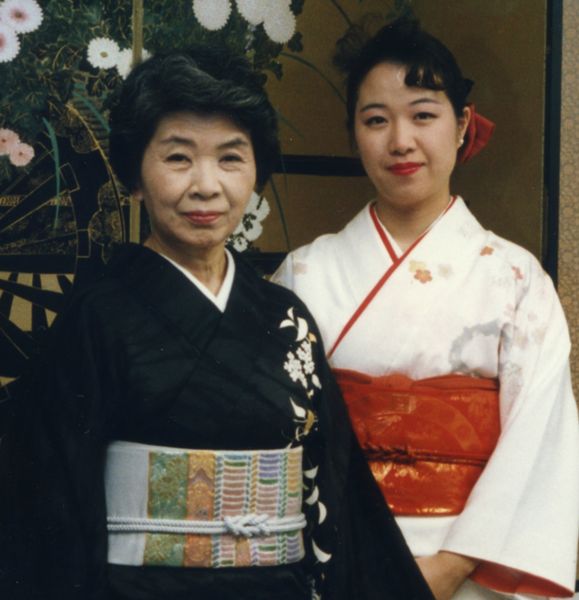 The Concept of Mindfulness
WW: Your work conveys certain stillness, inviting the viewer for a peaceful contemplation. How important is the concept of mindfulness in your process?
NH: My work expresses the sensitive transformation of emotions which occur during meditative awareness. For me, being mindful during the creative process is everything! Without this, I would be producing very different work. Part of my process is to be able to see and open my heart and my mind, which helps to attain stillness and permit contemplation.  Without stillness, there is no contemplation. Being mindful helps process what I see, what I feel.  It gives access to different layers of understanding. You need to empty your mind before you can see what is essential.
WW: Nature is an essential part of your practice. What aspects do concern and inspire you the most?
NH: Nature is the root of all life. I'm inspired by its softness and strength - the poetry of a light breeze. Bamboo forests, a full moon, traditional villages, ikebana, new life after winter – all of these things are a source of inspiration and they are exactly what you will find in my work. My goal is to be able to translate/interpret feelings into my paintings. Add to that, layers of sensuality to awaken the five senses to beauty and for me, it becomes the perfect expression. Nature is both a strong and fragile gift.
WW: A rebirth after trauma and new beginnings are a great source of inspiration for you. How do you translate this fascination into your canvases?
NH: I try to portray the strength of nature in my work. In nature, after winter flowers bloom. It is the same in life. After any event, there is always a new beginning. The new buds are always better than the last leaves. The rebirth that occurs in life is beautiful. This is represented in my work by the use of golds and strong, happy colors.  There is no gray.

The Working Process
WW: Could you tell us more about your working process?
NH: I will have dreams or there will be feelings which need to be expressed. These dreams and feelings are translated on my canvas. I need a pristine, peaceful environment with some light background music. My music choices vary depending on my mood but it's usually Ella; Japanese traditional music; Tango music interpreted by my friend Machiko Ozawa; sometimes old Chinese melodies; or mantras. I close my eyes, take a deep breath, then start on the background colors. From there, I don't stop. I'm usually painting three, four or five canvasses at the same time, each at a different stage of evolution.
WW: Who were your influences and whose work do you appreciate the most today?
NH: These days, I find I am my own inspiration. But if you go back to the beginning of my painting career, then my inspiration has come from the colors in the skies I have experienced in Japan, Nice and Amsterdam. They are a gentle reminder of my youth in Algeria.
I am influenced each and every day by all the Japanese arts. Some of the standout artists for me are: the poet Murasaki Shikibu - she wrote The Tale of Genji; Kiyokata Kaburagi; Kokei Kobayashi; Uemura Shoen; Paul Jacoulet, a Frenchman with a Japanese heart, who lived in Japan for his entire life; and the more contemporary Tatsuya Ishidori.
More recently, I discovered Lee Ufan, the Korean minimalist painter, who is now one of my favorite non-Japanese artists… he also paints bamboo! Yoo Sun Tai, another Korean contemporary artist, and Dali have also been inspirational. But most of all, I have a great appreciation, respect, and great gratitude and love for my teacher, Shoko OHTA Sensei.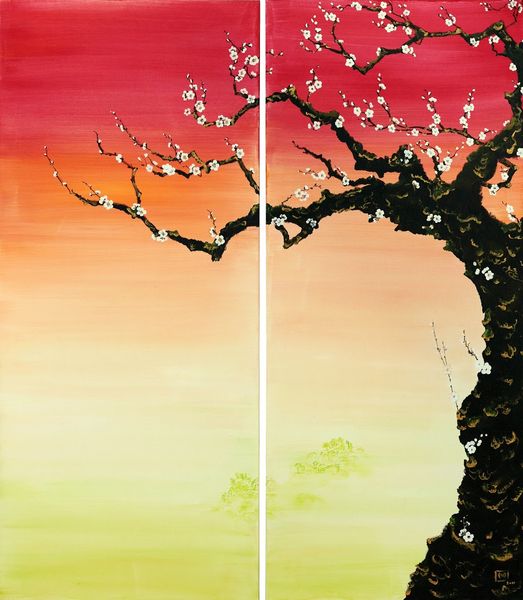 Future Plans and Projects
WW: Besides being a prolific painter, you are also a creative art framer and fashion designer. Could you tell us more about these creative endeavors?
NH: From childhood, if I wasn't using my hands to make things, I'd quickly become bored. My mind and my hands needed to be constantly creating. I began designing fashion when I was a child. I was making clothes and knitting outfits for me and my dolls - later for my own kids. In 2001, I attended fashion design school - we were living in Japan, and I finally learned the right way to make clothes.
My time in Japan taught me Ikebana, art framing, diverse arts and crafts such as traditional doll making, washi paper, and Kyoto porcelain painting. I had wonderful teachers and masters instructing me in the disciplines. Everything I have learned enabled me to turn my ideas into reality.  This has given me immense satisfaction and fulfillment.
WW: Do you have any future plans and projects you would like to share with us?
NH: In addition to continuing with my painting, I would like to be of service to those who need it. I am a Pranic healer and I want to use my gifts to heal and improve lives. Prana, which is another word for energy, can help heal the body. I would also like to teach children and adults a different way to paint, and with that, perhaps teach a different way to look at nature. By sharing what I know, I want to impart the knowledge that was given to me to help bring peace to my life.
Featured image: Nicole Pon Horvath. All images courtesy of the artist.