This year, one of world's finest fairs Frieze London will be held one week earlier, from October 3rd to October 9th. The fair will gather over 160 galleries and numerous creatives but that's not the only event that will occupy the attention of the London's public this fall. Nigel Cooke paintings that will be on view at PACE London will undoubtedly capture the attention of the audience and experts alike. The exhibition entitled Roman Willow, will represent a series of his latest artworks inspired by the Italian cities and the panorama of Alpine mountains.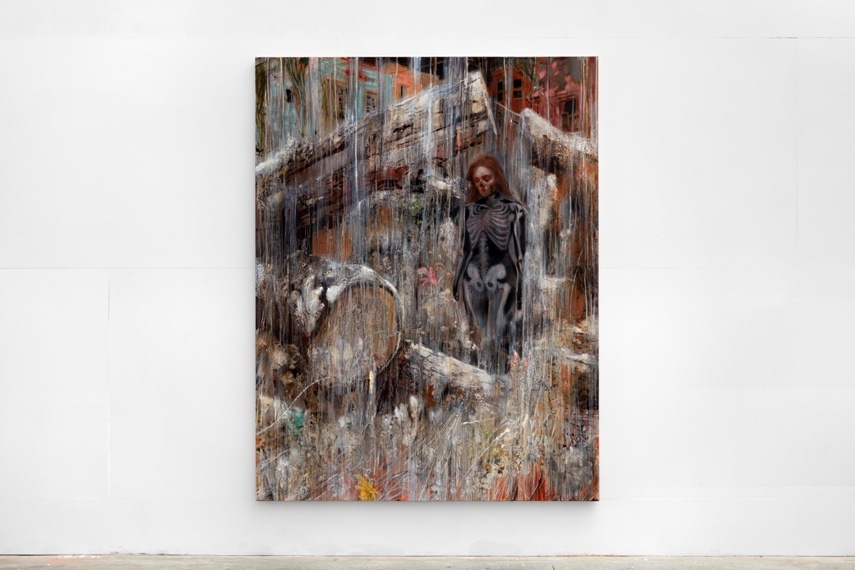 Nigel Cooke Paintings at PACE London
Nigel Cooke is known for his complex imagery that's influenced by abstract and figurative painting traditions. Yet despite utilizing these deeply rooted artistic practices his works are dominantly shaped by the artist's subjective aesthetics and personal memories. The painter's new body of work represent a visible shift from his previous series as Nigel Cook abandons his trademark nihilistic motifs to create warmer, sensorial imagery. This time his magical, disturbing spaces are replaced with a more amiable environment and his dark color palette gives way to warm tones of yellow and red. Roman Willow artworks are inspired by the artist's recollections of various scenes that took place in Italian cities of Córdoba, Formentera and Rome. While taking on an intuitive approach to painting Nigel Cook transforms his memories into compositions of elements that create an evocative series of emotional artworks.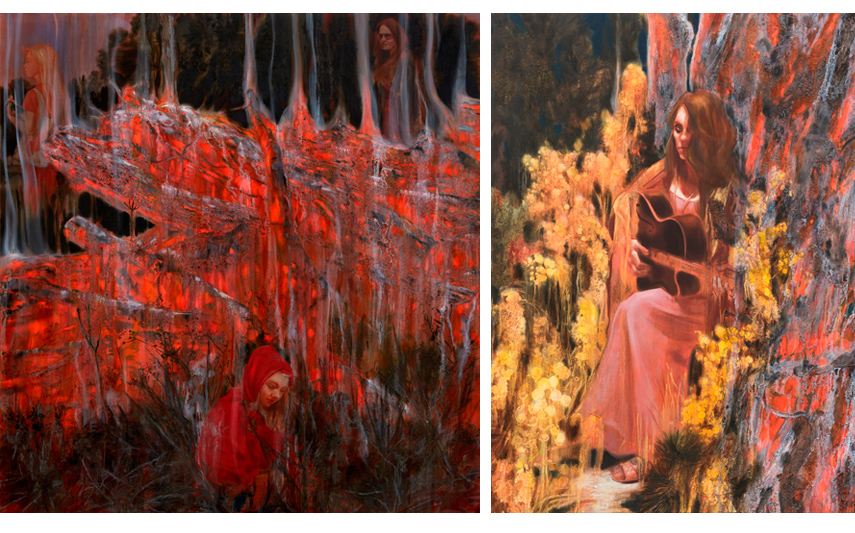 The Sounds and Scents of Roman Willow
The main characters in Roman Willow artworks are ghostly figures of women and children placed in an array of astonishing landscapes. The characters are often depicted while playing musical instruments that add a notion of sound but also an enigmatic quality to the images. The element of fire dominates the background. Its presence can be described in a conflicting manner - the fire could warm up the subjects but it can also appear as a threat that could potentially harm them. Over time and upon closer inspection, it becomes visible that the fire transcends these superficial determinations and adds a sense of odor and temperature in relation to the surrounding elements. The artist's instinctive handling of the paint opens up his works for all senses and provides them with both an aromatic and a musical quality.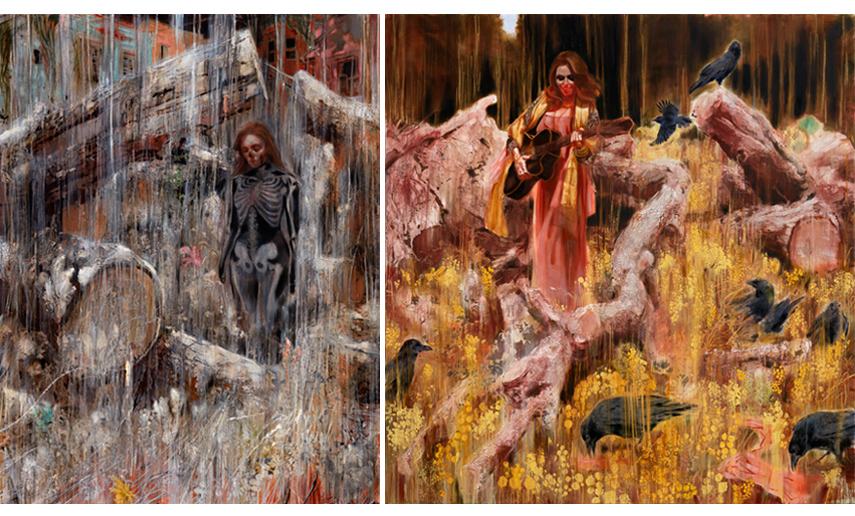 Nigel Cooke: a Painter and a Writer
Roman Willow solo show coincidence with the publishing of a comprehensive new monograph about the prolific painter's work that will include essays written by Marie Darrieussecq and Tony Godfrey and an interview with Nigel Cooke conducted by Darian Leader. Though primarily a painter, Nigel Cooke also has a passion for writing and this new publication will also include several texts written by the artist himself. Additionally, PACE London will issue an illustrated catalog to accompany the upcoming Roman Willow show. An exhibit of new works by Nigel Cooke will open on September 21st at Pace's London's venue. Roman Willow exhibition will close on October 22nd, 2016.
Featured images : Nigel Cooke - Salome, 2016, Oil on Linen Backed with Sailcloth 230 cm x 220 cm x 5.2 cm (90-9/16" x 86-5/8" x 2-1/16") ; Nigel Cooke - Embers, Oil on Linen Backed with Sailcloth 230 cm x 220 cm x 5 cm (90-9/16" x 86-5/8" x 1 -15/16") ; All images are © 2016 Nigel Cooke, courtesy PACE London