To sum up the first impression of Nika Fontaine's paintings, they are really made in bad taste. On a surface of glimmering glitter, she composed some signs, symbols, icons, and pictograms from popular culture. All together a very naive and trivial patchwork of sticker-styles and banal fabric-patterns, opulently framed. But it is too easy to discredit these paintings so quickly. They are far from being trash or bad painting; rather, they are the total opposite.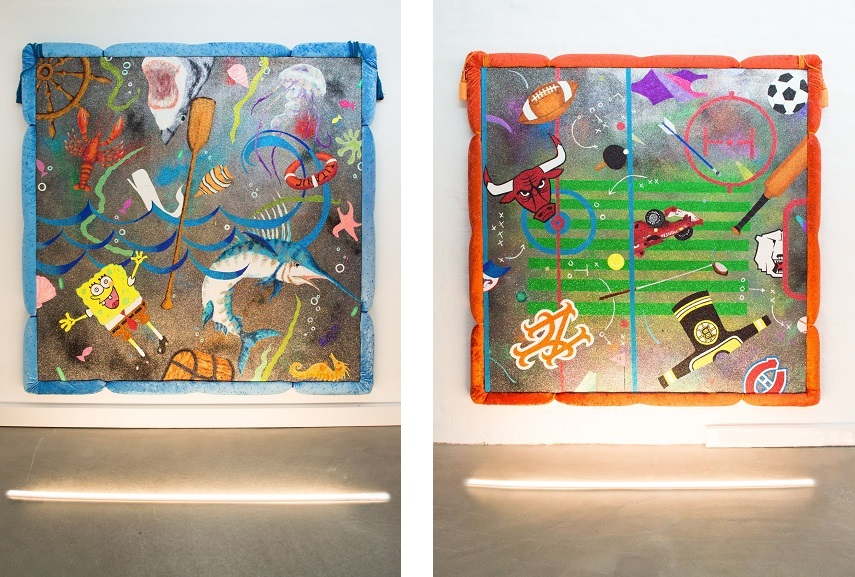 All Kinds of Clichés and Kitsch
These pieces are extremely detailed baroque artworks made with high precision, dealing with different styles between high and lowbrow art; showing different fields of our ideological everyday culture. The topics are sports, religion, shopping, science, nature and so on. A shorthand selection of things comes to your mind immediately. The kind of false consciousness we all need to construct our individual worldview. The canvases are projected on screens to show the painterly variations of their construction. To quote Nelson Goodman, it is all about the different "ways of world making"; a typology of contemporary icons of popular culture. Or as expressed by Michel Foucault, these paintings show "the order of things" that represents our intellectual maps for structuring all of our knowledge and beliefs. Like pages of an encyclopedia, the canvases assemble all the things that fit in to the given category. Nika's works come through the backdoor and initiate a bottom-up process. Dealing with all kind of clichés and kitsch, they confront us with our insincere attitudes. They provoke sporadic flare-ups of consumer critique, alongside the improvement of deception techniques.
The intellectual habit of 'not liking popular culture' gets into conflict. The paintings trigger an unconscious desire. We become magpies wanting to pick these glimmering fetishes. To be honest, we all love sports and all the other toys. Don't we? Nika's art is a very sophisticated game to make you change your mind. While viewing these canvases - whether you like them or not - they confuse and fascinate us more and more. Like a mantra, looking on these compositions of 'boring,' well known pictures, fragments and affects from ordinary life, opens up the doors of perception. Unexpectedly, it becomes possible to meditate in front of these paintings. Indeed it is a very cheap trick. The glimmering surfaces of the canvases reflect the light to create changing color effects. The aesthetic experience makes it possible to look at these paintings in a similar attitude as gazing at a work of Abstract Expressionism. They offer a kind of visual transcendence without losing contact to the ordinary world. But it's not necessary to believe in spiritual powers: It's the deconstruction of prejudice with the means of art or, more particularly, of painting.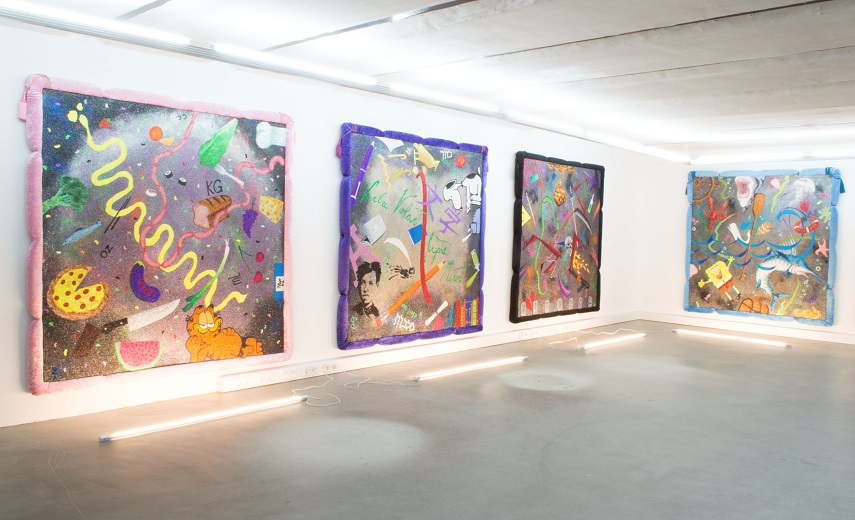 Hyperreality as a Social Construct
There are two ways of interpreting the work. As a critique of capitalist society, all clichés become irrelevant in front of the paintings: l'art pour l'art as focusing on whatever is important. The Hyperrealism of all the signs and symbols transforms the piece into meaningless advertising. But there is nothing new. No promises of a better life because the only things to build such a brave new world would exist of fragments of the almost existing - signs, symbols, metaphors of thinking. From another perspective, there is also a deeper sense of humor embedded in the pieces. Imagine the absurd situation: Coming into a gallery room and finding some people 'meditating' in front of all these childish glitter motives.
Yes, it's another cliché, and prejudice ensues again. Nika's works doesn't take themselves too seriously and don't have the ambition to become a New Age art-religion. Their escapism is no final exit strategy; it's just about having some fun with paintings. It's a reclined, humorous way of critique - not a bitter moral pill. It is about not being governed by prejudice and commercial interests.
Jacques Rancière's question comes to the mind: "Is art resistant?" One answer is yes, because art shows all the conflicts dealing with trash and ideologies, but emptying them as well. Nika's canvases have a favorable emptiness. Maybe the artist's background of being a transgender woman is important as well. Her fight for the emancipation from ruling gender clichés to find an individual identity certainly affects the way she works. But her works are not first and foremost transgender art. These paintings are political, because they show the patchwork of our ordinary worldviews. They show a hyperreality as a social construct without any god or higher law. It is up to you to find your own taste, ideology and identity - whether you like Nika's works or not.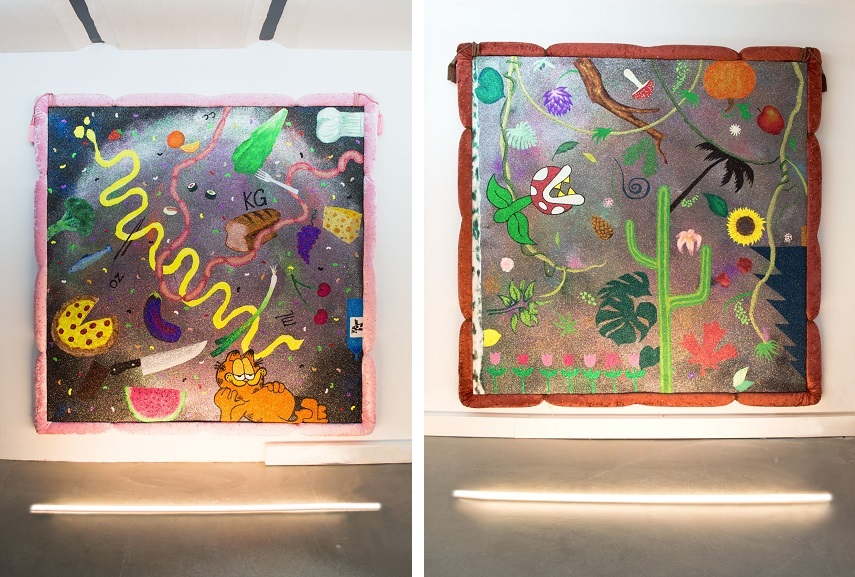 Featured images: Nika Fontaine, Incognito at Wildpalms Düsseldorf, Germany, 2017, Courtesy The Artist and Wildpalms; Nika Fontaine - Untitled, 180cm 180cm, glitter on burlap, upholstered velvet frame, crystals © The Artist, Courtesy: Wildpalms. All images used for illustrative purposes only.