Talented, beautiful, flamboyant, provocative, strong and independent, Niki de Saint Phalle was a woman ahead of her time. Niki de Saint Phalle's sculptures and other fascinating artworks that she has created during her prolific artistic career prove that this self-taught sculptor, painter and filmmaker was a great woman in the age when men defined, constituted and occupied the world of arts. Born in 1930, she emerged during the sixties, with her Shooting paintings and her Nanas, and definitely made her name famous with "hon-en katedral" ("she-a cathedral") in Stockholm, Sweden, where she made the visitors of this giant woman-cathedral to enter through its vagina, which caused huge public reaction all over the world. However, behind all of the beautiful artworks she has created, stood the dark and incredibly painful secret from her childhood, that she had revealed to the world just a few years before her death in 2002. But, we'll come to that later.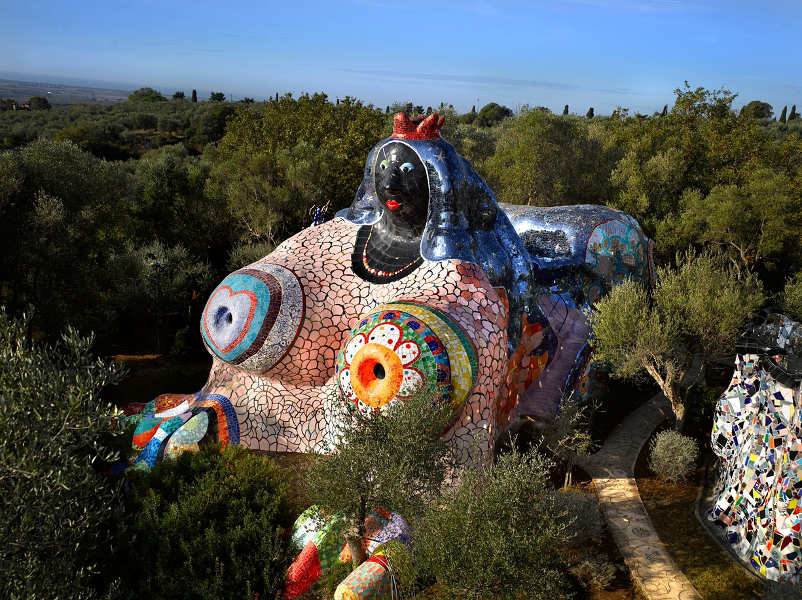 Shooting Pictures
Niki de Saint Phalle grew up in New York, where her family had fled from France, after the Great depression. She got married young and gave birth at an early age of 21. In the middle of fifties, she and her family moved to Paris, France, where Niki de Saint Phalle met sculptor Jean Tinguely (her future - second- husband). Tinguely introduced her to the Nouveaux Réalistes, a group of young people that included famous Arman and César. This influence of French artists on Niki de Saint Phalle was mixed with an American influence that she received after seeing show of American art in Paris, where were exhibited artworks by Jackson Pollock, Robert Rauschenberg and Jasper Johns, among others. She later became friends with Robert Rauschenberg and Jasper Johns, and as a result of these two influences, her first major success had emerged in the beginning of the sixties: her own experimental work named Shooting Pictures. The story goes like this - Niki thought of a way to combine destruction and construction. She had put bottles of paint behind a white plaster. Then, she used a .22-caliber rifle to shoot at a plaster, causing the burst of paint bottles and consequential leaking of paint onto a plaster. This way the totally original piece was being produced, and she even invited spectators at her Shooting Pictures show in 1961 to make their own artworks - to construct via destruction.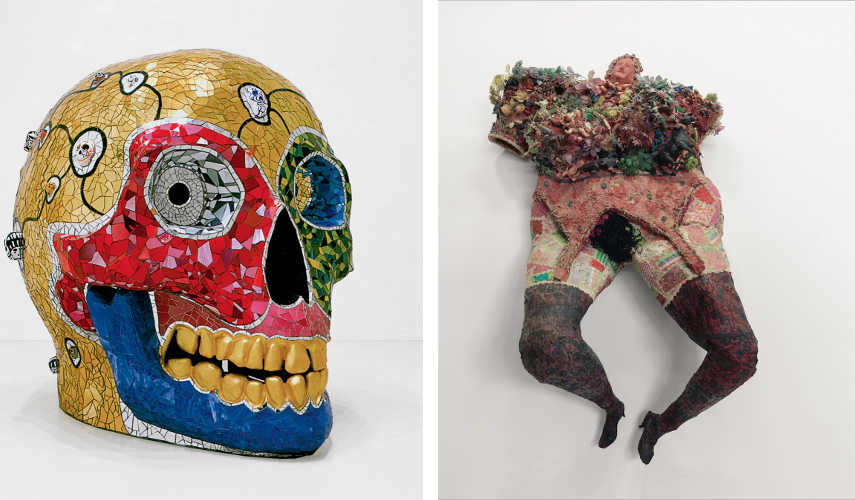 Niki de Saint Phalle's Sculptures - Nanas
Then, seemingly, out of nowhere, Niki de Saint Phalle started creating completely different kind of works. If her Shooting Pictures were filled with rage and destruction (and shooting from a rifle), her "Nanas" (a French expression for "broad") were full of life and joy. These huge, archetypal mother-figures de Saint Phalle herself called "happy, liberated women". She was obviously enjoying creating this large statues, that were so big, that spectators could even enter their interior. The most famous and the largest Nana was "Hon," that she built with the assistance of Jean Tinguely for a show at the Moderna Museet in Stockholm in 1966. Inside this big Nana there were a cinema, a planetarium, a small gallery, and, as we've mentioned it, the entrance was through Nana's vagina. Niki de Saint Phalle continued creating these big, colorful objects, not just Nanas, but the whole range of animals, plants and humanoids of that kind - artworks that were able to abstract a wide range of spectators, from professionals to children.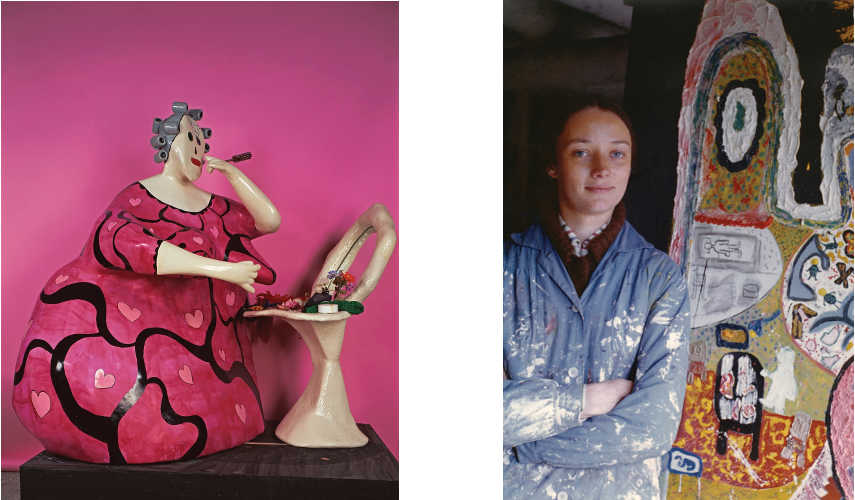 Tarot Garden
The creation that was the biggest time-consumer of Niki's career was certainly Tarot Garden made on the large area in Tuscany, Italy. Niki de Saint Phalle started building 22 large sculptures in the late seventies, and the Garden was opened in 1998 - so, Niki de Saint Phalle took 20 years to build large artworks that were based on fortune-telling tarot cards. But Tarot Garden was not inspired mainly by these cards and future, but by the famous Parc Güell that was built by the great Antonio Gaudí in Barcelona. Back in the fifties, Niki de Saint Phalle visited Barcelona and Parc Güell was carved into her brain since. Some two decades later, she started building Tarot Garden, with all those ceramic tiles and mirrors, obviously paying homage to the great architect.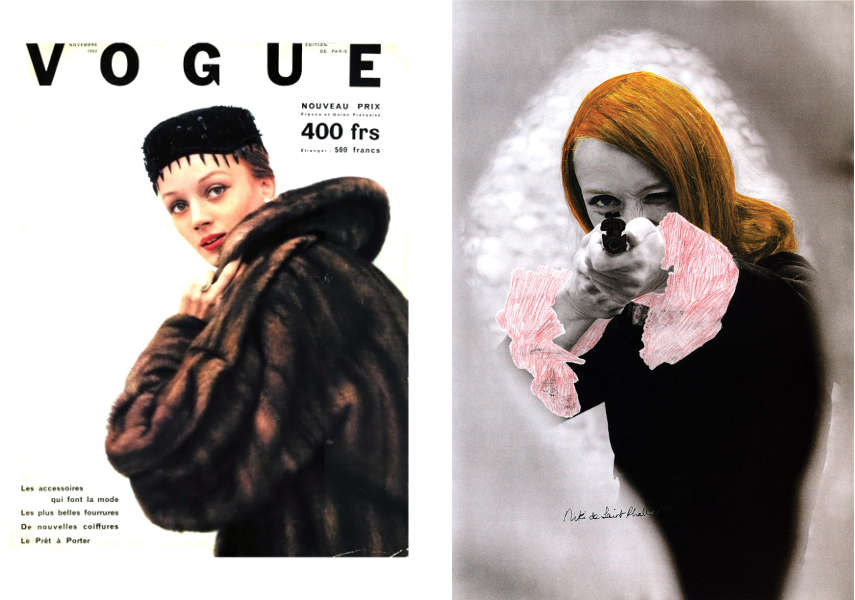 Dark and Horrifying Story from Childhood
After her second husband Jean Tinguely died in 1991, Niki de Saint Phalle published a letter to her daughter, revealing that her (Niki's) father raped her when she was 11 years old. Niki de Saint Phalle would later repeat that terrible event from her childhood in her autobiography called Traces. She wrote in Traces that, in her first film, Daddy, from 1973, she killed her father 17 times. "Since the age of 11 I have loved writing poems and fragments from my life", she wrote in Traces. "That same year my father raped me. The rape will always remain an enigma for me". Her early marriage (when she was only 17) could be easily linked with this dreadful event that happened to Niki de Saint Phalle when she was at her most tenuous and sensitive part of growing up. Her nervous breakdown at the age of 23 - also, as well as the rage in her early works. However, the tone of the autobiography is not angry, as if she has forgiven her father for destroying her childhood and leaving a huge scar for the rest of her life. "I have made peace with him and myself and see my family in a warmer light", she wrote in Traces. In fact, she described her father as a "handsome, caring man with a reckless approach to life and a sense of humor", and that her freedom and liberty was something she has inherited from her father.
Niki de Saint Phalle died in 2002 as a result of lungs failure. The retrospective of her works was held twice in 2015, at Grand Palais in Paris, France, and at the Guggenheim Museum in Bilbao, Spain.
Sign up for My WideWalls for FREE and be up-to-date with contemporary and street arts.