Combining representation and abstraction, the vibrant works of Nina Chanel Abney capture the frenetic pace of contemporary culture. Executed in a distinct pop-surrealist style and bracing color, these works explore diverse subjects such as race, celebrity, religion, politics, sex, and art history, while echoing the perpetual stimulation of the digital age.
The artist recently brought her signature bold style to the Northwest Arkansas community with her latest site-specific mural executed alongside the Bentonville Razorback greenway trail, opposite the recently inaugurated art space The Momentary. Invited by global curator group Justkids and Bentonville art organization OZ Art, the artist created a mural titled Mull It Over, that reads DON'T KILL - LOVE - BLACK.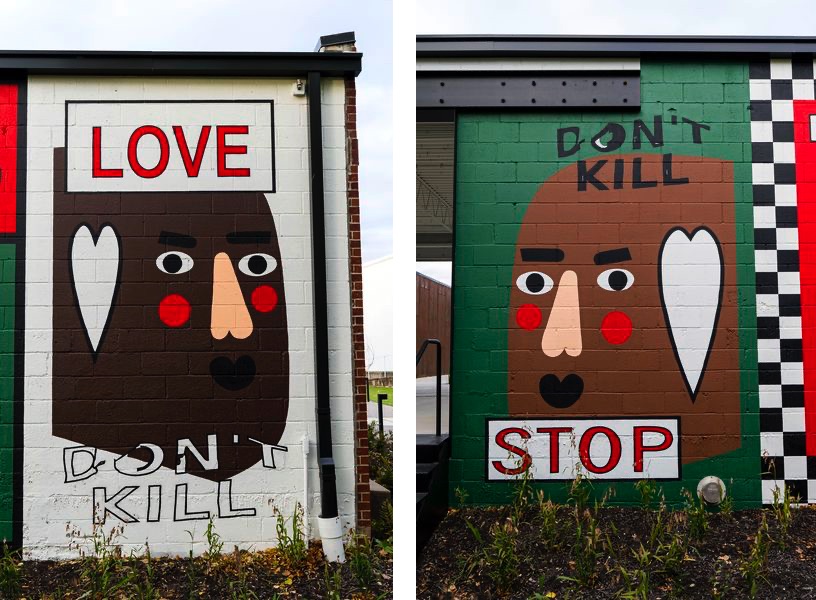 Mull It Over
Executed as part of the public initiative called ARkanvas, a statewide engagement curated by Justkids and commissioned by OZ Art that brings public art by world-renowned artists to Arkansas communities, the mural is executed in the artist's recognizable visual language.
With this piece, Abney sends powerful messages of love and human embrace, placing it in a historical context and a moment we live in. It references the longstanding racial crisis and the nonsensical killing of black men, women and children. The artist explained:
My starting point for the mural was thinking about the things that have been going on in the last year, and historically, and about how it can't be unity unless everyone is respected equally.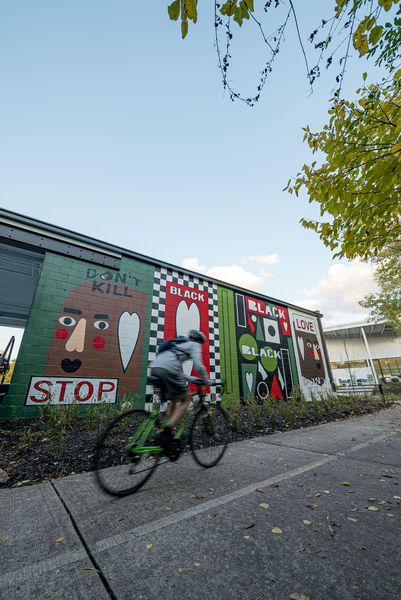 The Practice of Nina Chanel Abney
The distinctively bold style of Nina Chanel Abney harnesses the flux and simultaneity that has come to define life in the 21st century. Featuring cartoonish figures and playful compositions, her works propose a new type of history painting, one rooted in autobiography, current events, and traditional storytelling and funneled through the velocity of the internet.
Creating imagery that is legible and accessible, the artist approaches loaded topics and generates discussion, allowing viewers to come to their own conclusions.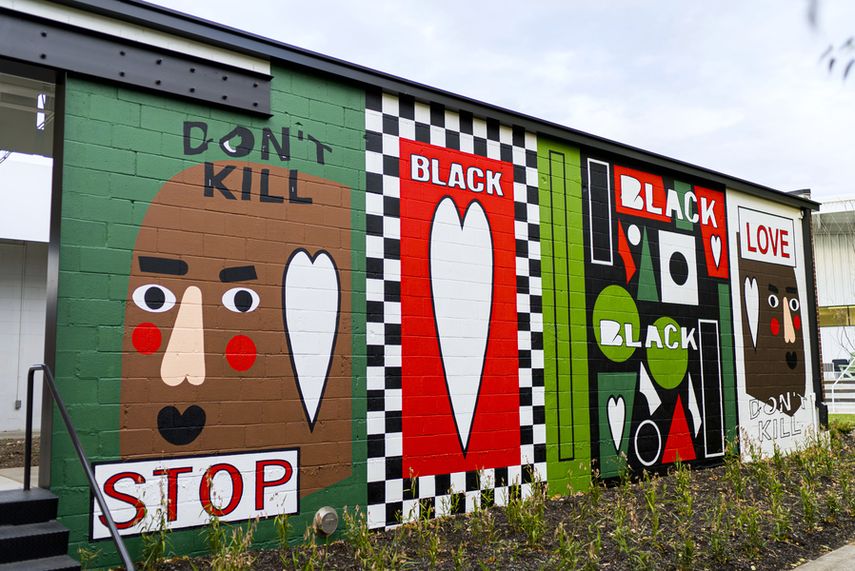 Justkids and OZ Art
Since 2015, the awarded women-led art platform, Justkids have curated and produced over 50 pieces in Arkansas, from sculptures to installations, performances, murals and pop-up exhibitions for institutions, cities and organizations.
The project ARkanvas is conceived to celebrate the arts, support artists, and create some excitement in our communities during this incredibly challenging time. Curated by Justkids in partnership with Unexpected, the initiative's theme is Unite, a tribute to being united through shared outdoor and art experiences across the Natural State.
Featured image: Nina Chanel Abney - Mull It Over. All images courtesy of Justkids.